Laid off Toys R Us workers to receive severance payments from private equity funds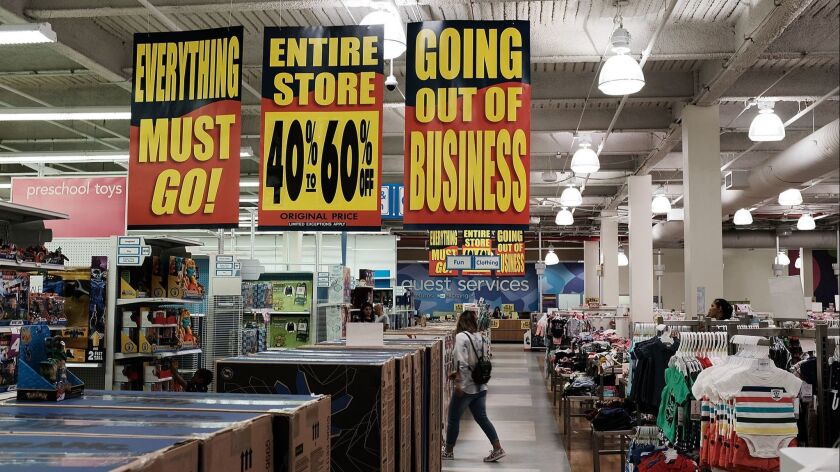 Washington Post
Thousands of former Toys R Us workers will receive severance payments from a new $20-million fund.
The move is considered rare among private equity-backed companies that file for bankruptcy. Even so, the amount pledged is well below the $75 million a workers rights group says those who lost their jobs are owed.
Bain Capital and Kohlberg Kravis Roberts announced Tuesday that each had committed $10 million to a fund for former Toys R Us workers. Bain and KKR are two of the three firms that bought Toys R Us in a 2005 leveraged buyout and loaded it up with billions of dollars in debt before liquidating the chain in June.
One hundred percent of contributions to the fund will be paid directly to eligible employees. The fund is structured so that other "interested parties" can contribute. A third Toys R Us owner, Vornado Realty Trust, did not immediately respond to a request for comment on whether it would give to the fund.
"This is a valuable and important step designed to provide a degree of financial relief to eligible former employees of Toys R Us," said Kenneth Feinberg, an expert on designing compensation funds and one of the fund's independent administrators.
Exactly how the funds are distributed will be framed around company data including earnings and the number of hours worked, as well as input from former Toys R Us employees. A draft of the proposal suggests eligible employees must have worked for Toys R Us for at least one year, have made no more than $110,000 in annual income and have made no less than $5,000 in annual income.
The worker rights group Rise Up Retail has advocated that thousands of Toys R Us workers are owed $75 million in severance pay. Before filing for bankruptcy last year, Toys R Us had guaranteed its workers two weeks of severance for their first year of service, and one week of pay for every two years on the job after that. Rise Up Retail is also pushing for state and federal legislation that would require bankrupt companies to make severance payments.
Ann Marie Reinhart, a 29-year Toys R Us employee, called the fund "historic" and said it would set a precedent for how other private equity-backed companies that declare bankruptcy compensate their workers. Reinhart, 59, said she has not been able to find a job that gives her health insurance.
She and other workers, she said, would continue to put pressure on the hedge funds that own the company to protect former employees. Those hedge funds have held onto the Toys R Us and Babies R Us brand names, Web domains and other assets, and have even brought the iconic mascot Geoffrey the Giraffe back to work — a move that worker advocates have dismissed as a "PR stunt."
The news of a severance fund has "rejuvenated me, particularly that we can achieve something like this," Reinhart said. "It's a win for us, and it's a win for any other retail worker that this happens to in the future, because we see what's happening with Sears and Kmart."
Carrie Gleason, campaign manager for Rise Up Retail, said tens of thousands of workers would be eligible for compensation under the fund's guidelines. She credited Toys R Us families with consistently advocating for their rights and "pushing back and saying, 'Our jobs matter, and our families deserve better.'"
Bain, KKR and Vornado have also come under political pressure to compensate former Toys R Us employees. In June, Democratic New Jersey Sens. Cory Booker and Robert Menendez, as well as Democratic New Jersey Rep. Bill Pascrell Jr., wrote to the firms urging assistance for laid-off workers. That month, the lawmakers stood with Toys R Us employees and advocates outside the New Jersey-based retailer.
"This financial assistance fund will provide workers who lost their jobs through no fault of their own a better chance to provide for their families, stay in their homes, and rebuild their lives," Booker, Menendez and Pascrell said in a statement.
Toys R Us cited $7.9 billion in debt against $6.6 billion in assets when it filed for bankruptcy in 2017. In March, the company announced it would close all 800 of its U.S. stores.
The beloved toy company was one of dozens of private equity-backed retailers to file for bankruptcy as more sales have moved online. Citing heavy debt loads, retailers including Nine West, Claire's, Gymboree, True Religion and Payless Shoe Source also recently filed for bankruptcy.
There will be a two-week period for former workers and other interested parties to give feedback on the fund's terms and conditions. Feinberg and Camille Biros, another compensation fund expert and the fund's second independent administrator, will then outline a final protocol.
The claims process is expected to begin Dec. 15. Money will be distributed shortly after, and will probably be completed on or about April 30. Neither Bain nor KKR will have any role in distributing money or administering the fund.
Siegel writes for the Washington Post. Abha Bhattarai of the Post also contributed to this report.
---
Your guide to our clean energy future
Get our Boiling Point newsletter for the latest on the power sector, water wars and more — and what they mean for California.
You may occasionally receive promotional content from the Los Angeles Times.