Trade war could spark food fight, California growers fear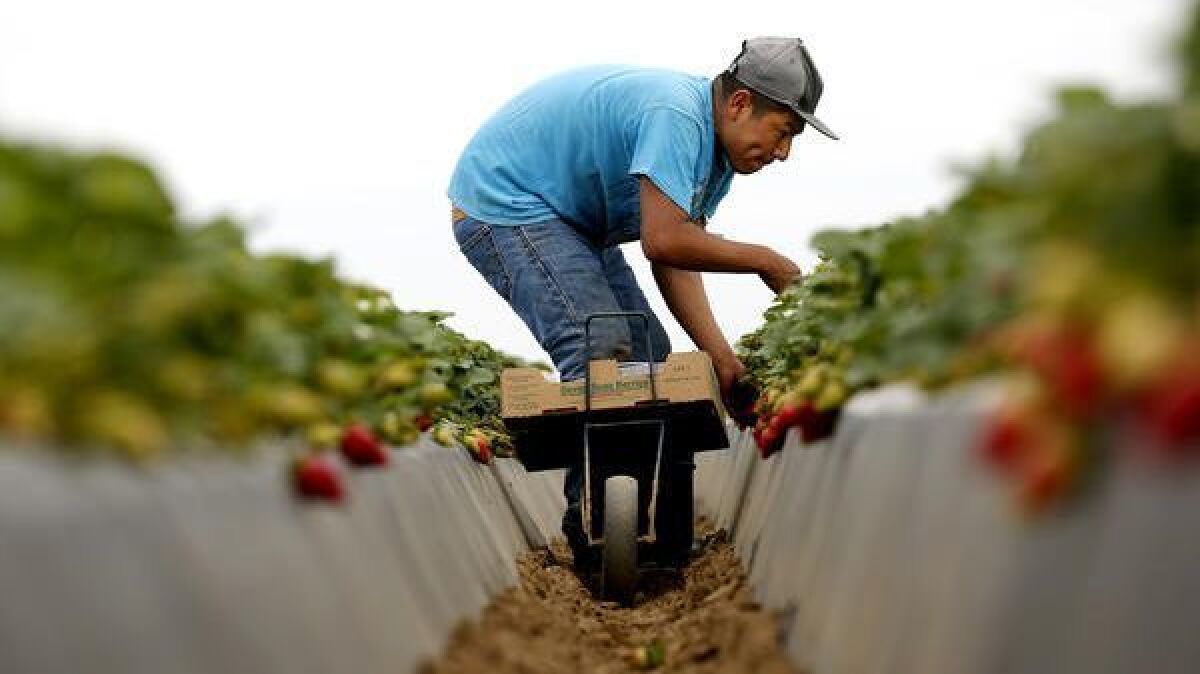 Steel and aluminum may be the intended quarry of a trade war that President Trump has said would be "good" for the U.S. economy, but the casualties of the conflict could be food, agricultural economists warn.
China, the European Union, Mexico, Canada and other trading partners have sent strong signals that they may retaliate if Trump succeeds in imposing stiff tariffs on imports of steel and aluminum.
Each of those trading partners is a major buyer of U.S. agricultural goods, which amass a surplus of about $21 billion from worldwide trade, according to the U.S. Department of Agriculture.
"We could be in a really nasty trade spat, and we've seen that agriculture is usually a big target," said Josh Rolph, manager of federal policy for the California Farm Bureau Federation. "We are greatly concerned."
The wheat industry, which has pushed for more open international markets, blasted the proposal Friday. "It is dismaying that the voices of farmers and many other industries were ignored in favor of an industry that is already among the most protected in the country," a joint statement from the National Assn. of Wheat Growers and U.S. Wheat Associates said.
Food frequently bears a steeper retaliatory penalty in trade wars. Agricultural products perish quickly, faster than politicians can argue. And while few people riot over the price of a smartphone, laptop or car, they've been known to overthrow governments over a food shortage or a spike in the price of staples.
No state has more at stake than California, which leads the country in agricultural revenue. Farmers and ranchers in the Golden State are twice as dependent on foreign trade as the country as a whole. World leaders also likely know that Trump enjoyed deep support in rural, agricultural areas, including much of the Central Valley, said Dan Sumner, an economist who directs the Agricultural Issues Center at UC Davis.
Growers in California earned about $21 billion from trade, which amounted to about 44% of their total revenue in 2016, the last year for which full statistics were available, according to the California Department of Food and Agriculture.
Top trading partners include the European Union, Canada, China/Hong Kong, Japan, Mexico, South Korea, India, United Arab Emirates, Turkey and Vietnam.
Without California, the U.S. would not have exported a single tree nut, table grape, raisin, olive oil drum, garlic clove, artichoke, fig, date, kiwi or dried plum.
The Golden State accounts for 90% of the U.S. exports of wine, processing tomatoes, avocados, carrots, broccoli and celery. California's berries, peaches, nectarines, apricots, melons, oranges, lemons, tangerines, mandarins, spinach, lettuce, seasonal vegetables and rice constituted more than half the U.S. exports of those commodities.
The U.S. agricultural sector narrowly dodged an international food fight in 2015, when Canada and Mexico made plans to retaliate against U.S. wine, fruits, meat, cheese and dozens of other items over a dispute involving mandatory labeling of meat by its country of origin. But Congress quietly changed course.
The last time Mexico retaliated in a large way against U.S. trade policy was in 2009-2011, over the U.S. reluctance to allow Mexican trucks to cross the border, as required in the North American Free Trade Agreement. The 90 retaliatory measures Mexico took carved an estimated $984 million out of U.S. exports to Mexico — half of that from lost agricultural sales, according to USDA economist Steven Zahniser.
Major farm and commodity groups have been reminding Trump since his inauguration that free trade has been very good for U.S. agriculture. Among the biggest sellers are soy beans, grains, dairy products, meat, nuts, hay, wine, fruit and vegetables.
Steel-exporting countries could dun any and all of those products, leaving more of them on the domestic market and dropping their price. A strong dollar over the past several years effectively did the same thing, and the farm lobby has not been happy about it.
"I think the list is just about any California commodity," said Sumner, at UC Davis. "Who knows how these things are decided. It's more political science than economics."
Follow me: @LATgeoffmohan