Wi-Fi on planes worldwide will more than double by 2022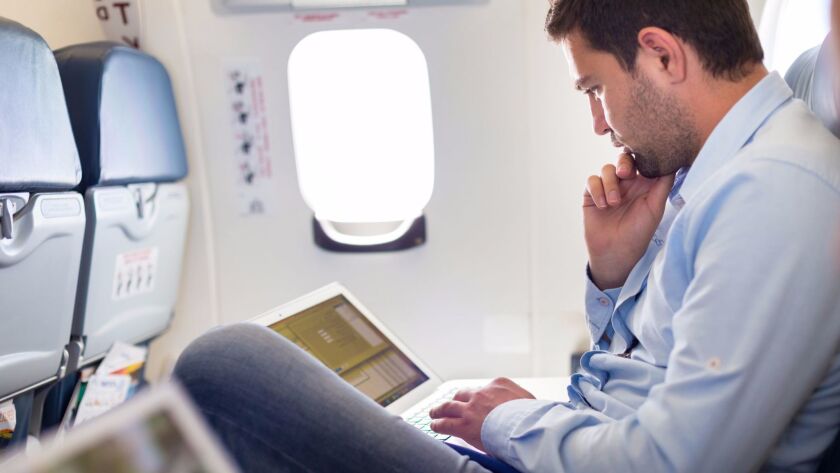 Despite security fears about the use of laptop computers on planes, the world's airlines are expected to more than double the number of planes equipped with wireless Internet to let passengers log on with portable electronic devices.
A new report by Britain's Juniper Research estimates that more than half of the world's global fleet, or 14,419 planes, will have wireless Internet service by 2022, up from under a quarter of the fleet today, or 5,243 aircraft.
The study attributes the growth of Wi-Fi in the airline industry to the BYOD (Bring Your Own Device) trend among passengers, who typically pack laptops, tablets and cellphones in their carry-on bags.
Also, more airlines are offering Wi-Fi to keep fliers entertained instead of installing expensive seatback entertainment systems, the study said. Removing seatback entertainment systems cuts down on the weight of the plane, which saves on fuel costs.
The U.S. Department of Homeland Security imposed a ban in March on laptop computers and other electronic devices larger than a cellphone in the cabin of flights into the United States from several Middle Eastern and African countries in response to fears that terrorists may be trying to hide explosives in such devices.
The head of the federal agency, John F. Kelly, suggested in May that he might expand that ban to all international flights into the U.S. Instead, the agency has required foreign airports to adopt new security measures to better screen for such explosives.
Since then several airlines, including Emirates, Etihad and Turkish Airways, have been exempted from the ban after satisfying the U.S. security concerns.
To read more about the travel and tourism industries, follow @hugomartin on Twitter.
---