Under a new law, retailers share liability for misclassified truck drivers at California ports
A new California law attempts to resolve a long-running dispute over wages and working conditions for port truck drivers by putting big retailers — who foot the freight bill — on the hook for labor violations by the cargo carriers.
Senate Bill 1402, which Gov. Jerry Brown signed into law Saturday, is set to take effect in January.
The labor battle revolves around the 25,000 drayage drivers who transport cargo for short distances along the supply chain that connects the vessels docked at the ports of Los Angeles, Long Beach and Oakland to the nearby rail yards and warehouses. Nearly 90% of drivers are classified by their carriers as independent contractors.
Unlike employees, independent workers usually have no access to unemployment benefits, disability pay or workers' compensation. In many cases, trucking companies also pass costs on to drivers, including expenses for fuel, maintenance, repairs, insurance, permits and truck leases. In 2008, the Coalition for Clean and Safe Ports estimated that the average port driver was making $28,000 per year after expenses.
Domingo Avalos is an example of how the industry has shifted over the years. Avalos, 54, started out driving for Garner Trucking 20 years ago as an employee with benefits. When the recession hit and the work dried up, he sought opportunities with another carrier, and he started moving cargo coming from the ports of Los Angeles and Long Beach as an independent contractor for XPO Logistics' subsidiary XPO Cartage.
Avalos didn't think much of his status until one day in 2014, when one of the containers he was unloading at a rail yard in the City of Industry jolted forward, injuring him. Avalos had to be removed from the yard in an ambulance. The hospital bill amounted to more than $2,000. Avalos alleges that XPO initially refused to cover his medical costs, citing his status as an independent worker. He hired a lawyer, who sent XPO a letter demanding that the carrier cover his bill. Eventually, XPO agreed to pay.
"The majority of us are from Mexico or Central America," Avalos said. "We're not used to having access to workplace protections and many of us don't speak English well. Companies take advantage of this situation and treat us like second-class workers."
XPO did not reply to requests for comment.
In recent years, a campaign backed by the Teamsters union, called Justice for Port Truck Drivers, has pushed drivers to take action against individual trucking companies, suing them for misclassification and wage theft. According to the California labor commissioner, 987 drivers have filed complaints with the Division of Labor Standards Enforcement since 2011, and they were awarded more than $48 million in unpaid wages and out-of-pocket expenses.
Trucking companies have criticized the new law, contending it is a backdoor unionization effort and the latest example of California's tendency to over-regulate the industry.
"It addresses an issue that has been corrected internally in many cases," said Weston LaBar, chief executive of the Harbor Trucking Assn., which represents about 100 trucking companies and opposed the bill.
While the law applies only to port drivers, it comes as workers across many industries — including app-driven gig economy workers — are pushing to renegotiate their status. Ride-hailing companies are reeling after an April ruling by the California Supreme Court established a stricter test to determine whether workers have been misclassified by their employers, making it riskier for Uber, Lyft and other app-based companies to rely on a contractor workforce.
The port truck drivers have become a symbol of misclassification, and "other workers in contracted jobs will have their eyes on what happens in California," said Rebecca Smith of the National Employment Law Project. She said the new law is the first of its kind to push the possibility of solving contractor issues far up the supply chain, getting actors with the most negotiating power involved in the process.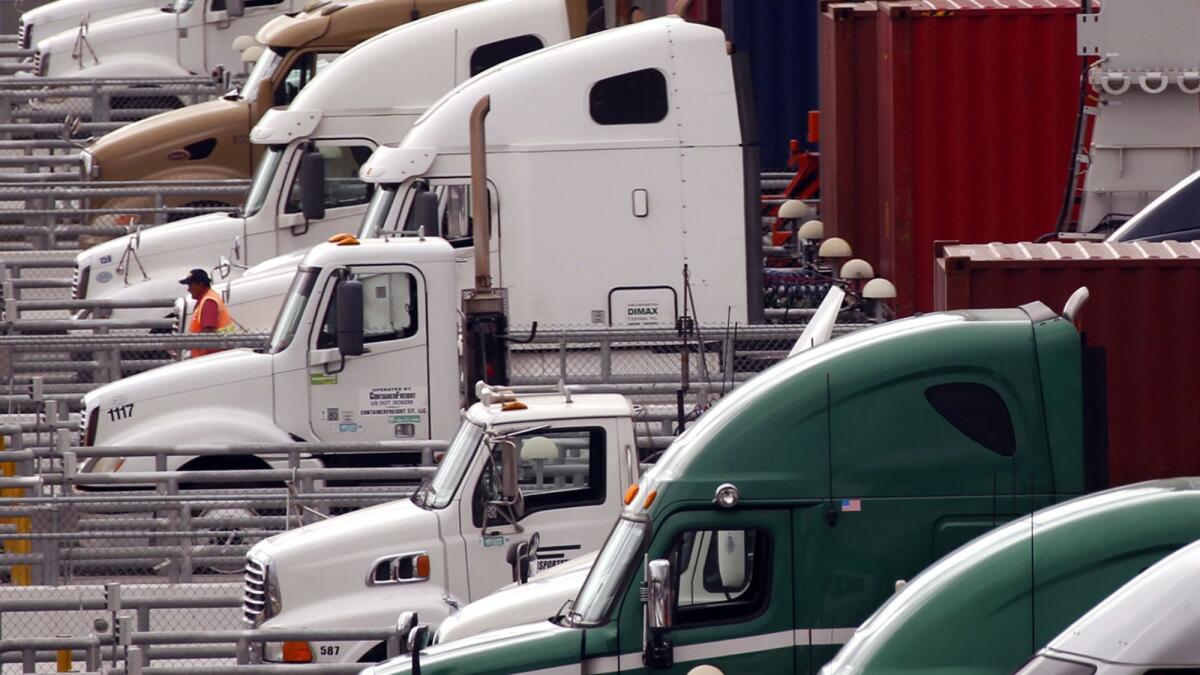 The law, which started with a bill introduced by Sen. Ricardo Lara (D-Bell Gardens) earlier this year, provides for the creation of a public list of trucking companies that are in violation of labor standards because they have failed to pay wages or reimburse expenses after a final court judgment. If retailers such as Target, Home Depot and Amazon use listed companies for drayage, they will be held jointly liable — alongside the trucking company — for any unpaid wages and expenses awarded to drivers.
According to Scott Cummings, a law professor at UCLA who has researched labor in the trucking industry, the bill intervenes in a long process where trucking companies — which have little negotiating power along the supply chain — often resist paying court-ordered awards and declare bankruptcy, change names or hide funds in other ways.
"The bill is smart because it assigns liability to the actors with the most economic power to change the situation," Cummings said.
Many of the legal disputes revolve around how much control companies exercise over "independent" drivers. In a complaint filed against XPO with the California labor commissioner in 2016, Avalos testified that he worked on average 11 hours per day, six days a week, and that he was paid at a piece rate per load, independently of how long it would take to deliver the cargo.
Avalos, who was referred to the Los Angeles Times by the Justice for Port Truck Drivers campaign, alleged the company denied him wages, failed to provide meal and rest breaks and avoided covering out-of-pocket expenses by misclassifying him as an independent contractor.
Despite being classified as a contractor, Avalos testified that he would receive direct supervision from the dispatchers, who determined his start time and schedule and would call him during the day to ensure deliveries took place in a timely manner. Avalos alleged that he needed the dispatchers' approval every time he wanted to take time off and was not able to negotiate the price of loads with customers himself. The driver also provided evidence that from 2013 to 2015, when he was leasing his truck directly from XPO, the carrier deducted tens of thousands of dollars from his paycheck for fuel, licenses, insurance and the truck lease.
In a written objection submitted to the Labor Commissioner, XPO maintained that Avalos was an independent contractor.
In December 2016, the court concluded that XPO "retained pervasive control over the operation as a whole" and that Avalos was functioning as an employee rather than as a "true independent contractor." He was awarded in excess of $170,000 in unpaid wages, interest and other expenses. The carrier has appealed the decision in state court.
The new law is the result of months of negotiations between Lara and various trucking and retail associations. According to an analysis by the Assembly Judiciary Committee, retailers' concerns were addressed when the bill was amended to include a 90-day grace period from the moment a carrier is included in the list, giving retailers time to get out of existing contracts before joint liability kicks in.
Jenna Reck, a spokeswoman for Target, confirmed the company participated in a series of "meaningful conversations" over the bill. "We contract all of Target's transportation services to a number of third-party transportation providers across the country," Reck said in a statement. "Our contract requires that these transportation providers abide by all applicable laws and regulations."
The law creates an exemption from joint liability for retailers that work with trucking companies whose employees are protected by a collective bargaining agreement. Because the vast majority of port drivers are independent contractors — and, under antitrust laws, are not allowed to unionize — the law might incentivize trucking companies to adopt an all-employee model, the companies say, and could potentially strengthen Teamsters' presence at the ports.
LaBar at the Harbor Trucking Assn. said he is more concerned that the prospect of additional liability for retailers will accelerate a shift of business from Southern California ports to those on the Gulf and East coasts. About 40% of the country's container imports and 25% of its total exports flow through the ports of Long Beach and Los Angeles.
LaBar said some of the association's larger members have already been asked by retailers to work with them on pricing and logistics planning in other ports, such as Seattle/Tacoma and Houston. However, he couldn't say which trucking companies and retailers had discussed contingency plans.
UCLA's Cummings contends the new law isn't likely to cause a significant risk of cargo flight from L.A. and Long Beach.
"It's the biggest port complex in the U.S.," he said. "You need trucks. It's a multitrillion-dollar industry. The question is, can we design a system that's fair for everyone, including the people at the bottom?"
aurora.percannella@latimes.com