Trump said he won't fire the Federal Reserve chairman. That's wise, because he probably can't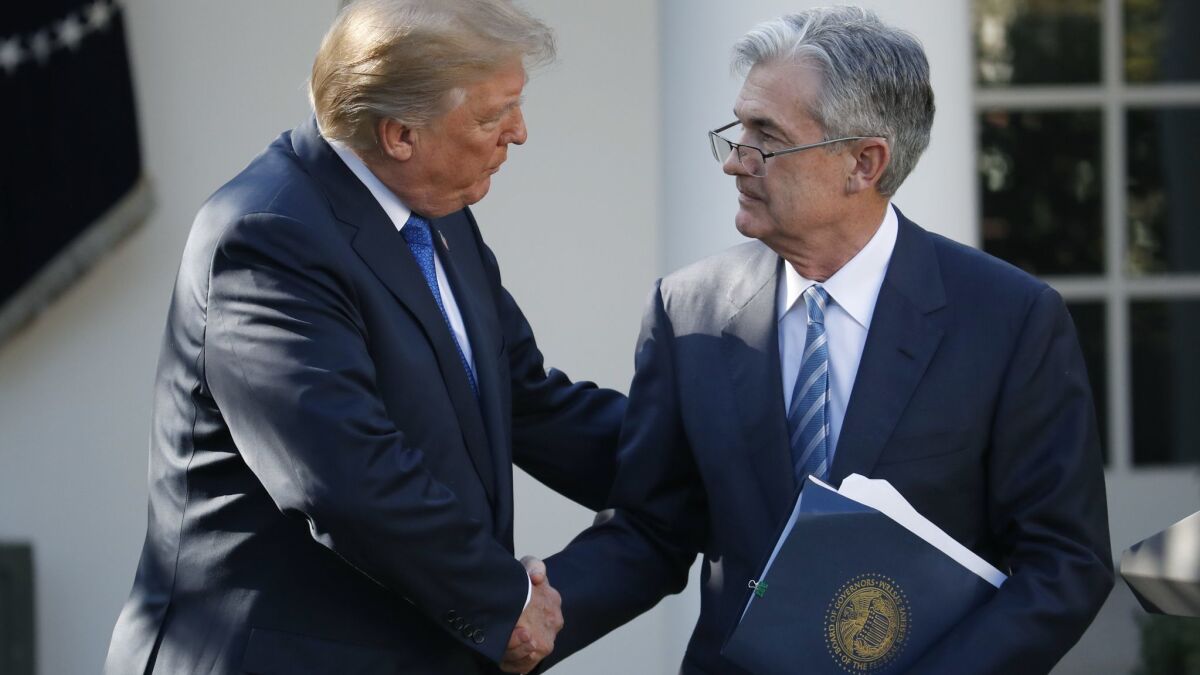 Reporting from Washington —
President Trump on Thursday blamed the Federal Reserve for the recent stock market downturn but said he would not dismiss his hand-picked chairman, Jerome H. Powell.
"No, I'm not going to fire him." Trump said in the Oval Office after a reporter asked him if Powell's job was in jeopardy due to recent hikes in the Fed's benchmark short-term interest rate that Trump said "disappointed" him.
But it would be very difficult for Trump to fire the Fed chairman even if he wanted to.
The Fed is independent of the White House. Unlike Cabinet officials and most other executive branch employees, the central bank's chairman and members of its board of governors do not serve at the will of the president.
No Fed chair has ever been removed by a president, though Chairman Thomas B. McCabe was forced to resign in 1951 under White House pressure after clashing with President Truman's administration.
The Federal Reserve Act, which created the central bank in 1913, states that Fed board members can only be "removed for cause" by the president before their term expires. Powell's term as chairman ends in 2022 and his term as a governor ends in 2028.
The law does not specify the definition of "for cause," a term that applies to officials in other independent agencies, such as the Federal Trade Commission. In a 1935 case involving President Franklin D. Roosevelt's removal of an FTC commissioner, the Supreme Court ruled that such officials could not be fired for political reasons.
More recently, some leading Republicans publicly pushed Trump to fire Democrat Richard Cordray as director of the Consumer Financial Protection Bureau. But the law that created the agency also limited the removal of the CFPB's chief "for cause." Trump did not fire him amid concerns of a court fight. Cordray resigned late last year on his own accord to run for Ohio governor this fall.
Powell's leadership of the Fed since taking over in February has drawn praise from economists and financial analysts for clearly signalling the direction of monetary policy and slowly raising the still historically low federal funds rate.
Twitter: @JimPuzzanghera
Sign up for the California Politics newsletter to get exclusive analysis from our reporters.
You may occasionally receive promotional content from the Los Angeles Times.