Trump names billionaire investor Wilbur Ross as Commerce secretary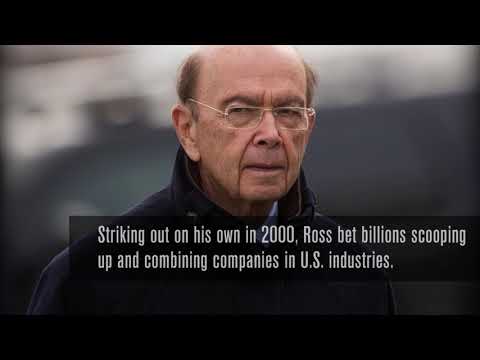 Wilbur Ross is Donald Trump's nominee to be the Commerce secretary. Here's some background on Ross.
Reporting from Washington —
President-elect Donald Trump has chosen billionaire financier Wilbur Ross, known as the king of bankruptcy for his investments in distressed properties, to serve as Commerce secretary.
Although there was no official announcement, Ross confirmed the appointment during an interview Wednesday morning with CNBC.
If confirmed, Ross would become the Trump administration's chief liaison with the business community and a leading advocate for U.S. trade abroad.
Ross said he wanted to fix "dumb trade" deals made by the U.S. and would work to improve the quality of U.S. jobs.
"It's the quality of jobs as well as the quantity," Ross told CNBC, adding that it's not the same for a former steelworker "to be flipping hamburgers" for a living.
Ross, 80, who was a senior policy advisor to Trump's campaign, is worth $2.9 billion, according to Forbes magazine.
Like Trump, Ross has been critical of U.S. trade deals. He sharply criticized trade negotiators and called for the U.S. to withdraw from the yet-to-be-ratified Trans-Pacific Partnership and to renegotiate the North American Free Trade Agreement. Trump has pledged to do both upon taking office.
"I think there's a big difference between the impact of trade agreements on corporate America and the impact on Mr. and Mrs. America," Ross said in an August interview with CNBC. "What we're doing is we're exporting jobs and importing products, instead of exporting products and keeping jobs."
He headed the bankruptcy practice at investment bank Rothschild Inc. for a quarter-century before starting his own investment firm, WL Ross & Co., in 2000.
Ross sold his firm in 2006 to mutual fund company Amvescap in a deal that was valued at that time at as much as $375 million. Ross is the investment firm's chairman and chief strategist.
In August, WL Ross & Co. agreed to a $2.3-million settlement with the Securities and Exchange Commission to resolve an investigation into charges the company failed to properly disclose fees to some investors.
Ross would take the helm of a department that shares trade responsibilities with the Office of the U.S. Trade Representative, whose head also is a Cabinet member.
The Commerce secretary oversees a disparate group of agencies, including the U.S. Patent and Trademark Office, the International Trade Administration, the National Oceanic and Atmospheric Administration, the Census Bureau and and the Bureau of Economic Analysis.
Republicans and Democrats both have targeted the Commerce Department for elimination in recent years.
In 2012, President Obama proposed to close Commerce and combine its business and trade functions with those of other agencies, such as the Export-Import Bank and Office of U.S. Trade Representative, in a new department.
Presidents often have used the job, which is viewed as a second-tier Cabinet position, as a reward for top political supporters with business ties.
For example, the current Commerce secretary is Penny Pritzker, a Chicago business executive who was a longtime Obama supporter and top campaign fundraiser.
Ross had reportedly been under consideration to be Treasury secretary, a much more powerful and influential Cabinet job.
Ross is a Yale graduate and art collector. He has a home in Palm Beach, Fla., where Trump's Mar-a-Lago estate is located.
Ross is not a stranger to politics and, like Trump, was a Democrat for much of his life.
In 1995, Ross, then a Democratic fundraiser, married New York Lt. Gov. Betsy McCaughey, who was a rising Republican star.
Former New York Gov. George Pataki dropped McCaughey Ross from his ticket when he ran for reelection in 1998.
She switched parties and unsuccessfully ran for the Democratic nomination for governor, a campaign Ross promised to fund. But shortly before the Democratic primary, Ross cut off her funding and the couple divorced in 2000.
In 2004, Ross married for the third time, to Hilary Geary, a society writer for Quest magazine.
Follow @JimPuzzanghera on Twitter
---
UPDATES:
4:50 a.m. Nov. 30: This article was updated with Ross confirming his selection as Commerce secretary and comments on trade in a CNBC interview.
This article originally was published at 6:05 p.m. Nov. 29.