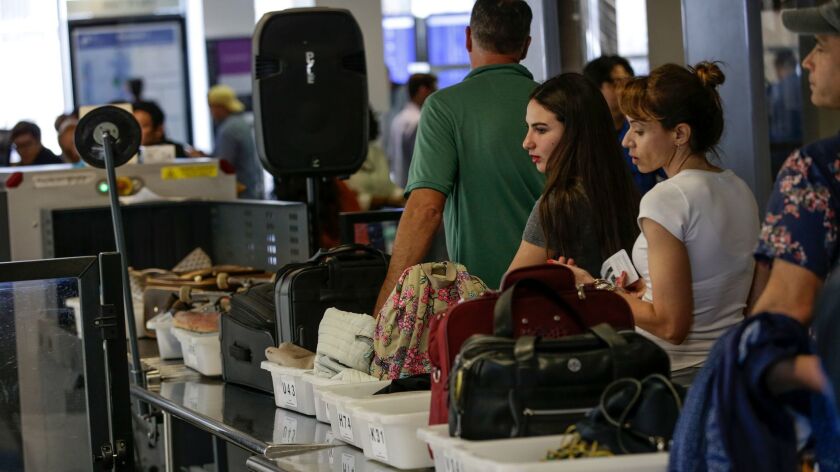 Responding to the possibility that terrorists may be able to hide explosives in electronic devices, the Transportation Security Administration is about to start new screening procedures for carry-on luggage at airports nationwide.
In the next few weeks, passengers traveling through every U.S. airport will be required to put all electronic devices larger than a cellphone in a separate bin during security screening.
"It is critical for TSA to constantly enhance and adjust security screening procedures to stay ahead of evolving threats and keep passengers safe," the TSA's acting administrator, Huban A. Gowadia, said in a statement.
The new focus on tablets, e-readers and other such electronic devices in planes arose after U.S. officials learned in the past few months that terrorists may have found a way to hide explosives in mobile electronic devices in an effort to bring down a U.S. commercial plane.
In response, the Department of Homeland Security imposed a restriction in March on all electronic devices larger than a smartphone in the cabins of flights from eight Middle Eastern and African countries. Department of Homeland Security Secretary John Kelly later hinted that he was considering imposing the same restriction — referred to as a "laptop ban" — on all countries with direct flights to the U.S.
But an expansion of that ban was averted last week after new security measures were adopted by all 180 airlines and 280-plus airports with direct flights to the U.S. TSA officials declined to discuss those measures.
In the U.S., the new security measures do not apply to passengers enrolled in TSA PreCheck, the program that lets travelers who submit to a government background check use expedited screening lines. Such travelers do not need to remove their shoes, belts or light outerwear or pull liquids or electronics out of their carry-on bags.
Technology may make such measures moot. Last month, TSA began testing the use of a new baggage-scanning technology that can look through luggage for bombs and weapons and create a 3-D image of the bag's contents.
---
UPDATES:
11:25 a.m.: This article was updated throughout with Times staff reporting.
This article was originally published at 9:05 a.m.
---