Uber sales growth slows as quarterly loss surges to $1.1 billion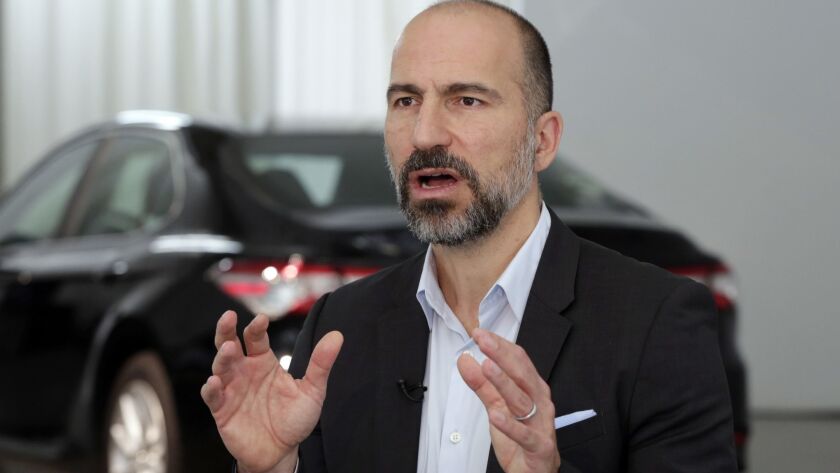 Uber's sales growth is dramatically slowing even as the ride-hailing company is spending more to fuel global growth, particularly in its food-delivery business.
Revenue growth reached only 38% in the third quarter, not even half of what it was six months earlier, when the company was negotiating a $9.3 billion investment led by SoftBank Group Corp., according to figures released Wednesday by the San Francisco-based company.
That's a troubling sign for a serially unprofitable business that hopes to get valued like a technology company in a planned initial public offering next year. The company lost $1.07 billion in the quarter ended Sept. 30, an improvement over a year ago but a 20% wider loss than in the second quarter.
Highly valued companies typically grow quickly or generate big profits — and great ones do both. In the fourth quarter of 2005, Amazon.com Inc. had about the same revenue as Uber's today — just under $3 billion, not adjusted for inflation. Yet, Amazon earned $199 million in profit and was worth about a fourth of Uber's $76-billion valuation.
Uber released a limited set of financial information on Wednesday, a move the privately held company voluntarily does each quarter. The company also offered a glimpse into its food delivery business for the first time. A spokesman said Uber Eats generated $2.1 billion in gross bookings. That represents 17% of Uber's $12.7-billion in gross bookings last quarter.
The emergence of Uber Eats as a promising new business has been good news for a company that's hoping to argue in its IPO pitch that it can build a suite of similar offerings. Uber is now eyeing electric scooter rentals, logistics and autonomous cars.
But just as there is lingering uncertainty about the profitability of Uber's core ride-hailing business, so it is unclear whether the company can build a profitable food-delivery service. While food is boosting Uber's gross revenue, it's shrinking the company's margins, though Uber didn't provide exact figures.
On stage at the Wall Street Journal technology conference on Tuesday, Chief Executive Dara Khosrowshahi defended the company's ability to achieve profitability. He argued that some ride-hailing markets generate profit for Uber after accounting for local operations teams, drivers and other regional expenses. In the U.S., however, the business is not profitable even by that lower standard. "In the U.S., which is our largest market, we're in a big battle" with Lyft Inc., he said.
Khosrowshahi has said publicly that Uber is targeting a public offering in the second half of 2019. Privately, he's told investors that he's aiming for the first half of the year, people familiar with the matter have told Bloomberg. Lyft is also considering an IPO in the first half of next year, people have told Bloomberg.
Uber had $6.55 billion in cash on hand at the end of the quarter, not including the $500 million it recently raised from Toyota Motor Corp. or its $2-billion debt offering.
"We had another strong quarter for a business of our size and global scope," Chief Financial Officer Nelson Chai said in an emailed statement. "As we look ahead to an IPO and beyond, we are investing in future growth across our platform, including in food, freight, electric bikes and scooters, and high-potential markets in India and the Middle East, where we continue to solidify our leadership position."
---
Your guide to our new economic reality.
Get our free business newsletter for insights and tips for getting by.
You may occasionally receive promotional content from the Los Angeles Times.