As Umeya Rice Cake Co. closes, an era ends in Little Tokyo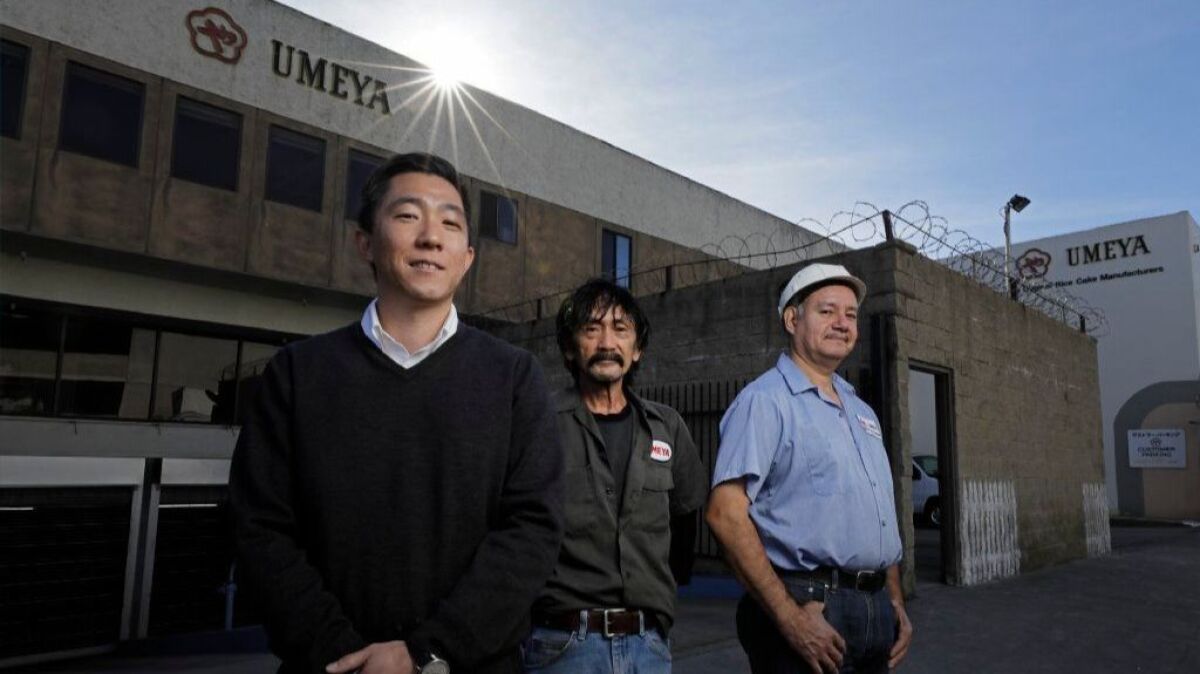 Takeshi Hamano liked to stroll through the Umeya Rice Cake Co. factory in Little Tokyo, stopping along the way to taste test his senbei, or Japanese rice crackers.
When he'd see employees, he'd stop and quiz them about the production process — from the washing of the rice to the steaming, kneading, cutting, toasting and flavoring of the Japanese snacks.
"He was very good at getting you to say the wrong thing," said his son Rex Hamano, with a laugh. "But in a mentoring way. He wanted people to get better."
Rex Hamano took over as president when his father, known by all as "Tak," died in April at age 92.
Hamano, an accountant by training who said he never felt pressured to become the third generation to run Umeya, described his father as the heart of the business. Ultimately, the family decided that Umeya and Tak Hamano should rest together, so the Los Angeles company will close Dec. 31, after nearly a century in operation.
"That entrepreneurial spirit of never giving up, that's Tak," Rex Hamano said. "You can't transfer that."
Umeya was one of the few businesses of its kind left in Little Tokyo. It was started by Tak Hamano's father, Yasuo, with the family's help both in startup funds and the labor to help make rice crackers by hand in the back of Yasuo's small shop, sometime around 1918. Umeya Rice Cake Co. was incorporated about 1925.
Umeya's products proved popular with small Japanese grocery stores, fishing villages and farm camps around California, according to a company history written by Tak Hamano.
The original factory on Weller Street, now called Weller Court, closed in 1942 when the family was sent to an internment camp under President Franklin D. Roosevelt's Executive Order 9066, which resulted in the incarceration of about 120,000 people of Japanese descent, most of them American citizens.
The family stored its manufacturing machinery and was taken to an assembly center at the Santa Anita race track, then to the Rohwer internment camp in Arkansas. In 1944, the Hamano family was able to reopen the business in Denver.
The demand for rice crackers was high from the internment camps, and the family struggled to fill orders.
Umeya made the move back to Los Angeles in 1950. Because of postwar discrimination toward people of Japanese ancestry, Umeya made it a point of being one of the few corporations to hire immigrants, Rex Hamano said.
Tak Hamano, who took over the company in 1970, helped people start their lives again, said June Aochi Berk, a close friend who was in the same camp during the war.
Tak expanded company operations with his ability to do business in two different cultures, which gave him an edge and allowed him to introduce the Japanese rice snack to non-Japanese populations, said Brian Kito, owner of Fugetsu-do, a mochi confectionery shop in Little Tokyo.
Umeya wholesaled its rice crackers and other snacks, including fortune cookies, to Japanese and Asian grocery stores such as Marukai, Mitsuwa Market, Tokyo Central and 99 Ranch Market, as well as some mainstream supermarkets. Hamano said the family is considering licensing its products in some form.
Customers also could walk up to the window at Umeya's production facility and warehouse on Crocker Street and buy boxes of hana rice crackers that were shaped like flowers or the popular assorted mix of rice crackers that included wasabi peas, sugar twists and salty rectangles. The Hamano family hasn't decided what will happen to downtown facility; Rex Hamano declined to say how many people were employed there.
One of Tak Hamano's greatest joys was giving back to his community, Aochi Berk said. He was adamantly opposed to being in the limelight or receiving recognition for the contributions in products, funds and resources he made to Japanese-American non-profits and businesses, including the San Fernando Valley Japanese-American Citizens League, the Suzume no Gakko Summer Camp and Fugetsu-do.
Fugetsu-do, which was also a customer, sold 70 or 80 gift-wrapped sets of rice crackers at a time during the holiday season. Kito often wondered, why wouldn't Umeya raise the prices?
"They were very inexpensive, so inexpensive that it used to just irk me," Kito joked. "I would tell my dad, 'We buy these things for $1.75, and we sell it for $2.50 and wrap it up and put a bow on it.'"
I'm saddened to see some of the older businesses as they disappear.
— Brian Kito, Little Tokyo business owner
But as small and inexpensive as the rice snacks were, they were significant for the Japanese-American community.
For many customers, Umeya represented nostalgia — it was a familiar snack they would carry to school and on field trips and receive as gifts on holidays, Rex Hamano said.
Derek Yee, a 31-year-old Carpenteria resident, said his family has been buying Umeya products for generations. In the mid 1930s, young Tak Hamano and Yee's grandfather would snack on Umeya senbei, bought by his great-grandmother, at their boy scout troop meetings in Little Tokyo.
Years later, Yee's grandmother bought boxes full of snacks for holiday gifts. She wrapped fortune cookies in cellophane bags, tied them with a Christmas ribbon and topped them with the appropriate label to be delivered to whomever she wanted to show appreciation.
Sitting by Tak Hamano's bedside a few months before he died, Kito said he realized Hamano was probably one of the last people in Little Tokyo who could tell stories about what the old days were like.
"I think the community looks at [Umeya closing] thinking 'Gee, what could we have done?'" Kito said, tears in his eyes.
Even in his final days, Tak Hamano remained an innovator, Kito said. Hamano talked of plans to make coffee-, salsa- and cinnamon-flavored rice crackers.
Umeya's absence will mark another change in Little Tokyo. Several other family-owned Japanese businesses have struggled, closed or sold in the last few years.
Last year, Rafu Shimpo was near shutting down. The newspaper raised enough funds to operate through 2018, but is strategizing for ways to survive permanently, said Ellen Endo, president of the Little Tokyo Business Assn.
Mikawaya, a 107-year-old mochi ice cream shop, which sells in many locations across the country, was bought from the Hashimoto family by a private equity firm in 2015.
The shift in Little Tokyo might be attributed to growing competition, Endo said. New businesses have established in the 11-block neighborhood, drawing people away from Japanese mom-and-pop shops.
Kito said that Little Tokyo businesses once were close-knit, tied together by the necessity of fighting open prejudice and discrimination. But with newer businesses, fewer people know each other, diminishing the sense of community, he said.
"We do see a lot of good things, a lot of younger businesspeople coming to the area," Kito said. "I'm saddened to see some of the older businesses as they disappear."
Times staff writer Samantha Masunaga contributed to this report.
alejandra.reyesvelarde@latimes.com
Twitter: @r_valejandra