United Airlines denies telling woman to urinate in a cup during a flight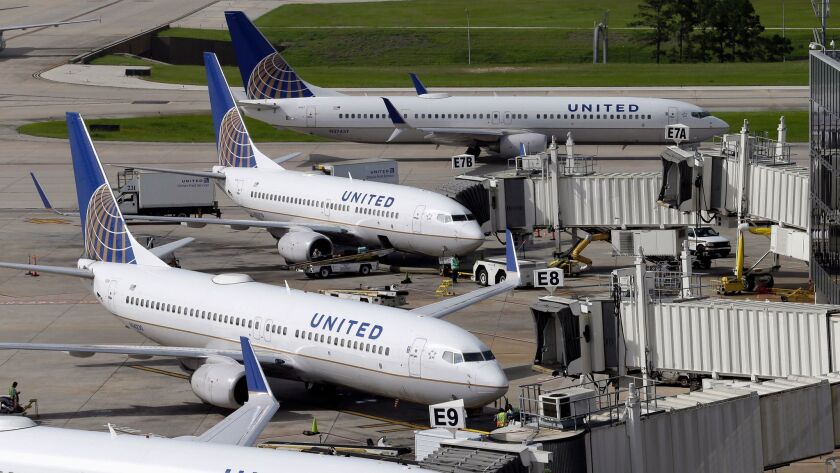 United Airlines is denying that its staff told a Missouri woman to urinate in a cup rather than leave her seat to use the restroom on a flight, and it implied that the flight in question involved one of its regional partners, Mesa Airlines.
Nicole Harper told KCTV News that she had a sudden urge to urinate because of her overactive bladder on a flight last month from Houston to Kansas City, Mo.
She said that a flight attendant told her she wasn't allowed to stand up because the pilot was expecting turbulence, and that she responded by saying she was going to need a cup. Harper said she filled two cups and was then escorted to the bathroom to empty the urine.
In a Facebook post, Harper said: "The flight attendants treated me like I had committed a crime, stating they would be filing a report, calling in the hazmat team to clean the entire row (let me mention there was no mess involved) and told me I would need to talk with the pilot after the flight."
She said the incident happened less than 30 minutes into the flight.
United said in a statement that based on "initial reports from our flight attendants," Harper "attempted to visit the lavatory on final descent."
The airline said it has reached out to Harper and Mesa Airlines to "better understand what occurred."
The airline industry has received a lot of backlash since last month, when video showed a United Airlines passenger being dragged off a plane.
Dr. David Dao, 69, was injured and bloodied when aviation security officers pulled him from the crowded flight after he refused to give up his seat. United had picked Dao and three others to be removed from the plane so that airline employees could have seats.
The April 9 incident, which was caught on cellphone video and seen worldwide, led United to apologize, adopt 10 policy changes to improve passenger service and reach an undisclosed settlement with Dao. Airline executives were even called to explain themselves before congressional panels.
The passenger-dragging scandal hurt United's image but has yet to damage the airline's bottom line, according to data released Monday.
Times staff writers Lauren Raab and Hugo Martin contributed to this report.
ALSO
Airport chaos, flights canceled: Spirit Airlines apologizes
American Airlines to squeeze seats closer together on new planes
A terminal is opening at LAX for people willing to spend big to avoid the crowds. Here's how it works
---
For reporting and exclusive analysis from bureau chief John Myers, get our California Politics newsletter.
You may occasionally receive promotional content from the Los Angeles Times.