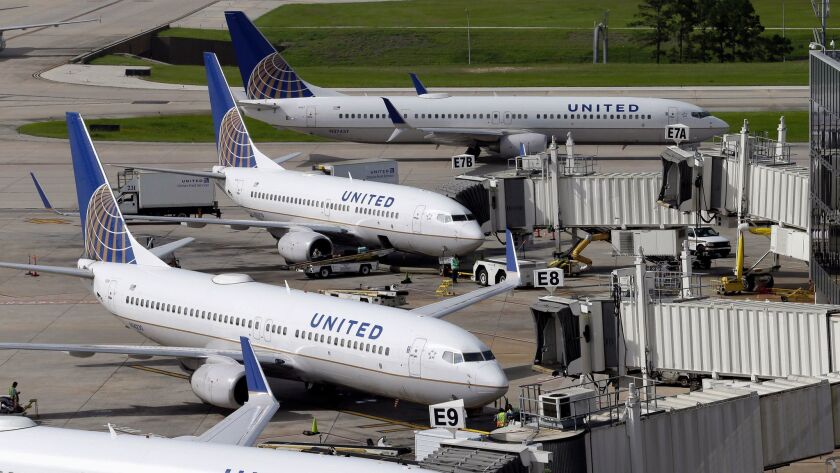 United Airlines just promised to reduce overbooking and to offer as much as $10,000 to people who willingly give up their seats — part of a set of policy changes announced weeks after passenger David Dao was physically dragged off an overfull flight.
The carrier previously announced it will no longer remove a passenger already seated unless it is for safety or security reasons. But the airline still plans to oversell some flights, meaning there won't always be room for everyone.
And there will be times when even $10,000 won't entice enough passengers to step aside. So United will still have to bump those who don't volunteer and not allow them to fly.
How will it choose who doesn't get to board?
On Thursday, United revealed its policy. Here's what it said.
"United's involuntary denied boarding (IDB) process is automated and customers are not subject to discretionary choice by agents. This is our process:
"First, agents will deny boarding if a passenger does not have a seat assignment prior to boarding the aircraft.
"Customers are then sorted by fare class (estimated fare paid) and type of itinerary.
"Customers with the lowest paid fare are placed at the top of the list for involuntary denial of boarding.
"If a group of customers paid the same fare, then the group is sorted by time of check-in.
"Customers with frequent flyer status will not be involuntarily denied boarding, unless all of the remaining passengers have frequent flyer status, in which case the lowest status will move to the top of the IDB list.
"Customers with special needs (unaccompanied minors, passengers with disabilities) are excluded and are not involuntarily denied boarding."
ALSO:
Why airlines sell too many seats and why it might make sense
United CEO Oscar Munoz: From 'Communicator of the Year' to PR disaster
United says it'll pay bumped passengers up to $10,000 and reveals nine other policy changes
---