Despite rocket explosion, aerospace firm Orbital ATK's profits are soaring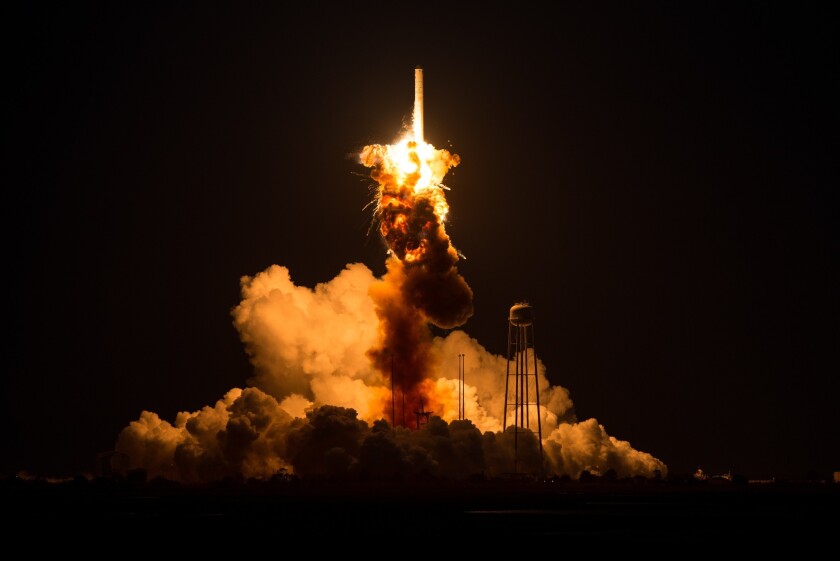 Ten months after a cargo ship bound for the International Space Station exploded seconds after liftoff, profits are soaring for the NASA contractor that built it.
NASA is continuing to pay the Virginia aerospace firm millions of dollars for work on future cargo shipments under a contract that executives say has recently become more profitable.
The fiery explosion Oct. 28 cost taxpayers hundreds of millions of dollars in lost cargo, damage to the launch pad and required payments to the firm for the failed mission. It also left NASA scrambling to get needed supplies to astronauts.
SIGN UP for the free California Inc. business newsletter >>
The company, now known as Orbital ATK Inc. after a February merger, has redesigned its rocket, but it is not expected to fly again until sometime next year.
On Aug. 6, Garrett Pierce, Orbital's chief financial officer, told Wall Street analysts that quarterly operating profit in the company's space division, a large portion of which come from NASA, had soared 167% over the same period last year.
"One hundred and sixty-seven percent — I'm going to repeat that," Pierce said.
Stephanie Schierholz, a NASA spokeswoman, said the agency would not disclose how much it has paid Orbital or SpaceX, the Hawthorne company that has a similar contract to haul cargo to the space station.
On June 28, eight months after Orbital's failure, a SpaceX cargo ship disintegrated shortly after liftoff, destroying supplies that NASA said were worth $110 million.
Schierholz said that NASA protected "the commercial pricing" information in the contracts "to maintain fair competition."
NASA makes payments to the companies as they build rockets, test them and reach other milestones. The companies get all but 20% of the price of a cargo mission even if the rocket explodes.
The agency allowed Orbital to do its own investigation into the Oct. 28 explosion — a report that is still pending.
The company must send the findings of its investigation to the Federal Aviation Administration for review. An FAA spokesman said the report is expected soon.
Yet it's unclear whether the public will learn of the probe's final conclusions.
Barron Beneski, Orbital's vice president of communications, said the company would not release the report to the public because it contained confidential corporate information. And NASA and the FAA said they would not release it either.
The FAA said the company may release a summary of its findings.
Soon after the rocket blew apart, Orbital executives said preliminary evidence pointed to a failure in one of the two 50-year-old Soviet-made engines that powered it.
Both NASA officials and Orbital executives had known of the risk of using those engines, which had sat in a warehouse for decades before being refurbished.
In 2011, one of the engines caught fire during a test, showing that the aging metal could crack under pressure. But NASA and Orbital believed that they had successfully addressed the risk by X-raying the engines to find the cracks and then patching them with welding.
After its preliminary probe pointed to the Soviet-era engines, Orbital said it would switch to a newly manufactured Russian engine for future cargo launches. The work on that redesigned rocket is happening as planned, the company said this month, enabling it to recognize more profit from the contract on its accounting books.
Orbital is also receiving payments from NASA for a subcontract that the company gave to United Launch Alliance, a Boeing-Lockheed joint venture. Orbital hired ULA to blast a cargo ship to the space station as an interim measure until its own rocket can fly again. That flight is expected as soon as December.
The company says it is committed to resuming shipments as soon as possible.
"We are on track to meet our CRS cargo requirements for NASA," Orbital Chief Executive David W. Thompson said in a statement last week, referring to the contract's acronym.
The company's investigation is aimed at pinpointing the root cause of the engine failure, which Orbital executives said earlier was related to the engine's turbo pump.
Federal law allows commercial space companies to do their own investigations into accidents unless there are fatalities or significant damage to property beyond the launch site.
The Senate voted this month to extend that law, which allows America's space industry to operate with little government oversight. The House earlier passed a bill allowing a similar extension. Final details of the bill must now be hammered out by representatives of both houses in a conference committee.
NASA recently received at least three letters from members of Congress questioning whether the companies should investigate their own accidents when millions of dollars in taxpayer money is at stake.
In one of those letters, 14 representatives, including Rep. J. Randy Forbes, a Virginia Republican, wrote that they had "serious reservations" about the corporate-led probes. They questioned "whether the investigation and engineering rigor applied will be sufficient" to prevent future accidents.
About a month after Orbital's rocket erupted in a fireball, NASA decided internally to do its own investigation of what it calls the "mishap." Asked whether the agency would publicly release the results of its investigation, NASA spokeswoman Schierholz did not answer.
This was not the first time that Orbital's rockets have failed at massive expense to NASA and taxpayers.
In 2009, the nose cone on a rocket carrying the $273-million Orbiting Carbon Observatory failed to release on time, destroying the satellite. Two years later, the $424-million climate satellite known as Glory was lost because of a similar problem with Orbital's rocket.
By last September, just before the latest explosion, Orbital had already received $1.3 billion of what was then a $1.9-billion contract with NASA — even though it had completed just two of eight required missions.
NASA has now extended the contract, buying additional cargo trips and increasing the price to as much as $3.1 billion.
Orbital ATK was created by the merger of Dulles, Va.-based Orbital Sciences Corp. and the aerospace and defense divisions of Arlington, Va.-based Alliant Techsystems Inc.
Twitter: @melodypetersen
ALSO:
SpaceX rocket failure raises questions about space station's vital supplies
Why NASA scientists are excited about Matt Damon film 'The Martian'
Pieces of falling spaceship barely missed people, new evidence shows
---
For reporting and exclusive analysis from bureau chief John Myers, get our California Politics newsletter.
You may occasionally receive promotional content from the Los Angeles Times.