USC's massive campus addition features student housing — and Trader Joe's and Target open to the community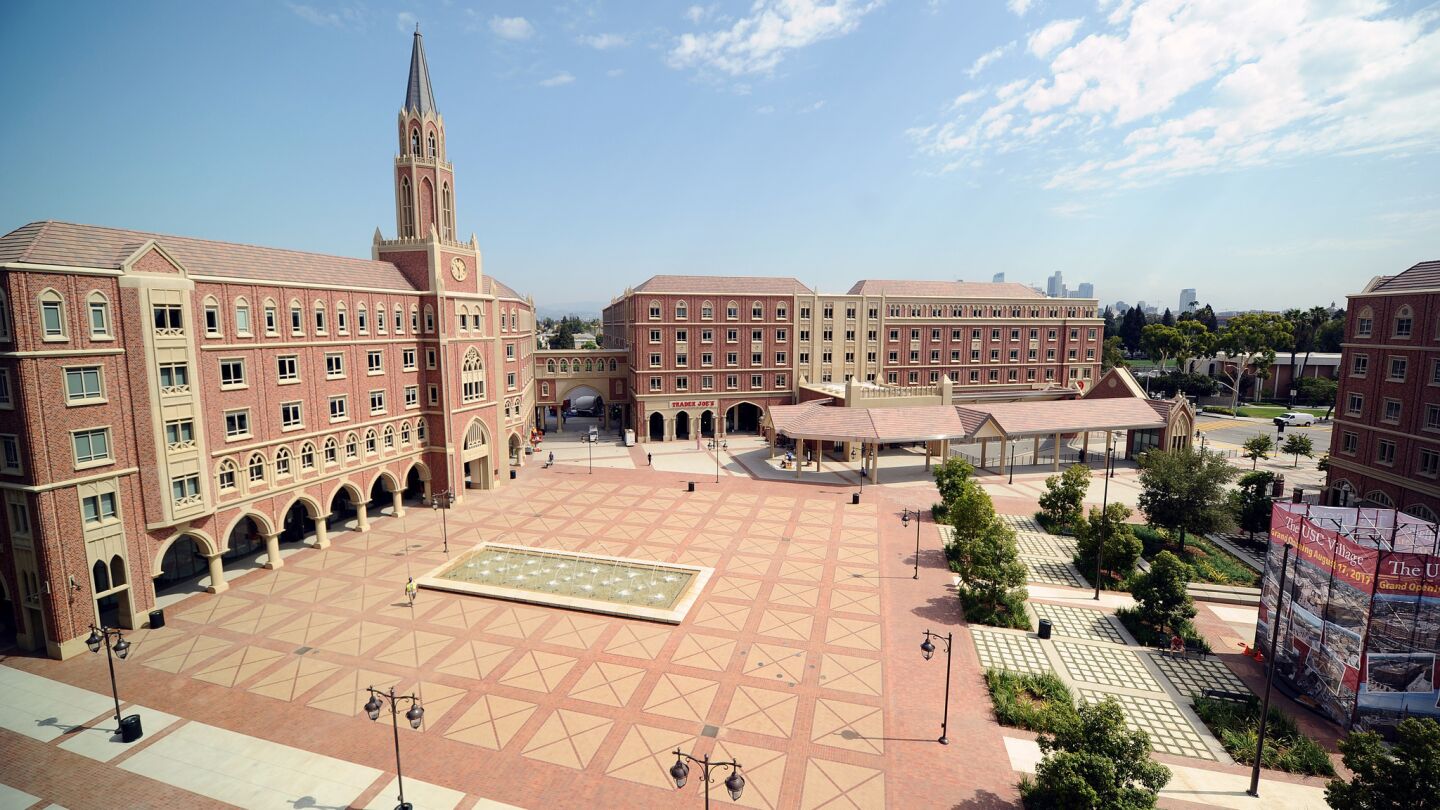 A view of the Central Piazza at the USC Village.
(Wally Skalij / Los Angeles Times)
A reflection in the window of the USC Village.
(Wally Skalij / Los Angeles Times)
A woman walks by the Fubon fountain at the USC Village.
(Wally Skalij / Los Angeles Times)
A view of the courtyard at the USC Village.
(Wally Skalij / Los Angeles Times)
A relaxation area for students in the interior courtyard of the USC Village.
(Wally Skalij / Los Angeles Times)
A view of the dining hall at the USC Village.
(Wally Skalij / Los Angeles Times)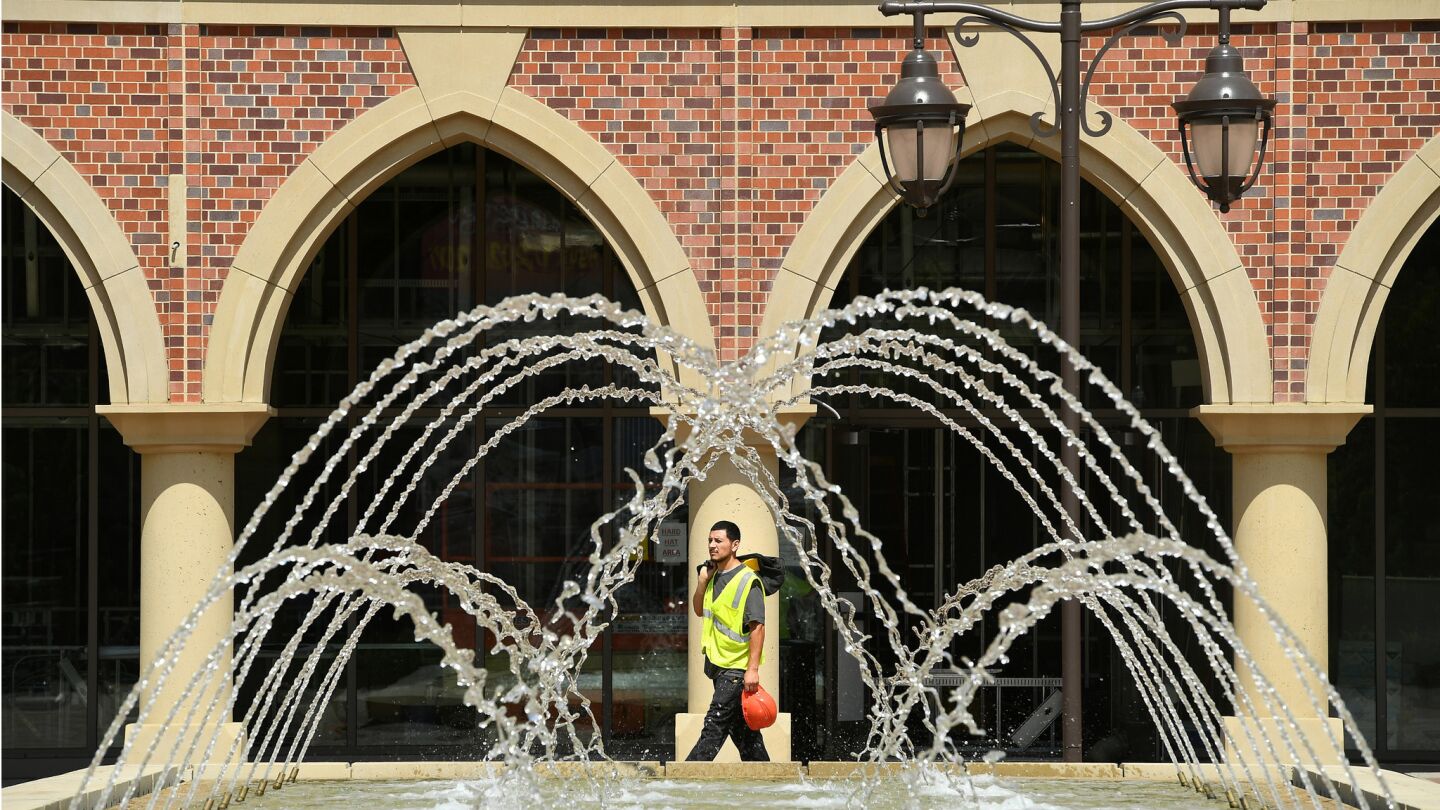 A construction worker walks by a fountain at the USC Village.
(Wally Skalij / Los Angeles Times)
A view of a social area for students at the USC Village.
(Wally Skalij / Los Angeles Times)
A view of the bicycle garage at the USC Village.
(Wally Skalij / Los Angeles Times)
A view of the dining area at the USC Village.
(Wally Skalij / Los Angeles Times)
A view of a bedroom at the USC Village.
(Wally Skalij / Los Angeles Times)
USC Village, the largest development in the school's history, officially opens Thursday as the university strives to house more students on campus — and broaden its connection to its South Los Angeles neighborhood.
The $700-million project spans 15 acres, has beds for 2,500 undergraduates and features a spacious courtyard with a statue that is a female counterpart to Tommy Trojan, the famous sword-wielding casting of a Greek warrior in the school's central plaza.
But those students are not cloistered from the urban bustle around the intersection of Jefferson Boulevard and Hoover Street. Rather, they will live upstairs from a Trader Joe's, Target, Starbucks and other stores and restaurants that are open to the public.
"It enhances the community to have these shops and restaurants," said shopping center magnate Rick Caruso, who is a USC trustee and longtime school donor. "It makes it a much more vibrant neighborhood."
At a massive 1.2 million square feet, the development fits into USC's long-running campaign to elevate its profile and status in the academic community.
This year, the school reached a $6-billion fundraising goal, announced in 2011, more than a year ahead of schedule. Of that money, $1 billion was designated for building projects including USC Village.
U.S. News & World Report now ranks USC among the top 25 universities in the country, consistent with a growth in funding that has made it a leading research school.
But USC was looking for more than just a marquee addition to its campus when it set about planning the expansion in 2011, a priority for President C.L. Max Nikias. It wanted to improve the blocks around the school — part of a national trend of community building among universities that formerly tried to isolate themselves from the streets outside.
As part of the city's approval process, USC pledged to contribute $20 million to the city's affordable housing trust that creates housing for low-income households. It also promised to hire local workers, and about 20% of the project's construction crews lived within five miles of the school.
Some of the country's top schools, including USC, that were established many decades ago are in aging parts of big cities and surrounded by economically challenged neighborhoods that were off-putting to some potential students and faculty.
USC officials even considered moving the school out of South Los Angeles decades ago. And the university community was shaken in 2012 when two Chinese graduate students were shot to death while sitting in their car about a mile off campus.
Now USC and other schools are finding their urban locations to be an asset with the newest generation of college students, said Christopher Leinberger, a professor at George Washington University, who is head of the Washington, D.C., school's urban analysis program.
"We have seen a lot of high-density, mixed-use development that incorporates both university and public functions," he said. "This is being driven by millennials. Urban schools with walkable environments is what they want."
The University of Pennsylvania pioneered the concept of elevating its neighborhood in the 1990s when its president decided Penn was doomed to remain the doormat of the Ivy League unless it could help its "deeply challenged" West Philadelphia neighborhood troubled by crime and falling homeownership.
The school assisted private developers to build homes, apartments, a theater complex, supermarket, hotel, stores and restaurants. The pump priming worked well enough to attract a wide range of people to the neighborhood, Leinberger said. Penn is now ranked among the top schools in the country, and West Philadelphia is one of the hippest areas in town, with the highest office rents in the state.
Leinberger's school, George Washington, leased land to developer Boston Properties to build apartments, offices for rent, restaurants and a Whole Foods market, generating about $10 million a year in rent.
"It's now the main street for the Foggy Bottom section of town," he said. "It's just jammed with people."
USC Village replaced a run-down outdoor mall dating to the 1970s with five five-story residential buildings around a plaza and brick walkways that will be fitted out with tables and umbrellas to encourage residents and visitors to meet and linger.
But there is no doubt this is a high-end university project, with the latest amenities.
There is a cavernous dining hall inspired by the Christ Church dining hall at Oxford University with stained glass windows and skylights. Students can eat at long tables, in booths or at high-top tables.
Freshmen in the honors program are expected to eat there and have no kitchens, but most of the suites have gas ranges, sinks and refrigerators. Typical suites have two or three bedrooms for four or six students who share a kitchen and common living room.
Each building has a furnished interior courtyard where students can study or relax. High-tech laundry facilities will charge students' credit cards for service and text them when their wash loads are finished.
There is a fitness center open to all students, but security for the residents will be pronounced. Entry to the dorms will require key cards and facial recognition scans, and the entire complex including the courtyard and other outdoor spaces will be shut to nonresidents from 10 p.m. to 6 a.m.
Bicycle parking on elevated racks is provided indoors, and one of the retail tenants will be a bike shop.
An elaborate gating system will allow some businesses including Target and Trader Joe's to remain open to the public when the courtyard is closed.
"We met with hundreds of people as part of the approval process," USC spokesman Thomas Sayles said. "The community wanted Trader Joe's and new jobs."
The 30-month construction timeline was too fast to use conventional masonry techniques for the brick-clad buildings, said architect Brent Miller of Harley Ellis Devereaux, the firm that designed the buildings.
"There weren't enough masons in Southern California to do it," Miller said, "not to mention the prohibitive cost of scaffolding."
The architects' solution was to create 88 precast concrete panels that could hold thin bricks laid in while the panels were horizontal. The panels were attached by crane to the side of the concrete-framed buildings that were designed to last 100 years.
Improvements to neighborhoods around school properties may extend to the USC's Keck School of Medicine in Boyle Heights.
Another major university development could take place next to the Keck School and Los Angeles County-USC Medical Center, said real estate consultant Philip Hart, who is working on a plan to build a biomedical research park there with a hotel, housing and restaurants as well as research offices and laboratories.
The complex might include teaching labs for middle school and high school students and teachers.
If it is approved by county supervisors, Hart said, "USC will have another big project on their hands."
Twitter: @rogervincent
ALSO
Most of the Queen Mary Island plans are complete. Here's how it'll look
LAUSD's costly 20-year construction project ends with opening of $160-million Maywood campus
Citing potential health risks, City Council panel rejects plan for homes near the 110 and 91 freeways
---
Sign up for the California Politics newsletter to get exclusive analysis from our reporters.
You may occasionally receive promotional content from the Los Angeles Times.