Citing potential health risks, City Council panel rejects plan for homes near the 110 and 91 freeways
An LA City Council committee rejected a plan to put 15 homes near a freeway interchange. (Aug. 16, 2017)
A key committee of the Los Angeles City Council rejected a plan Tuesday for putting 15 homes near a freeway interchange, in part over the potential health risks from car and truck pollution.
The council's Planning and Land Use Management Committee unanimously declined the request from businessman Ali Awad to change the zoning on the site, a move that would allow housing to be built. The site sits next to the 110 and 91 freeways and previously was owned by the California Department of Transportation.
California air quality officials have warned for more than a decade against building new homes within 500 feet of freeways, noting that residents in those areas have higher rates of asthma, heart attacks, lung cancer and pre-term births. A recent Times analysis found Los Angeles has nevertheless experienced a spate of home building in those locations, with thousands of units going up.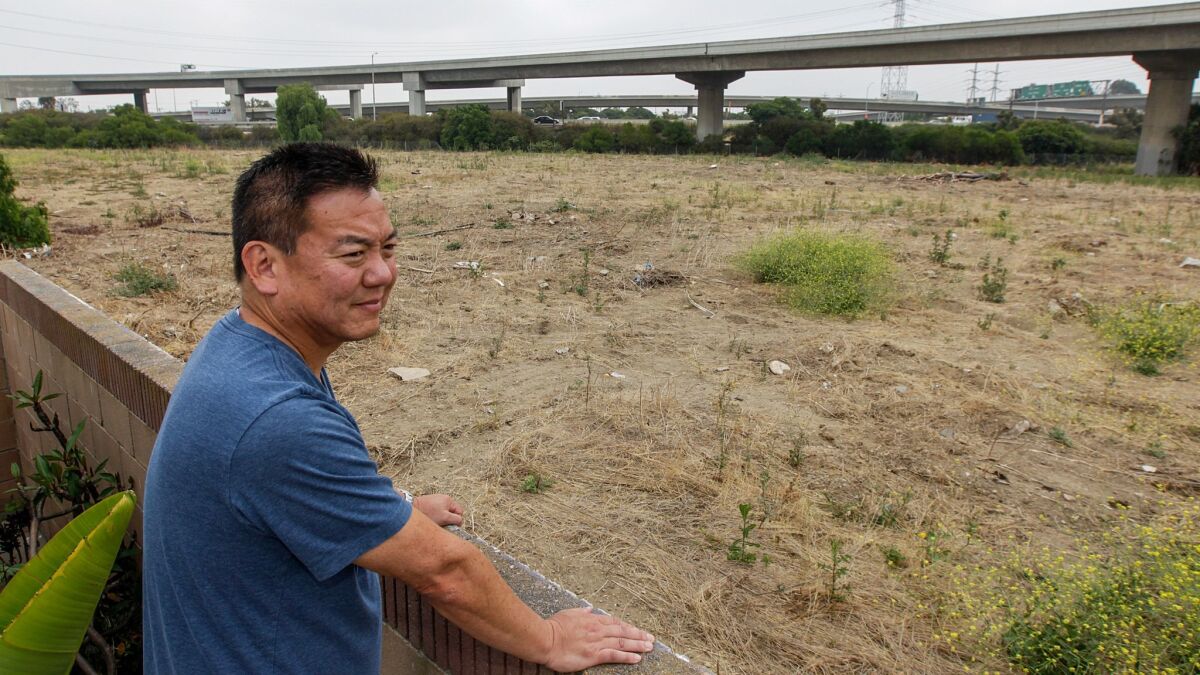 Councilman Bob Blumenfield said he was "very uncomfortable" with the project — and the possible environmental issues that future residents would face.
"People will be in the backyards," he said. "It's not like the [freeway-adjacent] apartment projects we see where they put in the inoperable windows and … you have the air filters. The backyards are right up against the freeway."
The project still must be heard by the City Council. But its prospects are much dimmer in the wake of Tuesday's vote.
The proposed subdivision had previously been rejected by the Harbor Area Planning Commission, which is made up of mayoral appointees, and the neighborhood council for the area. Residents in L.A.'s Harbor Gateway neighborhood also argued that future residents would be exposed to noise and unhealthy air.
"How this is up for discussion is beyond me," said Harbor Gateway resident Craig Kusunoki. "It would be irresponsible to put people in this situation."
The project site is about 100 feet west of the 110 and 150 feet north of the 91, according to one city report. A project map submitted last year for the subdivision showed that some homes would sit within 60 feet of a swooping carpool ramp.
Planning officials said they had sought to mitigate the freeway impact by pushing for a landscaped buffer and a six-foot wall to shield the noise. They also required that each home have air conditioning systems with higher performing filters than those required by the state.
With those features, the developer argued, air quality in the new homes would be better than in other existing residences.
"There is no danger to be in that proximity to the freeway," said Emilio Gutierrez, a land-use consultant for the developer.
Harbor Gateway residents had been fighting efforts to put homes on the site for years. In 2012, the Planning Commission voted to reject a larger, 24-unit development in the same location. At that time, a planning aide to Councilman Joe Buscaino spoke against that project, saying the location was unsuitable for housing.
Buscaino, who represents Harbor Gateway, stayed silent on the project this time. He declined to send a representative to Tuesday's hearing to weigh in on the development.
Rosalie Preston, who sits on the Harbor Gateway North Neighborhood Council, said she was "ecstatic" with the committee's decision to reject the proposal. But she voiced unhappiness with Buscaino, who sits on the board of the South Coast Air Quality Management District, an agency that frequently objects to freeway-close developments, on the grounds that they would expose occupants to toxic exhaust gases and other harmful pollutants.
"I am disappointed," Preston said. When the project was discussed in 2012, "his planning deputy was here and worked on behalf of the residents to make a good decision."
A Buscaino spokesman did not respond to requests for comment from The Times.
Times staff writer Tony Barboza contributed to this report.
Twitter: @DavidZahniser
ALSO
Higher rates, missed pickups: L.A. is hearing a rash of complaints about its new waste removal system
Prosecutors spell out their case against L.A. over housing for the disabled
L.A. to make sure air filters are being installed in homes near freeways
LAUSD's costly 20-year construction project ends with opening of $160-million Maywood campus
---
Life is stressful. Our weekly mental wellness newsletter can help.
You may occasionally receive promotional content from the Los Angeles Times.