End of refinery strike in sight; gas prices may fall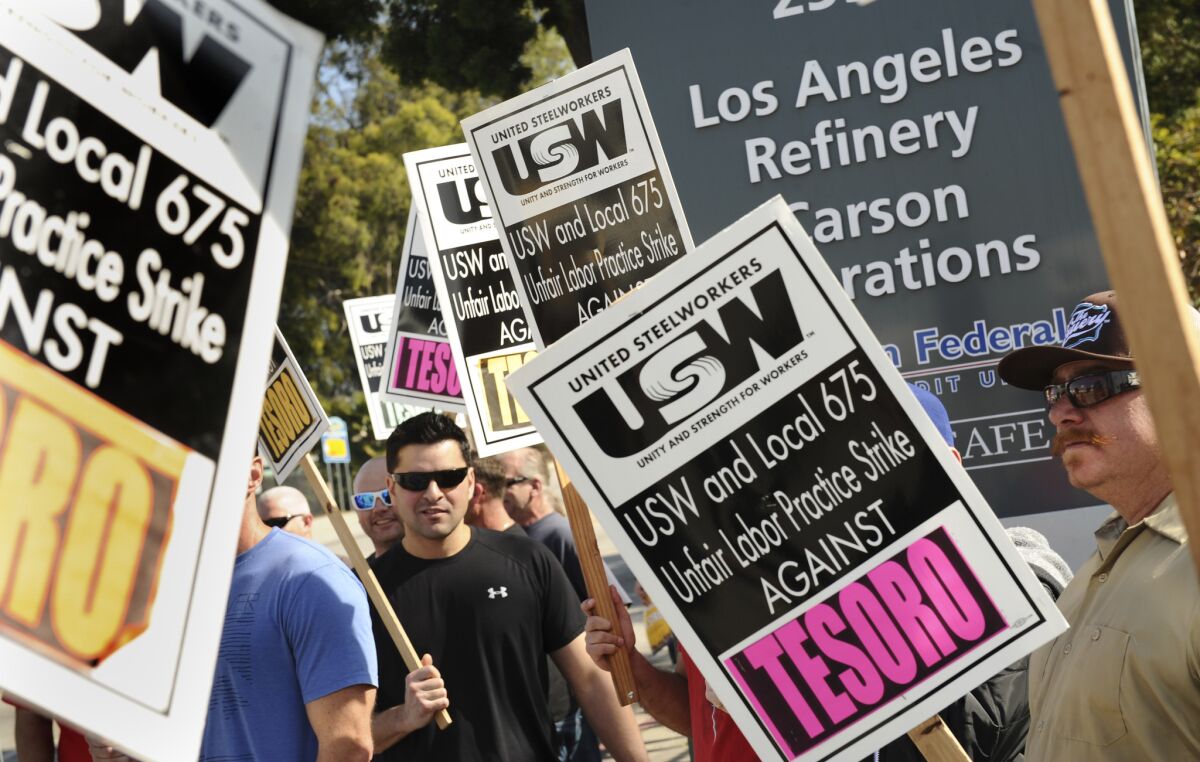 The United Steelworkers reached a tentative contract with Shell Oil Co. on Thursday after more than a month of contentious talks and strikes, union officials said.
The union said it had settled on a new four-year pact with Shell, the lead negotiator for the oil industry, and the U.S. subsidiary of Royal Dutch Shell in the Netherlands. The deal was reached in Houston.
The previous contract, which covered 30,000 refinery workers nationwide, expired at the end of January. On Feb. 1, the union called for work stoppages, which at last count included 6,500 workers at 15 facilities.
Two California plants owned by Tesoro Corp. in Carson and Martinez were affected. As a safety precaution, the company decided to idle production at the Martinez plant, half of which had already been undergoing maintenance.
The strike has been one contributor to rising gasoline prices, which had previously fallen to levels not seen in years. Although other factors may have had more impact on the rising prices — including an explosion at a Torrance refinery — some analysts believe that the resolution of the labor strike will send prices down.
"Various factors, including the strike, just made the market really unstable," said analyst Allison Mac of the fuel-tracking firm GasBuddy. "Now that it looks like there's an end in sight, and more supply will be coming in through Martinez, that will absolutely make the prices go back down."
The industry hadn't seen a strike so large since 1980. Refineries responsible for a fifth of American oil refining capacity were affected.
"We salute the solidarity exhibited by our membership," said Leo W. Gerard, president of USW International. "There was no way we would have won vast improvements in safety and staffing without it."
Shell spokesman Curtis Smith said that negotiations are ongoing and would not confirm late Thursday that an agreement had been reached. Officials at Tesoro confirmed the agreement.
The union had said during negotiations that its primary objective was ensuring worker safety. The tentative agreement, union leaders said, addresses concerns about fatigue and employee workloads.
The new pact also calls for a review of hiring practices involving contractors conducting maintenance and repair work, according to the USW. Also included in the deal: a promise to increase wages each year and maintaining the cost-sharing ratio on the union's current healthcare plan, the union said.
The provisional contract with Shell will serve as a guideline for other oil companies at local bargaining tables, according to the USW.
Union chapters around the country will attempt to work the national terms into their agreements while also covering local issues. The proposals will then be cleared through USW Vice President Gary Beevers and returned for chapter members to approve.
Individual union chapters can choose to stay on strike until they vote to approve separate agreements hashed out with local refinery employers.
"We are hopeful that with the settlement of the national pattern agreement, this will push both parties at the local level to reach agreement quicker on their local issues," USW spokeswoman Lynne Hancock said.
Keith Casey, executive vice president of operations for Tesoro, said in a letter to employees Thursday evening that the company "will work expeditiously to conclude discussions at our local negotiation tables to enable our employees' return to work."
"It is important to do it right," he said of the process, "so it will not be immediate."
After workers walked out, Tesoro relied on a contingency staff made up in part of contractors and managers to operate its facilities. In addition to the two California plants, the strike also extended to a Tesoro refinery in Anacortes, Wash.
Tesoro said maintenance work at the Martinez plant is now complete.
"The bottom line is the hardware is ready, and once we successfully get the workforce back, we will be in position for the safe and efficient restart of the facility," Casey said.
Some energy analysts hope that bringing the Martinez refinery back to full capacity will help make gasoline more affordable in California, where pump prices recently surged to a dollar above national levels.
But the refinery strike was far from the main culprit, said Jeffrey Spring, a spokesman for the Automobile Club of Southern California.
"I expect that the market has viewed it as an annoyance rather than a deep impact," he said. "Maybe it's changed things by a few pennies here or there."
Instead, experts largely blamed the gas price upswing on a Feb. 18 explosion at Exxon Mobil Corp.'s refinery in Torrance. The blast, caused by excess pressure in pollution-monitoring equipment, sent white ash spewing into the air and injured four workers.
But in the last week, wholesale gasoline prices have fallen and pump prices in Southern California are following suit as traders recover from the shock of the Torrance accident, Spring said.
Gasoline prices generally increase this time of year as refineries scale back production in order to transition from making winter blend gasoline into the cleaner-burning, pricier summertime blend.
Also, California's cap-and-trade rules expanded at the beginning of the year, requiring distributors of transportation fuels to purchase carbon allowances for their products. Critics call the policy a "gas tax" that hits consumers hard at the pump.
But experts said the upward pressure on prices was counteracted by low oil prices, which began plunging this summer as domestic supply boomed. GasBuddy reports that an average gallon of regular costs $3.41 in California — nearly 50 cents less than it did at the same time last year.
Twitter: @tiffhsulatimes
---
Sign up for the California Politics newsletter to get exclusive analysis from our reporters.
You may occasionally receive promotional content from the Los Angeles Times.