Verity Health files for bankruptcy protection. Its six California hospitals will stay open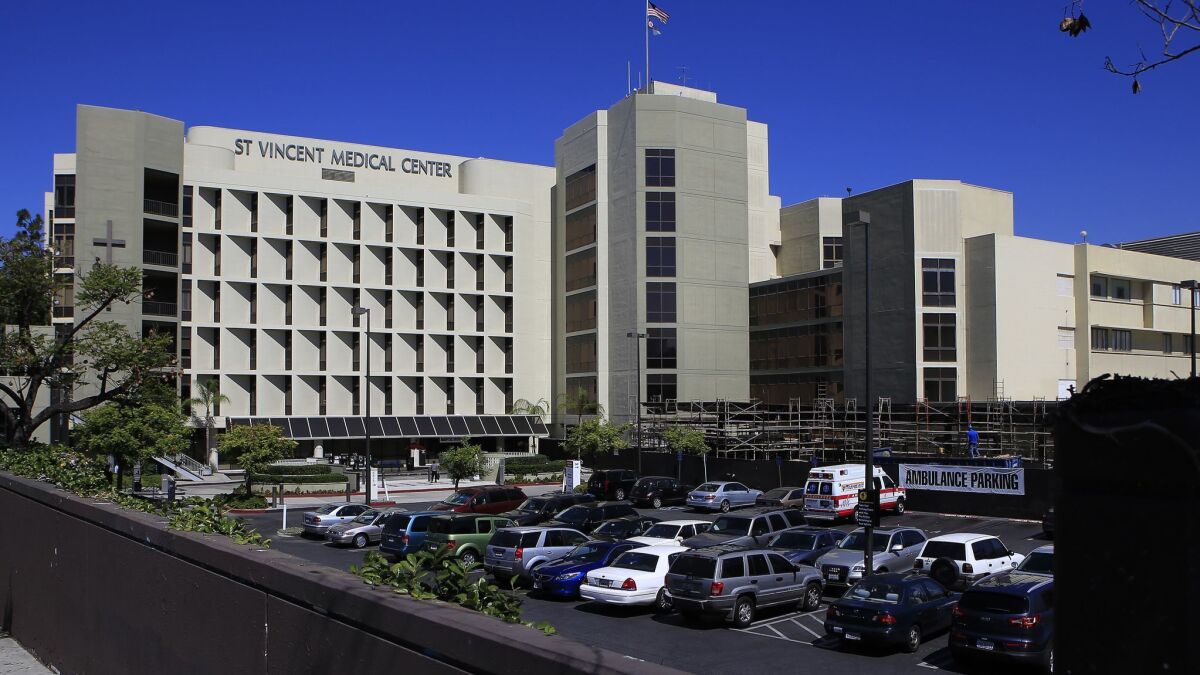 Verity Health System, the nonprofit operator of six California hospitals, filed for bankruptcy protection Friday, blaming mounting losses and debt that had forced it to seek a buyer for some or all of the facilities.
The company said its six hospitals, including St. Vincent Medical Center in Los Angeles and St. Francis Medical Center in Lynwood, will stay open.
Last year, Nantworks, the Culver City company controlled by Dr. Patrick Soon-Shiong, bought Integrity Healthcare, the company that manages Verity. His goal was to revitalize the hospitals, many of which are in lower-income neighborhoods.
Soon-Shiong, a physician and entrepreneur, bought the Los Angeles Times this year.
Rich Adcock, chief executive of Verity Health, said the company had more than $1 billion of debt from bonds and unfunded pension liabilities. The company also needs cash to make seismic repairs to its aging facilities, he said.
The hospitals were originally owned and operated by Daughters of Charity of St. Vincent de Paul. The system had struggled financially for years and was approaching bankruptcy when it began looking for a buyer in 2014. Integrity Healthcare, a company created by New York hedge fund BlueMountain Capital Management, took over the hospitals in July 2015.
Last July, when Soon-Shiong bought Integrity, he said the hospitals were in need of hundreds of millions of dollars' worth of new equipment such as imaging machines and neonatal intensive care units. He said he planned to bring new and improved services to the hospitals, including expanded oncology, transplant, orthopedic and cardiology services.
"There's going to be a huge capital need," Soon-Shiong said then. "There's been little investment because these hospitals could not afford it — could hardly keep the doors open."
Nantworks-related entities have contributed over $300 million within the last year comprised of unsecured and secured loans and investments, Adcock said. The proceeds were used to fund operational costs, pension obligations and capital improvments on the buildings and medical equipment. Only a third of the contributions were secured by property, including medical office buildings.
Verity was expected to pay Integrity $60 million over the last year in management fees, but most of that was deferred, according to a recent public filing. The filing said $20 million was payable in cash.
"After years of investment to assist in improving cash flow and operations, Verity's losses continue to amount to approximately $175 million annually," Adcock said. "The losses mounted despite the $300 million cash infusion from Dr. Soon-Shiong and his Nantworks entities."
Dr. Soon-Shiong said that the "Daughters of Charity had struggled for decades to provide care for the poor. We felt a moral obligation to help the underserved by taking on the challenge. Sadly, the damage done by years of underinvestment, coupled with an inability to get adequate reimbursement from insurance companies for the care we were providing, made this restructuring inevitable."
Verity executives said they have secured up to $185 million in financing that would keep the hospitals open and pay employees and suppliers as the company is restructured.
Besides St. Vincent Medical Center and St. Francis Medical Center, Verity owns and operates four hospitals in Northern California: O'Connor Hospital in San Jose, St. Louise Regional Hospital in Gilroy, Seton Medical Center in Daly City and Seton Coastside in Moss Beach.
The system employed more than 6,000 people last year.
The restructuring allows the company to continue talking to potential buyers of some or all of the hospitals. Any sale will now be supervised by the bankruptcy court. It must also be approved by regulators.
The company said its aim with the restructuring and sale was "to preserve the original mission of these hospitals – providing high quality care to patients in underserved communities."
David Miller at SEIU-UHW, which represents many of the hospitals' employees, said the union was disappointed the company chose to file for bankruptcy, which could put employee pensions at risk.
"We think there were other paths out of this," Miller said. "It's a very destructive approach."
The case was filed in U.S. Bankruptcy Court for the central district of California in Los Angeles.
Follow @melodypetersen on Twitter