Wall Street opens its checkbook for Democrats, a shift from traditional preferences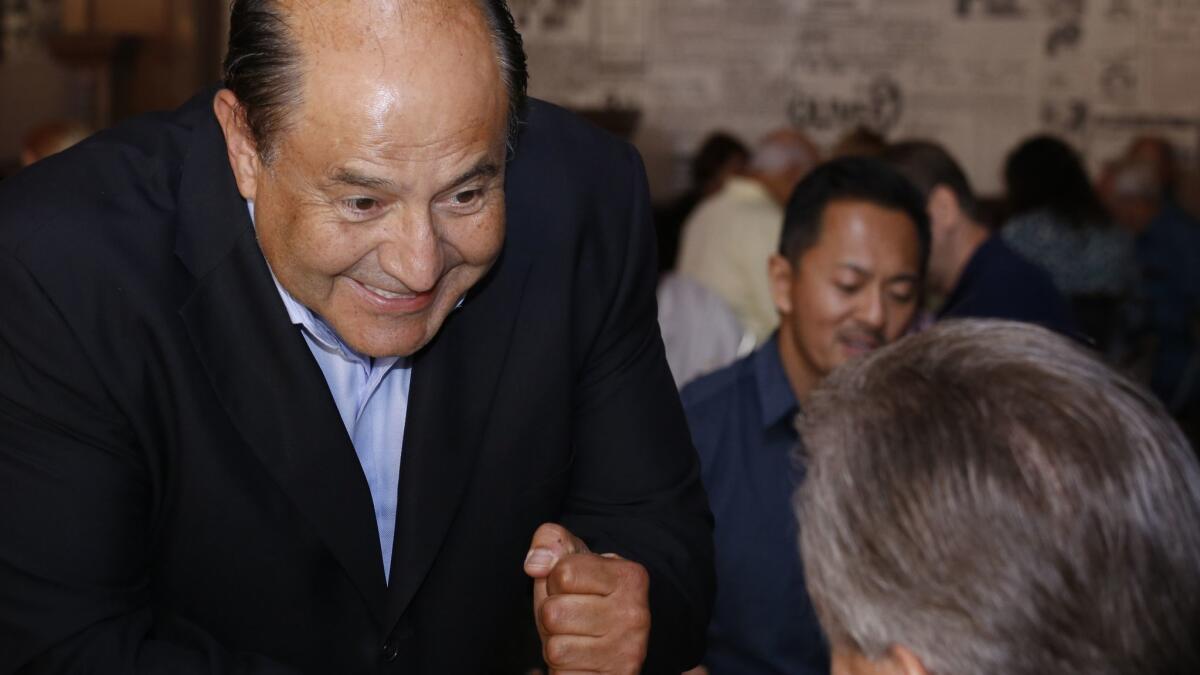 Bloomberg
Wall Street is opening its checkbook with a bet on friendly blue wave politicians.
For the first time in a decade, the securities and investment industries are spending more on Democrats than Republicans ahead of the Nov. 6 midterm elections.
A big part of that is anti-Trump, but a lot of the money is flowing to moderate Democrats, a sign that Wall Street is seeking Washington allies to temper the impact of progressives such as Rep. Maxine Waters (D-Los Angeles) and Sen. Elizabeth Warren (D-Mass.), who are poised to hit the industry with subpoenas and tougher oversight.
Polling suggests Democrats are likely to wrest control of the House. The nonpartisan Cook Political Report said last week that Democrats could gain as many as 35 seats. They need 23. The Senate is expected to remain in GOP hands, polls say.
The securities and investment industries have given $56.8 million to Democratic congressional candidates and $33.4 million to Republicans this election cycle, according to data from the Center for Responsive Politics. The industries include individuals as well as corporations and political action committees from private equity firms, asset managers and other investment companies.
While bankers in particular continue to prefer Republicans, they're being generous to Democrats, too. The industry has spent $8.5 million supporting Democrats and $13.5 million backing Republicans, according to the Center for Responsive Politics. Finance folks have embraced moderates such as Reps. Josh Gottheimer of New Jersey, David Scott of Georgia and Jim Himes of Connecticut. Himes is a former Goldman Sachs Group Inc. banker.
Corporations and lobbyists mostly have financial-services issues in mind, while individual contributors may be motivated by considerations such as the desire for Congress to act as a check on President Trump. In some cases, the money flow is simply about access to power.
Lou Correa, a first-term California Democrat, doesn't sit on the Financial Services Committee and isn't particularly engaged in banking issues compared with some of his peers. But his vote will be needed if the House takes up any bills affecting financial institutions, so groups such as the American Bankers Assn. are running political ads for him.
"I didn't even know they were running ads for me until you called," Correa said.
Wall Street and its allies are hopeful there will be opportunities for victories on the margins.
Issues such as tweaking money-laundering rules and easing some capital requirements might be doable at some point, advocates said. It's happened before. In a Democratic-controlled Senate in 2014, Wall Street successfully lobbied lawmakers to attach a provision to a must-pass spending bill that eased some derivative rules for big banks.
"It's going to be a very thin majority," said Paul Merski, a lobbyist for the Independent Community Bankers Assn. Moderate Democrats, especially those who win in swing districts, "will be the deciding factor. And they agree with us on a lot of things."
Banks face a range of potential headaches if Democrats capture the House. While it's unlikely legislation breaking up the big banks will pass, there will be a number of Democratic initiatives that will vex Wall Street.
Waters, of Los Angeles, is in line to lead the powerful Financial Services Committee. The panel oversees Wall Street regulators, writes laws affecting every corner of finance and has subpoena power.
When it comes to investigations, Wells Fargo & Co. tops the list. Waters and others continue to call for the bank's top management, including Chief Executive Officer Tim Sloan, to be fired in the wake of multiple scandals that followed revelations that bank employees opened accounts without customers' knowledge. Expect hearings and investigations as the San Francisco bank continues to struggle to right itself.
Equifax Inc. is another target of Democrats. Both moderates and progressives agree that the company's botched response to a 2017 data breach is worthy of hearings with Equifax executives and perhaps legislation imposing tougher rules on credit-reporting agencies.
Waters has been one of the loudest voices calling for Trump's impeachment, and is likely to dig up dirt on his financial ties to Russia. A key target for her is Deutsche Bank AG — the loans it made to Trump and its role in helping wealthy Russians move billions of dollars.
Waters also promises closer scrutiny of officials appointed by Trump. That includes the Consumer Financial Protection Bureau's Mick Mulvaney, Comptroller of the Currency Joseph Otting and Randal Quarles, the Federal Reserve's vice chairman of supervision.
Meantime, progressive groups are pressuring Democrats to be as aggressive as possible.
"Wall Street's investment in the Democratic majority pales in comparison to what everyday people, small donors have been giving," said Karl Frisch, executive director of advocacy group Allied Progress. "Any Democrat that reads the election results and interprets that as voters wanting to give Wall Street favors needs to go back to night school."
Dexheimer writes for Bloomberg.