Why Wal-Mart would want to buy e-commerce start-up Jet.com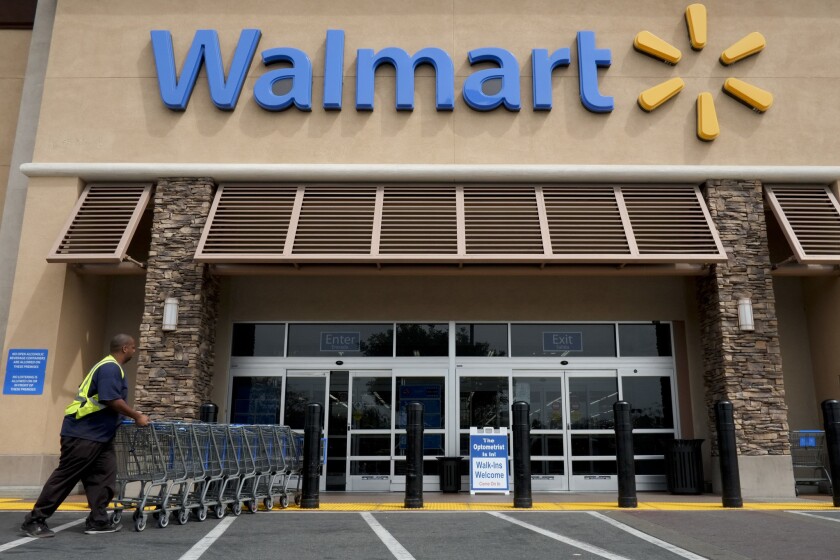 Wal-Mart is reportedly in talks to acquire the discount e-commerce start-up Jet.com in an effort to ramp up its struggling online retailing business and compete with Amazon.com.
A deal for the 1-year-old company could be valued at up to $3 billion, the Wall Street Journal reported this week, citing people familiar with the matter.
Acquiring Jet.com could give the big-box retailer's online strategy a much needed boost, providing access to the technology and supply-chain innovation that has enabled the start-up's rapid growth.
Capturing a larger slice of the e-commerce pie is vital as consumers increasingly turn online to online rather than in bricks-and-mortar stores.
"Wal-Mart's e-commerce growth has been slow — they have had a year-over-year decline when the overall market is still growing," said Michelle Malison, a retail analyst with Euromonitor International. "What Wal-Mart has been doing for their e-commerce business is not resonating with consumers."
Wal-Mart dominates U.S. store-based retailing, with a 13% market share, though it ranks fourth in e-commerce, with 3%, Malison said. Amazon.com holds 31% of the online shopping market, she said.
Wal-Mart Stores Inc. in May reported a 7% increase in global e-commerce sales in its fiscal first quarter, weaker than the 8% in the previous quarter and far below the 20% increases seen less than two years ago.
By pursuing Jet.com, "Wal-Mart is trying to short-circuit the learning curve," said Britt Beemer, founder of America's Research Group.
"If these guys that come in can help Wal-Mart double their Internet sales in one or two years, whatever the acquisition costs are, are minimal in comparison to what they'll make in profits," he said.
According to Malison, Jet.com has said it's on track to have a year with $1 billion in sales, with 4 million shoppers on its platform. Sales grew an average of 28% per month from September through February, according to Slice Intelligence. The Hoboken, N.J., company is not yet profitable.
Jet.com appeals to the cost-conscious consumer. It uses pricing software that calculates in real-time the most efficient way to fulfill a customer's order and then passes those savings on to them.
The start-up would help Wal-Mart "figure out how to reinvent the supply chain to deliver value to its customers, all while offering two-day delivery without an additional delivery fee," Malison said.
Jet.com has raised $500 million in venture capital, but would need far more funding to seriously vie for the No. 2 e-commerce spot behind Amazon.
"They know they can't do it themselves," Beemer said.
Analysts see the upside in Jet.com, but some are surprised that either company is entertaining a sale so soon.
"I would have thought Jet.com is a good acquisition in a little bit of time, after they're a bit more mature" and had "proven that they were taking significant market share maybe away from Amazon or even from other retailers," said Sucharita Mulpuru-Kodali, an e-commerce analyst at Forrester Research.
Tech companies are often built on the premise that they will sell or go public — exits that can handsomely reward early investors and employees. But if the deal goes through, Jet.com's 12-month life as an independent company will be considered short, even by industry standards.
Some analysts say selling was likely the plan all along.
"They all want to be acquired," Beemer said. "They know there's a huge, huge dividend at the end of the road. That's the modus operandi for this industry. You start a company, get to a certain point and sell it."
Jet.com co-founder Marc Lore has a history of starting e-commerce sites and selling. He previously co-founded Quidsi, the parent company of sites including Diapers.com and Soap.com, which was acquired by Amazon for $545 million in 2010 after it won a bidding war with Wal-Mart.
Malison argues that a hasty acquisition was not the goal, citing Jet.com's commitment to a five-year plan to hit $20 billion in sales by 2020.
Lore has said his company's aim wasn't to unseat Amazon, but to secure a strong position behind it.
"This has never been a winner-take-all market," Lore said in an interview with Fortune. "There will be a really large No. 2, 3, and 4, and we can be one of those."
---
Your guide to our clean energy future
Get our Boiling Point newsletter for the latest on the power sector, water wars and more — and what they mean for California.
You may occasionally receive promotional content from the Los Angeles Times.