H. Wayne Huizenga, who built his fortune from trash and founded Blockbuster, dies at 80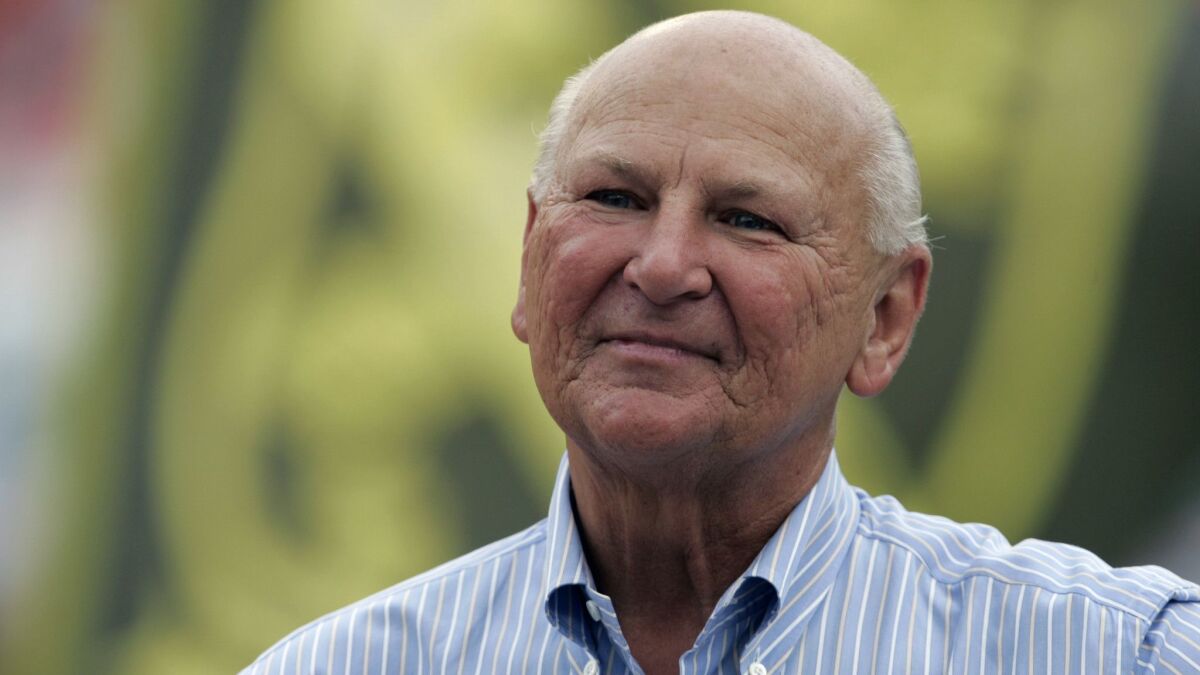 H. Wayne Huizenga, a college dropout who built a business empire that included Blockbuster Entertainment, AutoNation and three professional sports franchises, has died. He was 80.
Huizenga died Thursday night at his home in Fort Lauderdale, Fla., said Valerie Hinkell, a longtime assistant. The cause was cancer, said Bob Henninger, executive vice president of Huizenga Holdings.
Starting with a single garbage truck in 1968, Huizenga built Waste Management Inc. into a Fortune 500 company. He bought independent sanitation engineering companies, and by the time he took the company public in 1972, he had completed the acquisition of 133 small-time haulers. By 1983, Waste Management was the largest waste disposal company in the United States.
The business model worked again with Blockbuster Video, which he started in 1985; nine years later, it had become the leading movie rental chain. In 1996, he formed AutoNation and built it into a Fortune 500 company.
Huizenga was also founding owner of baseball's Florida Marlins and the NHL Florida Panthers — expansion teams that played their first games in 1993. He bought the NFL Miami Dolphins and their stadium for $168 million in 1994 from the children of founder Joe Robbie, but had sold all three teams by 2009.
The Marlins won the 1997 World Series, and the Panthers reached the Stanley Cup Finals in 1996, but Huizenga's beloved Dolphins never reached a Super Bowl while he owned the team.
"If I have one disappointment, the disappointment would be that we did not bring a championship home," Huizenga said shortly after he sold the Dolphins to New York real estate billionaire Stephen Ross. "It's something we failed to do."
Huizenga earned an almost cult-like following among business investors who watched him build Blockbuster into the leading video rental chain by snapping up competitors. He cracked Forbes' list of the 100 richest Americans, becoming chairman of Republic Services, one of the nation's top waste management companies, and AutoNation, the nation's largest automotive retailer. In 2013, Forbes estimated his wealth at $2.5 billion.
For a time, Huizenga was also a favorite with South Florida sports fans, drawing cheers and autograph seekers in public. The crowd roared when he danced the hokey pokey on the field during an early Marlins game. He went on a spending spree to build a veteran team that won the World Series in the franchise's fifth year.
But his popularity plummeted when he ordered the roster dismantled after that season. He was frustrated by poor attendance and his failure to swing a deal for a new ballpark built with taxpayer money.
Many South Florida fans never forgave him for breaking up the championship team. Huizenga drew boos when introduced at Dolphins quarterback Dan Marino's retirement celebration in 2000, and kept a lower public profile after that.
In 2009, Huizenga said he regretted ordering the Marlins' payroll purge.
"We lost $34 million the year we won the World Series, and I just said, 'You know what, I'm not going to do that,'" Huizenga said. "If I had it to do over again, I'd say, 'OK, we'll go one more year.'"
He sold the Marlins in 1999 to John Henry, and sold the Panthers in 2001, unhappy with rising NHL player salaries and the stock price for the team's public company.
Huizenga's first sports love was the Dolphins — he had been a season-ticket holder since their first season in 1966. But he fared better in the NFL as a businessman than as a sports fan.
He turned a nice profit by selling the Dolphins and their stadium for $1.1 billion, nearly seven times what he paid to become sole owner. But he knew the bottom line in the NFL is championships, and his Dolphins perennially came up short.
Huizenga earned a reputation as a hands-off owner and won raves from many loyal employees, even though he made six coaching changes. He eased Pro Football Hall of Famer Don Shula into retirement in early 1996, and Jimmy Johnson, Dave Wannstedt, interim coach Jim Bates, Nick Saban, Cam Cameron and Tony Sparano followed as coach.
Harry Wayne Huizenga was born outside Chicago on Dec. 29, 1937, to a family of garbage haulers. He began his business career in Pompano Beach in 1962, driving a garbage truck from 2 a.m. to noon each day for $500 a month.
A customer once sued Huizenga, saying that in an argument over a delinquent account, Huizenga injured him by grabbing his testicles — an allegation Huizenga always denied, though he lost the case.
"I never did that. The guy was a deputy cop. It was his word against mine, a young kid," he told Fortune magazine in 1996.
Huizenga was a five-time recipient of Financial World magazine's CEO of the year award, and was named the 2005 world entrepreneur of the year by Ernst & Young .
Regarding his business acumen, Huizenga said: "You just have to be in the right place at the right time. It can only happen in America."
In September 1960, he married Joyce VanderWagon. Together they had two children, Wayne Jr. and Scott. They divorced in 1966. Wayne married his second wife, Marti Goldsby, in April 1972. She died in 2017.
---
UPDATES:
12:15 p.m.: This article was updated with cause of death.
This article was originally published at 8:45 a.m.
---
Sign up for the California Politics newsletter to get exclusive analysis from our reporters.
You may occasionally receive promotional content from the Los Angeles Times.