Weinstein scandal puts nondisclosure agreements in the spotlight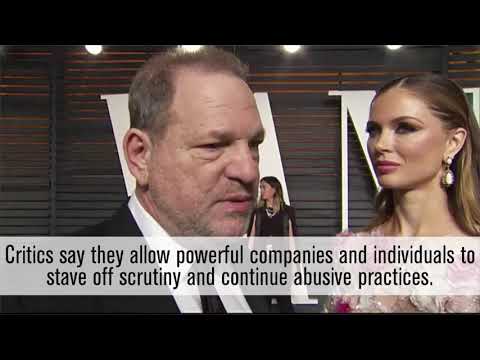 The unfolding Weinstein scandal has sparked criticism that non-disclosure agreements allow powerful companies and individuals to stave off scrutiny and continue abusive practices. Now, there is a move afoot to place clear restrictions on their use. 
Harvey Weinstein. Bill O'Reilly. Roger Ailes. Bill Cosby. The Catholic Church.
All were able to skirt years and sometimes decades of allegations of sexual harassment or assault through the use of settlements or contracts that included nondisclosure agreements: legal provisions that swear employees or alleged victims to secrecy.
Have you signed a nondisclosure agreement? Share it with us »
Those cases — and especially the unfolding Weinstein scandal — have sparked criticism that the agreements allow powerful companies and individuals to stave off scrutiny and continue abusive practices. Now, there is a move afoot to place clear restrictions on their use.
Last week, a group of Weinstein Co. employees, in a letter published by the New Yorker, sought to be released from their signed nondisclosure agreements, or NDAs.
"We ask that the company let us out of our NDAs immediately — and do the same for all former Weinstein Company employees — so we may speak openly, and get to the origins of what happened here, and how," the unnamed employees wrote.
And just Monday, in an interview in the Financial Times, Zelda Perkins, who worked as Weinstein's assistant in the London office of Miramax, his former production company, broke a nondisclosure agreement she said she and another worker signed in 1998.
"Unless somebody does this there won't be a debate about how egregious these agreements are and the amount of duress that victims are put under," she is quoted as saying in the article, which details how she was allegedly sexually harassed and her co-worker sexually assaulted by Weinstein, who denied the allegations.
These confidentiality agreements have become a ubiquitous legal tool for purposes both controversial and benign, such as protecting trade secrets or confidential financial information.
Nondisclosure clauses in employment contracts and severance agreements prevent employees or former employees from badmouthing their bosses. Generally, as part of a private settlement, one party agrees to drop potential or unresolved legal action in exchange for a payment — and their silence.
The latest high-profile instance of such an agreement surfaced late last week when it was reported that in January, former Fox News anchor O'Reilly paid $32 million in a confidential settlement over a threatened sexual harassment lawsuit.
Cathy Schulman, an Oscar-winning filmmaker who is president of the Women in Film advocacy group, said such deals are part of a "silencing culture" in Hollywood.
"If a person complains about their work culture, what they usually hear is: 'It's time to move you to another workforce. Let's settle this out,'" Schulman said. "They are asked to make a deal with the devil. They are asked to sign and shut up. And then you plan your exit, I've done it myself."
But in some cases, signing these secret agreements can benefit an individual victim, even if it allows bad behavior to continue, said Gloria Allred, the high-profile L.A. attorney whose firm has negotiated confidential settlements — and who is representing some of Weinstein's accusers.
"If she resolves it in a way that's positive for her and that she feels good about, then that's what's most important," said Allred, who has a reputation for litigating in the press when she feels it's in her clients' interest. "And yes, it may mean that others may not know. But should it be mandated that no settlement should be confidential? We don't think it's a good idea."
Full Coverage: Harvey Weinstein sexual harassment scandal >>
Without confidentiality agreements, many companies and high-profile individuals will choose not to settle and instead take their chances in court, which is not right for every victim, she said.
"The alternative is facing years of litigation and the risks inherent to that and the expense inherent to that," she said. "That's going to be hard on our clients."
In fact, there are already limits on confidentiality agreements, though individuals who sign them may not be aware — a fact that can make NDAs more effective in practice than they might be in theory.
Wayne Outten, a New York employment lawyer and co-founder of the nonprofit Workplace Fairness, said all such agreements, whether in a severance contract or a private settlement, allow victims to report harassment, discrimination and criminal activity to authorities.
"No matter what somebody has signed, they're free to go to the government," Outten said. "It's a matter of public policy."
For instance, employees can report alleged harassment to the federal Equal Employment Opportunity Commission, crime victims can file reports with the police and corporate whistleblowers can contact the Securities and Exchange Commission.
What's more, under California law, confidentiality agreements are not enforceable if they are attached to civil settlements involving some potential crimes, including felony sexual assault and child sex abuse.
In such a case, if a victim broke the confidentiality agreement, a court could reject a breach of contract lawsuit. There's no law forbidding confidential settlements in matters that don't rise to the level of a felony, though there may be a push in Sacramento next year to bar such settlements in harassment cases too following the Weinstein scandal.
Still, regardless of various exceptions and even in cases where an agreement might be invalidated by a court, people who sign nondisclosure agreements tend to abide by them.
"An attorney can say a confidentiality agreement is not enforceable, but a victim might say, 'I don't care, I'm not saying anything,'" said Assemblyman Mark Stone (D-Scotts Valley), who authored a 2016 law that added child sex abuse to the list of potential crimes where a confidential civil settlement is not allowed.
Attorneys say many individuals who sign them believe an NDA applies more broadly than it truly does.
"I've seen plenty of confidentiality agreements that don't mention any exceptions whatsoever, whether ones that are agreed to or that the law recognizes," said Sherman Oaks litigator David Krause-Leemon. "I don't know if the intent is to create a perception that there are no exceptions, but from a defense point of view you'd be better off if the plaintiff had that perception."
That can make someone hesitant to speak even when they're allowed to.
Los Angeles consumer attorney Brian Kabateck said he's sometimes had trouble getting people who have signed NDAs to testify in court — something such agreements generally must allow.
"They'll avoid service of the subpoena. They're terrified," he said, and with good reason. Breaking a nondisclosure agreement can be expensive.
The agreements often spell out the financial consequences of a breach, and the recipient of the settlement could have to pay damages that exceed the amount received initially.
Indeed, the agreement that Perkins said she signed in London expressly stated that she will "use all reasonable endeavours to limit the scope of the disclosure as far as possible" in any criminal proceedings, according to legal documents cited in the Financial Times article.
Still, it's rare for companies to take action when nondisclosure agreements are broken, in part because it would look bad, said Helene Wasserman, a partner at Littler Mendelson, a law firm that specializes in representing companies in employment matters.
"I've never had a client say, 'We know this person breached confidentiality, let's go after them,'" she said. "I can't imagine many companies would want that kind of publicity. And those are the cases that would get publicity."
While such cases are rare, they're not unheard of.
In one high-profile case, Bill Cosby last year sued one of his accusers for breach of contract, saying she had violated a decade-old nondisclosure agreement by agreeing to be interviewed by local prosecutors in Pennsylvania.
Andrea Constand had sued Cosby in 2005, accusing him of drugging and sexually assaulting her. The two reached a settlement, complete with a confidentiality agreement, the following year. In 2015, after numerous women came forward to accuse Cosby, investigators with the Montgomery County district attorney's office re-interviewed Constand.
Cosby's lawyers argued that Constand "had no legal obligation to cooperate with investigators" because she is a Canadian citizen and that her cooperation amounted to a breach of the confidentiality agreement.
A federal judge threw out that claim, saying a confidentiality agreement that forbids speaking to law enforcement is not enforceable.
But Kabateck said that the fact that Constand was even threatened with a breach of contract suit illustrates why some victims — even when protected by the law — are unwilling to step forward.
"It has a chilling effect," he said.
Follow me: @jrkoren
ALSO
New York attorney general launches investigation of Weinstein Co.
George Clooney and Matt Damon explain what and when they knew about Harvey Weinstein's conduct
38 women have come forward to accuse director James Toback of sexual harassment
---
UPDATES:
6:15 p.m.: This article was updated with details from a Financial Times article about a nondisclosure agreement signed by a Miramax employee.
This article was originally published at 11:10 a.m.