Wells Fargo wants court to toss overdraft lawsuits and let it use arbitration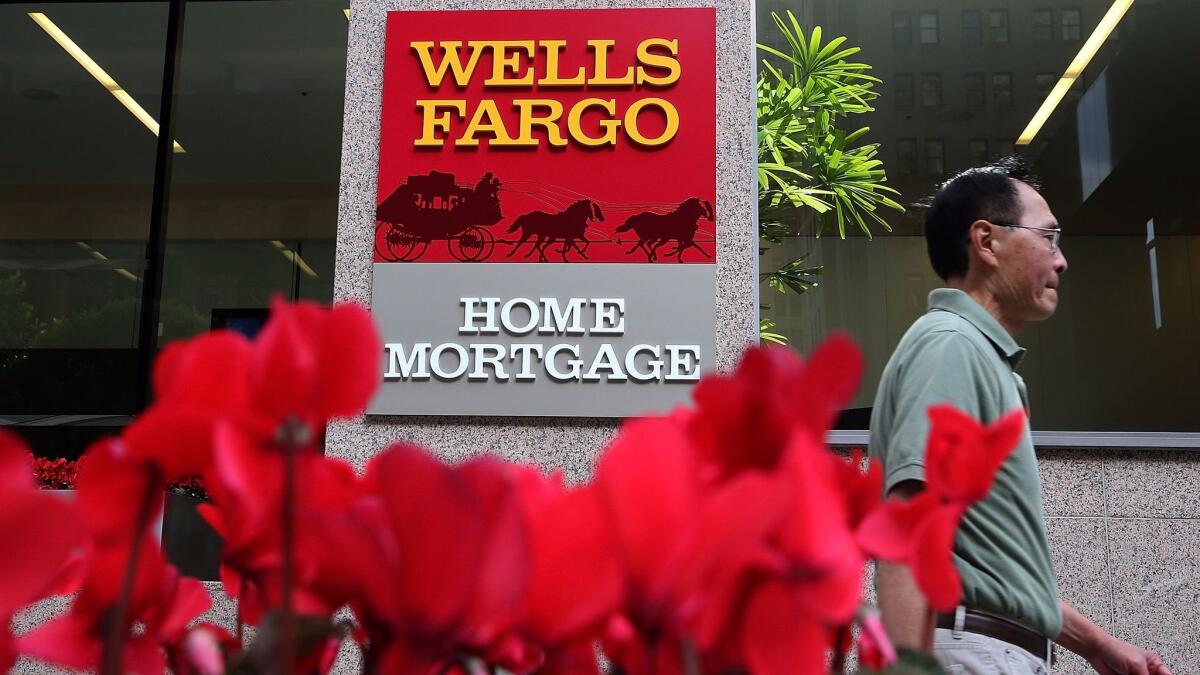 A group of Wells Fargo & Co. customers who say they were victims of unfair overdraft practices want their claims heard in court, but the bank wants the disputes handled through arbitration.
Class-action lawsuits filed around the country have accused Wells Fargo of changing the order of debit card transactions — from highest dollar amount to lowest dollar amount — to unfairly increase the number of transactions eligible for overdraft penalties.
For example, say a customer has $100 in an account. The customer first makes four transactions of $20 and then, later that day, has a $90 transaction. If the transactions are taken in chronological order, only the final $90 transaction would cause an overdraft and trigger a fee. But if the transactions are reordered so the $90 transaction is first, each of the four $20 transactions would trigger a separate overdraft fee.
Lawyers for the Wells Fargo customers say the practice — which they say continued at least a decade — was "unfair and unconscionable" and disproportionately affected the poor because they are most likely to have low account balances.
The customers also say the San Francisco bank refused to let customers opt out of overdraft protection programs; didn't get customer consent before processing transactions that would lead to overdraft fees; and failed to provide customers with accurate balance information to help avoid overdrafts, among other things.
The litigation has dragged on for more than eight years and includes Wells Fargo customers from 49 states, California not among them. (The bank lost a related case brought on behalf of California customers when, in 2010, a judge found the bank had deceived customers and ordered it to pay $203 million in restitution. The bank appealed that ruling all the way to the U.S. Supreme Court, which last year declined to take the case, allowing the judgment against Wells Fargo to stand.)
It is now consolidated before a federal judge in Florida who last year declined Wells Fargo's request to force the claims into arbitration. The bank appealed that ruling to the 11th U.S. Circuit Court of Appeals in Atlanta, which heard arguments Thursday.
The cases were styled as class actions from the start, and Wells Fargo initially chose to pursue a litigation strategy, U.S. District Judge James King wrote. Extensive time and other resources had been expended in that litigation by the time the bank belatedly tried to invoke its arbitration rights, he wrote.
The arbitration clause in the Wells Fargo contracts was permissive, rather than mandatory, meaning that in the case of a dispute either party can request arbitration within a reasonable period of time.
Sonya Winner, an attorney for Wells Fargo, told a three-judge panel of the 11th Circuit that the fact that Wells Fargo didn't enforce its arbitration rights in disputes with some customers doesn't mean it waived those rights in every case.
Other large banks facing similar lawsuits over reordered debit charges long ago settled those disputes. Consumer Financial Protection Bureau Director Richard Cordray invoked those cases — and the subsequent recovery of about $1 billion — as he advocated the importance of class-action lawsuits as a consumer protection tool in an editorial this week in the New York Times.
"It is true that the average payouts are higher in individual suits," he wrote in the editorial published Tuesday. "But that is because very few people go through arbitration, and they generally do so only when thousands of dollars are at stake, whereas the typical group lawsuit seeks to recover small amounts for many people."
Last month, Cordray announced a new rule to prevent financial companies from using mandatory arbitration clauses to bar groups of consumers from pursuing class-action lawsuits. The U.S. House voted to block it just two weeks later, and its fate now lies with the Senate.
Times staff writer James Rufus Koren contributed to this report.