Wells Fargo stuck mortgage borrowers with extra fees, whistle-blower's lawsuit says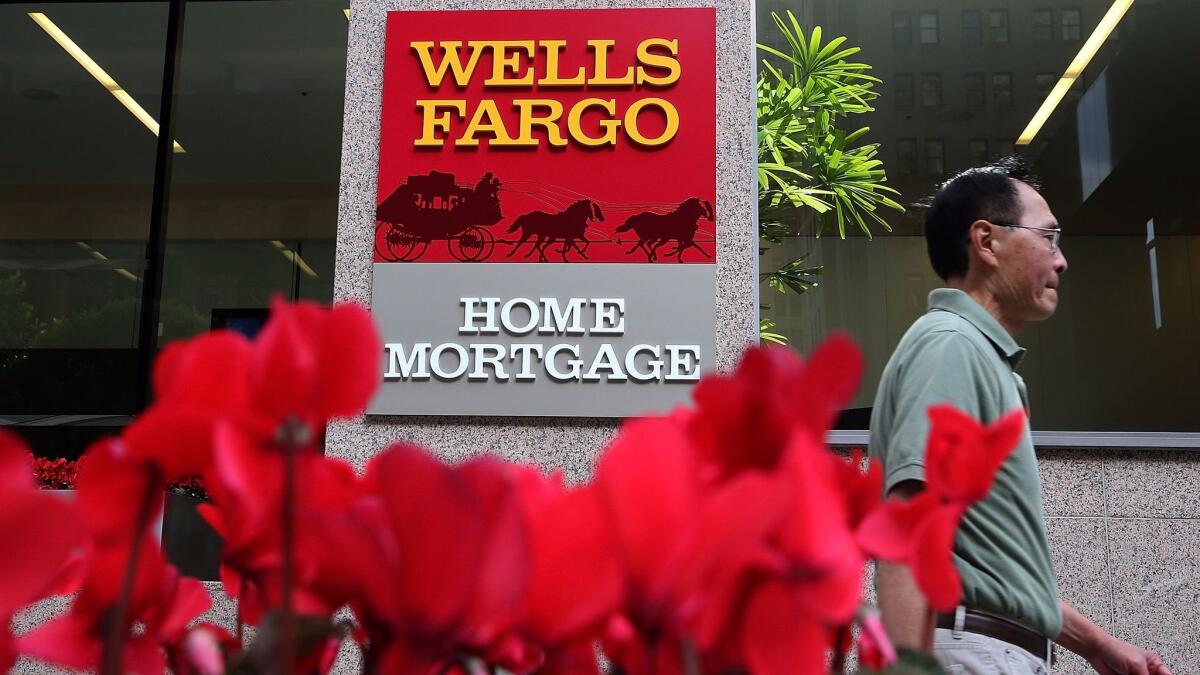 As Wells Fargo & Co. continues to be hit with fallout from its sham-accounts scandal, the bank is facing allegations that it put the screws to customers in yet another way: by slapping them with fees for delays in processing mortgage applications.
A former Wells Fargo mortgage banker who worked in Beverly Hills alleged in a lawsuit this week that the bank falsified records so it could blame holdups on borrowers — and that it fired him for trying to report the practice.
The legal action follows a months-long internal investigation into the alleged abusive practices, one that contributed to an executive shake-up in the San Francisco bank's mortgage business. ProPublica first reported on the alleged improper fees in January.
When borrowers apply for a mortgage, they are typically guaranteed a set interest rate — assuming the loan is approved within a certain time frame, often 30 to 45 days. If approval takes longer, the borrower can still get the promised rate but there are financing costs associated with extending the guarantee.
Wells Fargo's policy, like that of most lenders, is to cover those costs itself unless the delay is the borrower's fault. Then, borrowers are charged what's called a rate-lock extension fee.
In his lawsuit, former banker Mauricio Alaniz alleged that the Wells Fargo's mortgage-processing and underwriting division was understaffed, leading to chronic delays that were not borrowers' fault. But rather than have the bank waive the rate-lock fee, workers would falsely report that borrowers had submitted incomplete or inaccurate information, according to the suit.
Rate-lock fees can be significant, typically ranging from 0.125% to 0.25% of the total amount of a mortgage, depending on the size of the loan and other factors. For a home buyer looking to borrow $400,000, a 0.25% fee is $1,000.
Wells Fargo "would systematically attempt to charge or pass the rate lock expiration fees on to customers, even when the delay was not the customer's fault," Alaniz alleged in his complaint, filed July 10 in federal court in Los Angeles. He alleged the practice led to borrowers paying millions in improper fees.
Wells Fargo is by far the nation's largest mortgage lender, originating $244 billion in home loans last year, or about 12% of all U.S. mortgages. Bank spokesman Tom Goyda said he could not comment on Alaniz's lawsuit but that the bank is reviewing "questions that have been raised about past practices" related to rate-lock fees.
Alaniz and other former Wells Fargo bankers have said the practice of improperly shifting rate-lock fees to borrowers was a problem in Southern California, and it's not clear whether problems were more widespread. The bank has parted ways with several mortgage executives, including its former national sales manager and two regional managers who oversaw mortgage operations in California, Nevada and Oregon.
Last month, the bank announced it had promoted Liz Bryant to head of mortgage sales, replacing former leader Greg Gwizdz. The bank at that time said that Gwizdz, along with the two former regional sales managers, were no longer with the bank. An L.A. regional manager, Tom Swanson, who was mentioned in Alaniz's suit, left the bank in March.
Goyda said that findings of the bank's review contributed to the leadership changes.
"While there were a number of factors, some of the things we learned in our review of the rate-lock extension matter were factors in that decision," he said.
Swanson, Gwizdz and other former managers did not return calls seeking comment.
Alaniz's suit alleges whistle-blower retaliation and discrimination, claiming he was fired for reporting alleged illegal conduct to bank managers and because a branch manager believed Alaniz was gay. He's seeking back pay, punitive damages and compensation for mental and emotional distress.
His attorney did not return calls seeking comment.
Alaniz's complaint mirrors claims made by another former Wells Fargo mortgage banker, Frank Chavez, in a letter sent last year to members of the House Financial Services Committee and the Senate banking committee.
Chavez, who also worked in Beverly Hills before resigning in April 2016, said delays in loan processing became more common starting in 2014, the year after Wells Fargo eliminated 2,300 mortgage-processing jobs. Other mortgage lenders cut back around that time, too, as the volume of mortgage applications declined following a surge of refinancing driven by record low interest rates.
As it became more common for loan approvals to stretch past the initial rate-lock period, Chavez said the bank started pushing the fees on to borrowers. A third former Wells Fargo banker in L.A. said managers essentially refused to have the bank cover the cost of rate-lock extensions.
Jeff Lazerson, president of Laguna Niguel mortgage brokerage Mortgage Grader, said the allegations against Wells Fargo are not unique and that mortgage lenders often try to push rate-lock extension fees on to borrowers. He said it often happens when lenders are understaffed, leading to delays.
"It tends to happen because they don't have enough resources, enough labor to work the business," Lazerson said. "There are always lots of excuses when they get jammed up. They'll say, 'It took to long to get this,' or, 'They never sent the papers.' A lot of times they hope the borrower doesn't catch it when they charge them a rate-lock extension."
But Lazerson said new mortgage disclosure rules put in place by the Consumer Financial Protection Bureau have made it harder for lenders to hide those added fees.
"People in this industry hate the CFPB, but in that regard it's shining a bright light on a problem where people used to get buried," he said.
Follow me: @jrkoren
ALSO
Airbnb host must pay $5,000 for canceling reservation based on race
Martin Shkreli trial: Investors describe 'Pharma Bro' as shady — but profitable
Companies like Uber are staying private longer. Without public market scrutiny, who's holding them accountable?