Wet Seal to close 338 stores, lay off nearly 3,700 employees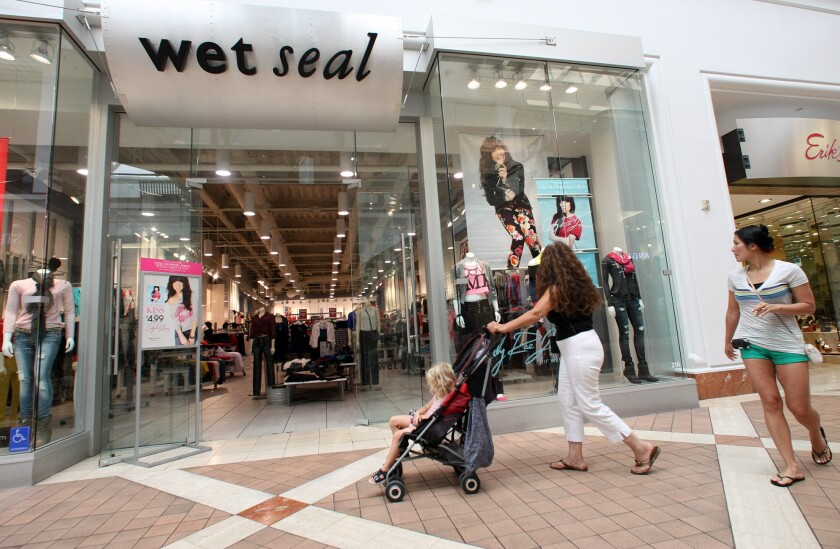 Struggling teen fashion retailer Wet Seal said Wednesday that it was closing 338 of its retail stores and would lay off 3,695 full and part-time employees.
The Foothill Ranch company said it would continue to operate about 173 stores and its online business.
"This was a very difficult decision to make, but after reviewing many other options since I returned to the company in September, our financial condition leaves us no other alternative than to close these stores," Chief Executive Ed Thomas said in a statement.
The announcement of the closings follows an outpouring of anger on social media earlier this week by workers who said they were suddenly told they were losing their jobs.
Photos of handwritten signs taped to some Wet Seal storefronts went viral with hashtags such as #ForgetWetSeal and #BoycottWetSeal.
"Told us NOT to look for other jobs. Said we were re-modeling and getting in new product," read one poster who apparently worked at the Wet Seal store at Dayton Mall in Ohio. "Took away all of our benefits including sick time and vacation which we worked for, and were told we would receive. Btw, NO SEVERANCE PAY!"
The retailer estimated that the stores that are closing represent about 48% of its net sales for the nine months ending Nov. 1, 2014.
The retailer said last month that there was "substantial doubt" it could continue operating. Wet Seal said last week that it had received a default notice on $27 million in debt. The company's creditor has given Wet Seal until Jan. 12 to pay what it owes.
Once popular with teens, the company has fallen out of favor in recent years. It has also been mired in boardroom drama and allegations of racial bias. In 2013, the retailer paid $7.5 million to settle a racial discrimination lawsuit accusing the company of firing black employees in favor of hiring more blond and blue-eyed workers.
Wet Seal shares more than doubled to 11 cents per share in Wednesday morning trading.
Times staff writer Shan Li contributed to this report.
Follow @jpanzar
---
Your guide to our new economic reality.
Get our free business newsletter for insights and tips for getting by.
You may occasionally receive promotional content from the Los Angeles Times.