Urban-style upgrade planned for Warner Center complex as Woodland Hills gets citified
One of Warner Center's one-story rambling office parks is poised to go vertical as a new era of urbanization unfolds in the Woodland Hills neighborhood.
The proposed $1-billion development by Adler Realty Investments Inc. is one of many big real estate plans coming together in Warner Center, where Los Angeles city planners are working to create another densely occupied urban hub with the appeal of a bustling city neighborhood.
And there's a lot space to work with in the asphalt plains of what is still mostly a suburban office district. Health insurer Anthem Inc., for example, is trying to sell its 26-acre parking lot to a developer interested in building a new community there.
The planned building boom may help Warner Center finally achieve its original purpose. In the early 1970s, planners decided that the west Valley land, once the site of movie mogul Harry Warner's horse ranch, should be turned into a "downtown" for the San Fernando Valley.
As it developed, however, Warner Center bore only passing resemblance to the densely built urban districts people associate with that word.
Today, the neighborhood is a mix of office towers that pierce a sea of cookie-cutter, low-slung office buildings served by acres of surface parking lots. Apartments and stores are mostly isolated in discreet blocks, and the whole expanse is ringed and cleaved by wide, fast-moving streets that flow to freeways.
"It needs the edge that downtown L.A., Marina del Rey and NoHo have," said Dean Zander, an executive at real estate advisory firm Berkadia. "To attract millennials, it should have more of an urban feel with bars, gathering places and social centers."
That vision is at the core of a plan adopted by the city in 2013 intended to make Warner Center feel more like a city.
Officials approved zoning that allows for up to 30 million square feet of commercial space, double what currently exists. The plan also removed building height caps in most of the 1.5-square-mile district bounded by the 101 Freeway, Vanowen Street, DeSoto Avenue and Topanga Canyon Boulevard.
Longtime valley landlord Michael Adler of Adler Realty recently unveiled plans to turn his decidedly suburban-looking Warner Center Corporate Park office campus into a 2.6-million-square-foot development where people could live and work.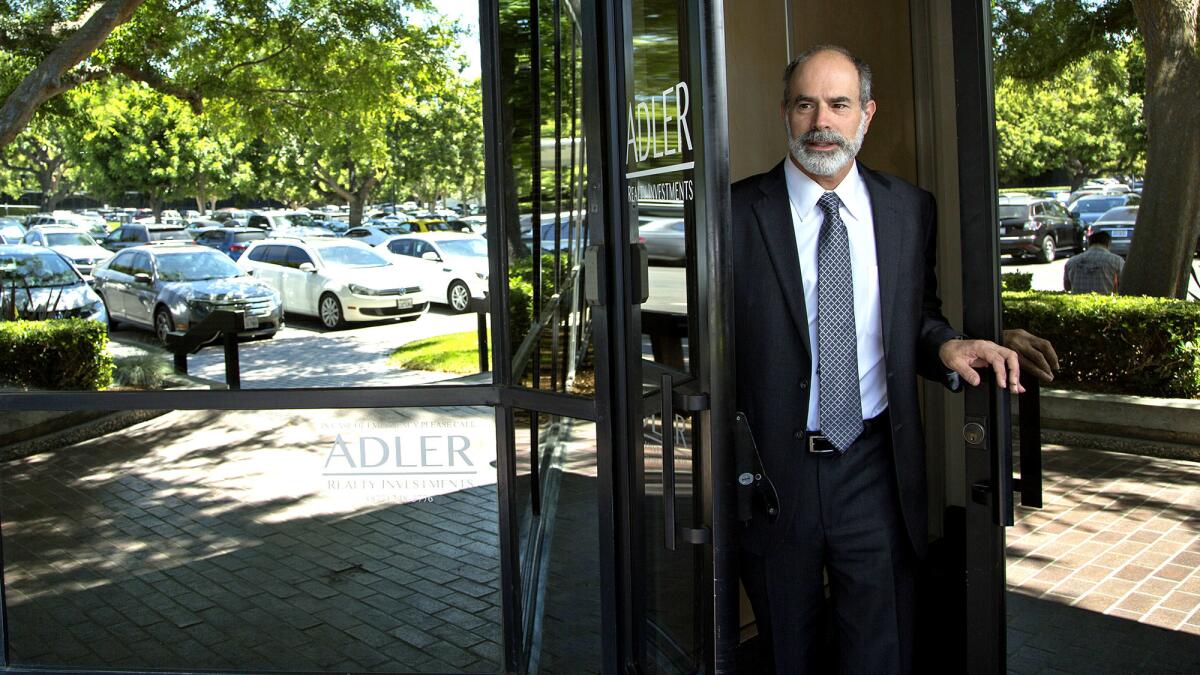 Adler and financial partner LLJ Ventures plan to demolish his 350,000-square-foot office park, composed mostly of islands of low-slung concrete and black-glass buildings separated by parking lots.
He has applied for approval to replace the 1980s-era development with more than 1 million square feet of offices, 80,000 square feet of stores and restaurants, 1,000 residential units, 68 live-work units and a 228-room hotel. There would also be parks and pedestrian-oriented open space.
Other developers have projects planned for vacant sites, but Adler plans to remake an active property. His existing complex is almost fully leased to such tenants as Allstate Insurance and U.S. Bankruptcy Court.
He plans to build out the development over 15 years or more as leases expire but hopes to start on the apartments in about 18 months.
"People who work in the area need more housing to keep up" with demand, he said.
Zander, who rode his bicycle through the empty streets of Warner Center as a boy in the 1970s, estimates that 9,100 apartments and condominiums are in the development pipeline now and thousands more are being considered.
The influx of residents along with mixed-use projects like Adler's should help connect Warner Center's isolated pockets of offices, malls and apartments into a city-like neighborhood, Zander said.
"There are enough new properties pending that are going to bring that sophistication to the area and hopefully straddle the lines and making it more of an urban center," he said.
Westfield, whose Warner Center retail properties draw 20 million shoppers annually, is already underway on a massive $1.5-billion project to demolish its obsolete Promenade shopping mall. Dating from 1972, it will be replaced with an expansive mixed-use complex with nearly 1,500 residences, two hotels and a concert venue.
"We feel this part of Los Angeles continues to get better and better," said Larry Green, senior vice president of development for Westfield, who grew up in Van Nuys. "It has become a more desirable place to live."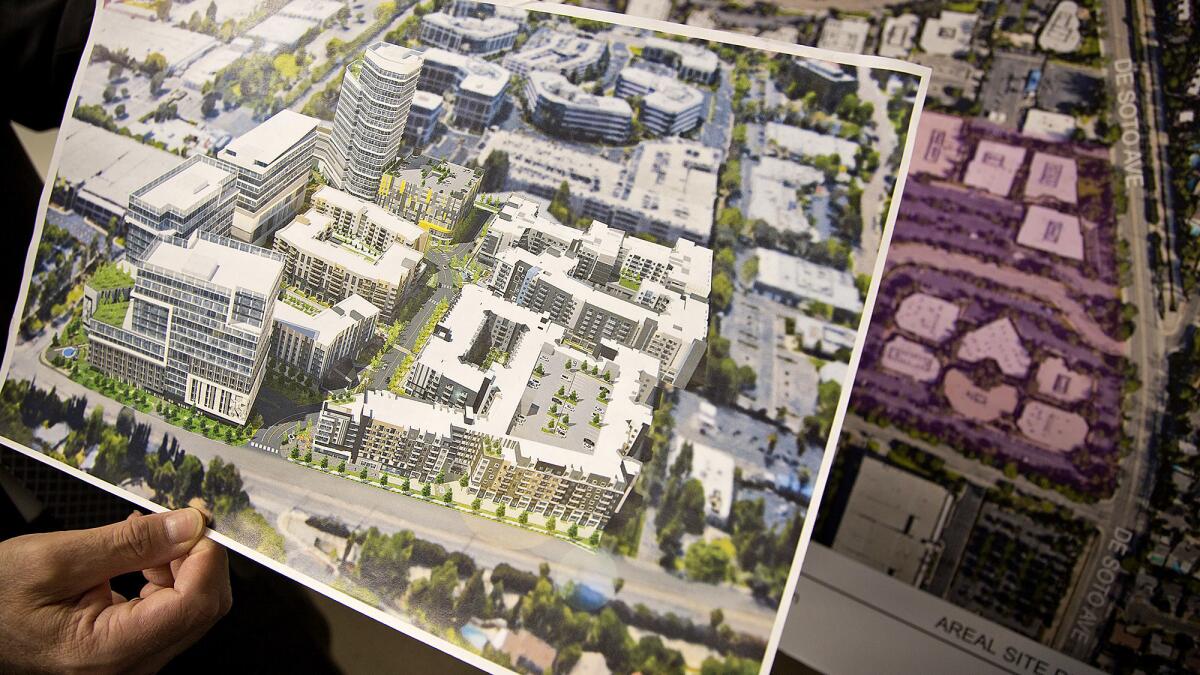 The Promenade development on Topanga Canyon Boulevard would be an extension of Westfield's $350-million Village at Topanga "lifestyle center" that opened across the street last year.
In addition to housing, plans for a new Promenade include shops, offices, hotels and a 15,000-seat arena for concerts and sports. Also envisioned are 7 acres of open space, including a 1-acre park, known as Promenade Square, that could host outdoor movie nights.
The Promenade development could get underway by 2020 and could take 15 years to complete in phases.
Scheduled to start next year and be completed far sooner is Westfield's $300-million project to convert the former Sears store between Westfield Topganga and the Village shopping centers to a movie complex, along with restaurants and a "flagship" store for a prominent retail brand, Green said,
Another major Warner Center project is underway at the old Rocketdyne plant on Canoga Avenue. The 47-acre site called Uptown at Warner Center will give way to a high-rise "urban neighborhood" with 4 million square feet of residences, 1.1 million square feet of offices, hotels and stores. It is to have a central park, performance spaces and pedestrian paths.
In addition, the Woodland Hills-Warner Center Neighborhood Council recently approved a seven-story, 170-room hotel proposed for 5957 Variel Ave. at Oxnard Street that would replace a small office building built in 1979.
The Warner Center 2035 plan is designed to unify these projects and others.
It divides the area into eight districts with names such as Downtown, Uptown and Commerce, each with its own development guidelines. The plan calls for the long city blocks to be broken up with new pedestrian pathways, new streets and more crosswalks. Developers will pay fees to fund many of the changes.
The city's green light for dense development in Warner Center has made land more valuable, and some owners are hoping to cash in by selling their property to developers.
Anthem Inc., which occupies a 14-story office tower at 21555 Oxnard St., recently put the surrounding 26-acre parking lot on the market, telling potential buyers that the city's 2035 plan would allow them to build more than 5.5 million square feet of offices, residences, stores and hotel rooms.
Anthem is typical of tenants in the Warner Center office market. The district has historically has been known as a "back office" location for big companies that need inexpensive space for scores of employees, said real estate broker Mike Longo of CBRE.
It's also been a weak office market in the past but has improved significantly in recent years.
Overall vacancy is about 11%, he said, down from as high as 20% in 2010. Average rents for Class A space are about $2.70 per square foot per month, compared with as much as $7 in Santa Monica and $3.50 in Encino. That's an attraction for the developers who are planning mixed-use projects that will eventually include still more offices.
The 2035 plan amounts to a welcome mat for any builder who may have a hard time finding space elsewhere in the region.
"Warner Center is very favorable for developers coming in, given the lack of supply" of available land in L.A., Longo said. "It's a really attractive place to develop."
Twitter: @rogervincent