YouTube's biggest stars are cashing in offline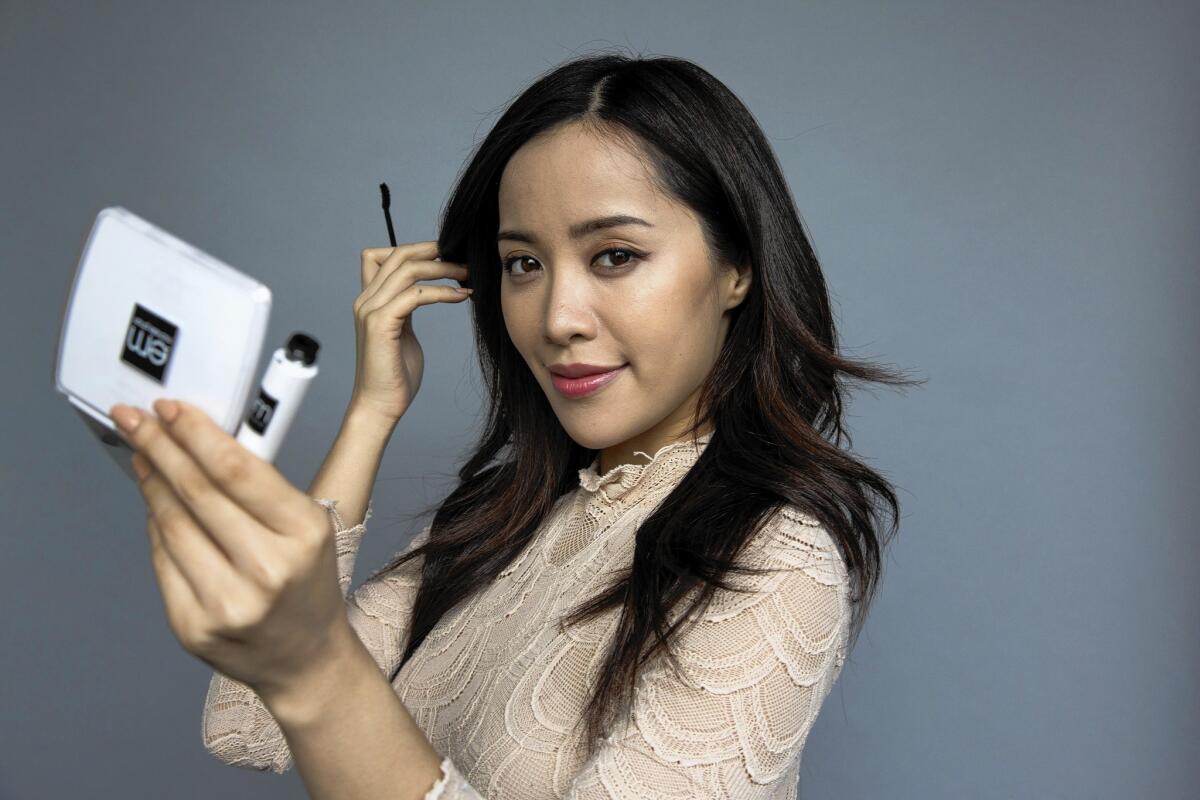 Before the makeup line, the book deal and the product endorsements, Michelle Phan was just another girl trying to make it big on YouTube.
She rose to fame with her viral video tutorials, sharing makeup tips and emulating looks inspired by Lady Gaga, Angelina Jolie and Barbie.
First came the fans. Then came the brands — then the money. Between her cut of YouTube advertising and various side deals, Phan said she will pull in more than $1 million this year.
"I'm no longer just talent," the 27-year-old said while applying makeup recently in a Santa Monica studio, a pile of beauty products strewn across a table in front of her. "It's a business."
The most successful online video creators have become more than just small-time digital celebrities. They now operate like one-man or one-woman corporations, touting their own merchandise, starting companies and signing deals with major brands, which have propelled them to greater stardom outside the YouTube realm.
At teen retailer Aeropostale, shoppers can buy clothes and home decor designed by 18-year-old YouTube phenom Bethany Mota. Barnes & Noble is taking pre-orders for a cookbook by Hannah Hart and a coming-of-age novel by Zoe Sugg, both YouTube personalities.
Brittani Louise Taylor — a bubbly L.A. actress whose online comedy sketches and music video parodies have garnered 1.6 million YouTube subscribers — has appeared in a television commercial for Ford and online videos for Pepsi and Kodak.
"Any company that has money is approaching YouTubers," said Taylor, 30.
Once known for cat videos and other one-off viral fare, YouTube today hosts thousands of uber-successful video creators who regularly post original content — humor, product reviews, how-to tutorials, music videos — on their own channels. Devoted fans subscribe to their favorite stars so they can tune in as soon as new videos are posted.
That has upended the way viewers, particularly those in the prized younger demographic, watch content: YouTube now reaches more U.S. adults ages 18 to 34 than any cable network, according to Nielsen.
With those massive online followings comes influence and a shot at serious wealth.
Phan, who began posting makeup videos in 2007 and now has 6.8 million YouTube subscribers, is one of the site's most lucrative stars.
Her beauty tutorials were so effective — one, in which she copies Lady Gaga's "Bad Romance" makeup, has been watched 46 million times — that they were amassing more views than the professional videos posted by cosmetics giants.
Soon Lancome was asking Phan to create and star in videos for the makeup brand's YouTube channel. Over three years, four of Lancome's top five YouTube videos that drove the most new subscribers to the channel featured Phan.
A couple of years later, Lancome's parent company, L'Oreal, decided to offer Phan the chance to create her own makeup brand: em michelle phan. It was Phan's "one of us" approach that sold L'Oreal on working with her, said Roseanne Fama, vice president of brand and product development for em michelle phan.
"She talks to you like a big sister, your BFF, someone who is more approachable than a professional makeup artist," she said.
Viewers often relate better to YouTubers than A-list Hollywood megastars.
"The whole YouTube generation has opened up the field," Fama said. "You can tell who has authentic and true natural talent."
Em michelle phan launched last summer exclusively on the brand's website. A few weeks ago, Phan announced that Amazon's luxury beauty store would begin carrying the line.
That's not all. Phan also founded Ipsy, a $10-a-month beauty bag membership subscription. She's writing a beauty book, "Make Up: Your Life Guide to Beauty, Style and Success — Online and Off," which will go on sale in October.
In the fall, she's launching a digital lifestyle network dedicated to discovering new talent, mentoring the next wave of YouTube stars and building their brands.
She has also worked with Beats, Audible, Toyota, SanDisk and other companies. A Dr Pepper commercial she filmed is now running on national TV. She has her eye on bringing the Michelle Phan brand international, and is looking to first take on the Asia market.
But Phan, who grew up on food stamps, is quick to stress that she isn't chasing money.
"It's about building an audience that is loyal," she said. "And if you want to be loyal to them, you can't just sell them everything. They're not stupid."
Phan got a taste of the downside of fame recently when a record label sued her, saying she used its music without permission in her videos. For a makeup artist who began posting videos for fun in college, her No. 1 advice is now this: "You need to get a good lawyer. Your lawyer is your lifeline; you need someone who is going to protect you."
As her star has risen, the YouTube videos that made her famous have become a smaller part of her life. She tries to post one new video a week, but concedes "it's been really tough."
"When you're becoming more of a businessperson or an entrepreneur, you really have less free time," she said.
That isn't what YouTube wants to hear, and executives at the Google-owned company caution that creators shouldn't forget their YouTube roots.
"The potential for a YouTube creator to become a global star has increased, and that opens up all sorts of new doors," said Jamie Byrne, YouTube's director of content commercialization. But "the core of their popularity, and the core of their fan base, is really driven by their activities on YouTube."
For video creators, it can be challenging to sift through hundreds of endorsement deals and other offers. Many turn to multichannel networks to help broker contracts and handle merchandise sales.
Maker Studios, a Culver City media company that represents major YouTube personalities, has an e-commerce shop that features its stars' products. Shoppers can buy T-shirts and a backpack from video game commentator PewDiePie and trucker hats and argyle socks by vlogger ShayCarl, who has five YouTube channels.
Isabella Pipitone, a self-described YouTube fanatic, was waiting recently in a 40-person line for merchandise at Vidcon, an annual video convention in Anaheim. All told, she spent about $100 on T-shirts and stickers featuring her favorite YouTube creators.
"I like YouTube because it's real," the 13-year-old from Millstone, N.J., said. "You kind of feel closer to them in a way by owning stuff. I know it sounds stupid."
Being real is something many YouTubers point to when they talk about their appeal.
Speaking on a panel at Vidcon, YouTube star Taylor said she touts only products she genuinely believes in, such as recent endorsements she did for Schick and Wonderful Pistachios.
Then she singled out a video she filmed for Hot Pockets.
"Ham and cheese — you were super yum," Taylor sings in the three-minute video, which ends with her taking a big bite out of a Hot Pocket and telling fans, "Guys, it's true — I'm in love with Hot Pockets!"
Only catch: "I'm vegan," Taylor confessed to panel attendees. "It was really cute, so people didn't care."
Then she paused, nervous about the frank admission.
"I should stop talking," she said sheepishly.
Twitter: @byandreachang