Time bank takes root in Echo Park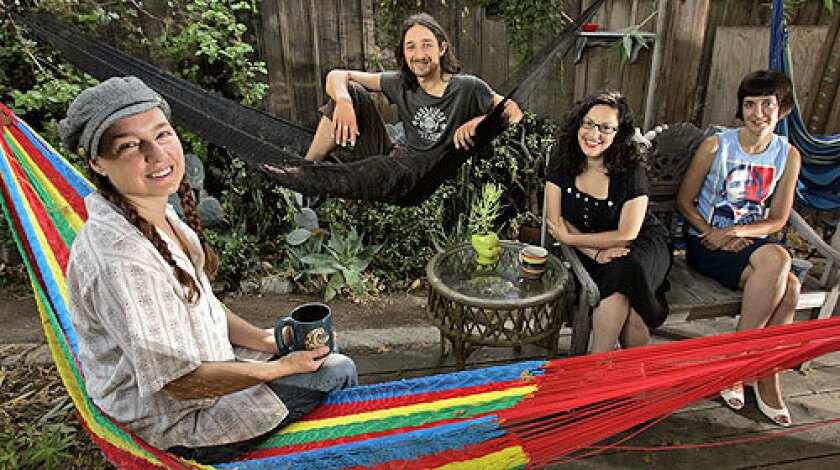 Los Angeles Times Staff Writer
ANE CRABTREE, a costume designer and stylist, was on location in Bulgaria when a professional chef e-mailed to say she'd be happy to give Crabtree free private cooking lessons when she returned. Then a neighbor in Angelino Heights e-mailed and offered to water her plants -- gratis -- the next time she goes out of town.
Both were responding to requests Crabtree posted on the Echo Park Time Bank, a new online -- and real-world -- community where time, services and expertise are bartered like sacks of rice and hops.
The concept is simple: Members create an online profile that includes a list of the work they'll do free, or "offers," along with a list of services, or "requests," they want in exchange. Dog walking, housesitting, guitar lessons, baby-sitting, help with Photoshop -- almost any intangible is allowed. Members don't exchange services directly with one another -- they trade with the bank. So the person who picked up apples and artichokes for you at the farmers market isn't waiting for you to return the favor.
Every hour volunteered earns a time dollar, which can be cashed in for services offered by any other member of the time bank. Crabtree, for example, did some cat-sitting last month, and now she's hoping to spend her time dollars on cooking lessons, cello instruction or Volkswagen maintenance tips.
At its core, time banking is about rekindling the kind of community spirit and thrift that existed before we got wrapped up in our iMacs and Motorolas, and paid for housekeepers and guitar lessons. But being cash-free and Web-based makes the ancient practice of bartering feel like the wave of the future. How appealing is it, in this economy, to not pay for a massage, haircut or accountant? Very.
The Echo Park group, which began in May, is the first official time bank to form in L.A., and with only 28 members, it's still in its infancy. But time banking is an international movement, with successful banks in London; Geneva; Barcelona, Spain; Vancouver, Canada; Detroit; and Portland, Maine. The concept was created in the mid-1990s by Edgar Cahn, the founder and president of TimeBanks USA and co-author of "Time Dollars."
Lisa Gerstein, owner of the vintage store Flounce on Echo Park Avenue, started the Echo Park group with artist Autumn Rooney. "It struck me that something completely based on trust could take place in a city," Gerstein said. "At the very least, good things can happen from it. At its best, there are magical things that can happen."
The system's egalitarianism -- one hour of work counts as one hour banked, whether you're giving a Swedish massage or mopping floors -- is part of what drew Aaron Kuehn, a Silver Lake draftsman. Kuehn, who offers architectural drafting and planning, said he's happy to lend his skills if it means collaborating with a community to solve problems. "It's a solution-based system, which I like," he said. Besides, "I spend a lot of time doing things I don't get paid to do and that are ridiculous."
What does he want in return? "I might take a class on mushroom cultivation."
Gerstein, whose offers include closet reorganization and personal shopping, added that, "People said, 'That could never happen in a city like L.A. -- people don't trust each other here.' " And it has been slow going so far. Trusting strangers to walk your dog doesn't come naturally, especially to city dwellers. That's why Gerstein and Rooney haven't publicized the bank or gone trawling for new members, preferring to let it grow organically. A friend tells a friend, and word gets out.
Prospective members have to live in Echo Park or nearby neighborhoods including Silver Lake, downtown L.A., Atwater Village and Lincoln Park, and they have to attend an orientation meeting before being approved to sign up online. (Those interested can apply at echoparktimebank.com, and attend the next orientation meeting Aug. 24 at Telic Arts Exchange in Chinatown.)
The most recent time-bank orientation meeting went down in typically casual, Echo Park style -- in Rooney's backyard, over some grilled sausages and macaroni salad. Seven would-be bankers perched on wooden benches, kitchen chairs and hammocks. Conversation turned to books, travel, the L.A. River, organic farming and, naturally, Burning Man.
They were an educated, idealistic bunch that included members of Farmlab -- an environmental arts production studio and think tank -- a freelance journalist and two professional lighting designers.
Which, unfortunately, also means that out of the current pool of members, there's no one who knows how to snake a clogged drain or install a car stereo. But there is a woman who can teach you Excel and give you advice on how to start up a small business, a city planner who can help you navigate L.A.'s zoning codes, and a busy casting agent offering audition coaching.
---
Your guide to our new economic reality.
Get our free business newsletter for insights and tips for getting by.
You may occasionally receive promotional content from the Los Angeles Times.