8 Images
The work of architect Jean Nouvel
Artist's rendering shows a 45-story condo building, left, proposed for 10000 Santa Monica Blvd. on the edge of Century City. SunCal Cos. plans to build the 177-unit tower designed by French architect Jean Nouvel. It would cost $400 million.
(Mark Segal / Ateliers Jean Nouvel)
An artist's rendering of a condo interior. Nouvel is proposing a narrow glass structure with sweeping views through the building and extensive greenery ringing each floor.
(Ateliers Jean Nouvel)
The new home of the Guthrie Theater in Minneapolis was also designed by Jean Nouvel.
(Gallop Studios / The Guthrie Theatre)
Inside the Guthrie Theater.
(Gallop Studios / The Guthrie Theatre)
A nighttime view of the Guthrie.
(Gallop Studios / The Guthrie Theatre)
The Nouvel-designed Arab World Institute in Paris.
(George Fessy)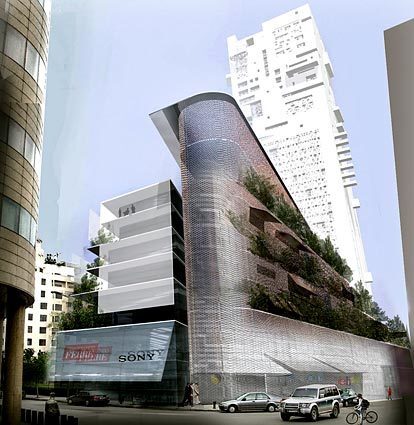 Jean Nouvel's design for a retail hotel-residential complex just south of the new central business district in Beirut . A narrow pedestrian street slices through the complex. The hotel and residential tower, rising in the background, is conceived as a solid mass with voids carved out of its facades.
(Christophe Rousselle)
Jean Nouvel in front of a model of the Abu Dhabi Louvre Museum at a cultural exhibition in Abu Dhabi, United Arab Emirates, in January. The flying-saucer-shaped museum, designed by Nouvel, will be erected on the Abu Dhabi waterfront and will open sometime after 2012. It will display thousands of works from some of France's top museums, such as the Louvre, the Georges Pompidou Center, the Musee d'Orsay and Versailles.
(Philippe Wojazer / Associated Press)