Key trial evidence goes missing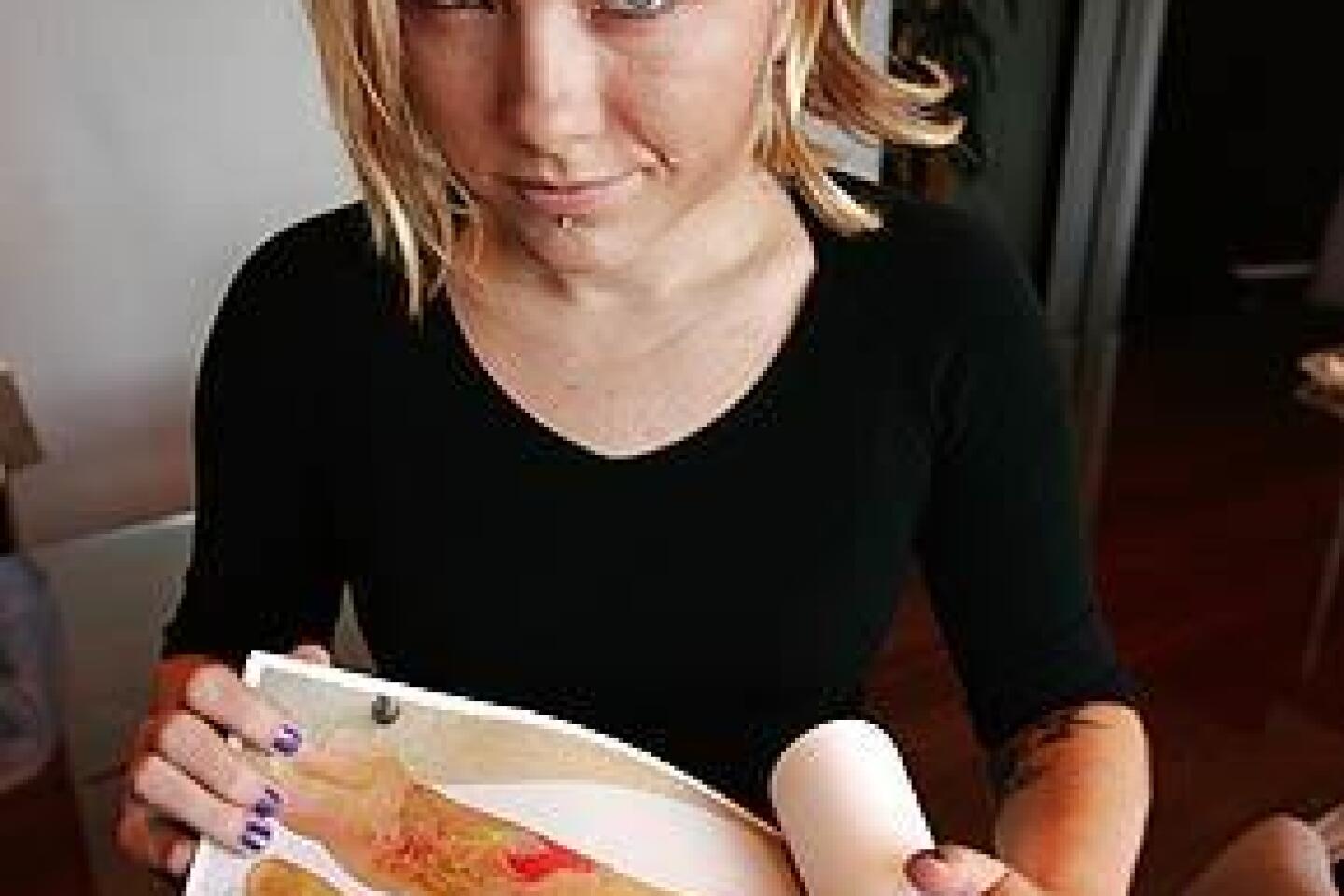 Gabriel Koloszar shows pictures of her injuries from a 2002 rollover accident in which she was a passenger in an SUV that was pulling a U-Haul trailer. Her feet required multiple surgeries and skin grafts. She and the Explorer's driver sued U-Haul International, saying the accident was caused by a defective tire on the trailer they were towing. U-Haul blamed the wreck on driver errors. The judge said he would impose sanctions against U-Haul after the tire and rim disappeared from a company shop. Without admitting liability, U-Haul agreed last week to an undisclosed settlement.
(Al Seib / LAT)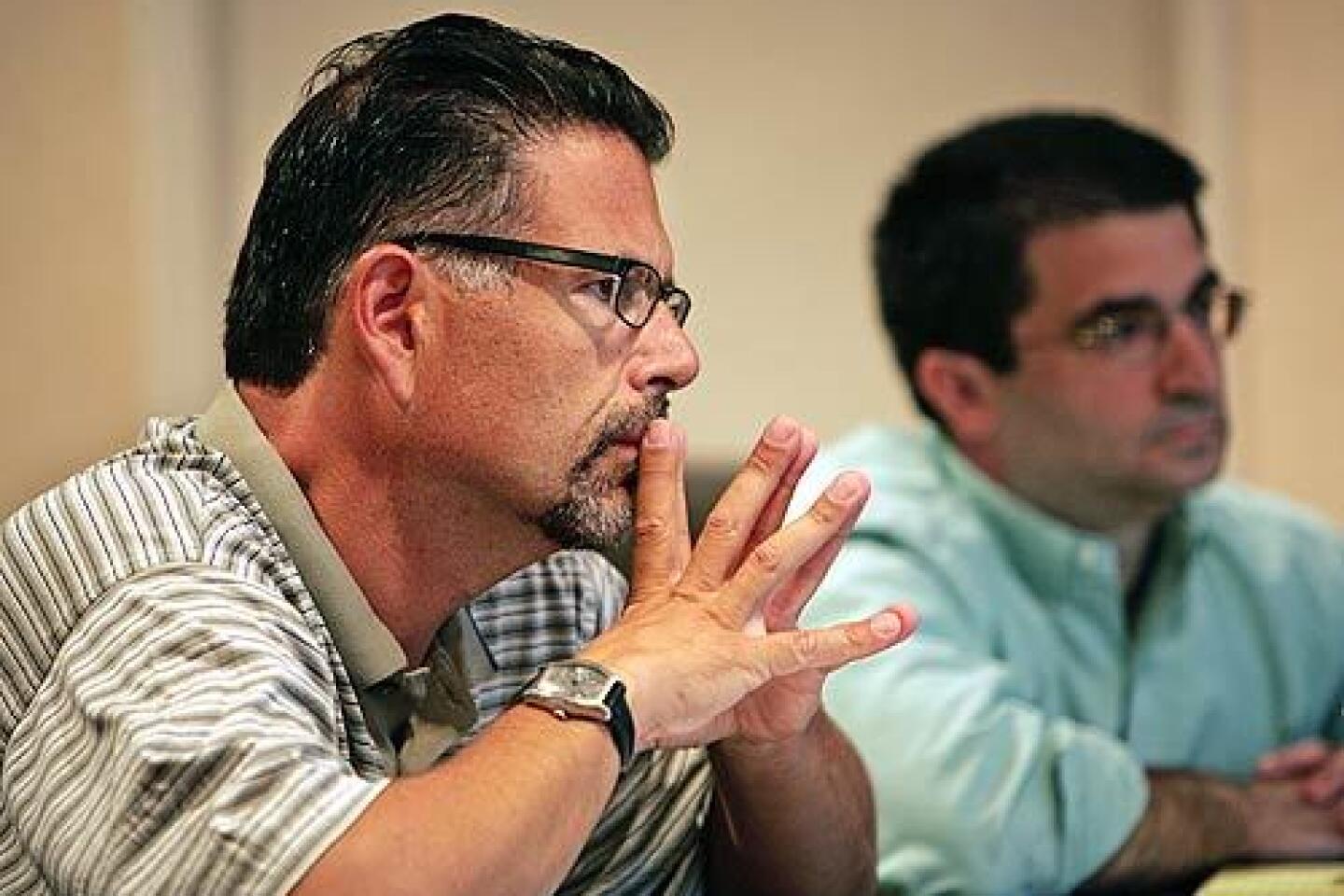 U-Haul General Counsel Larry De Respino, left, and Assistant General Counsel Steve Taub discuss legal policies. The company aims to provide all "reasonable, relevant evidence," said De Respino.
(Al Seib / LAT)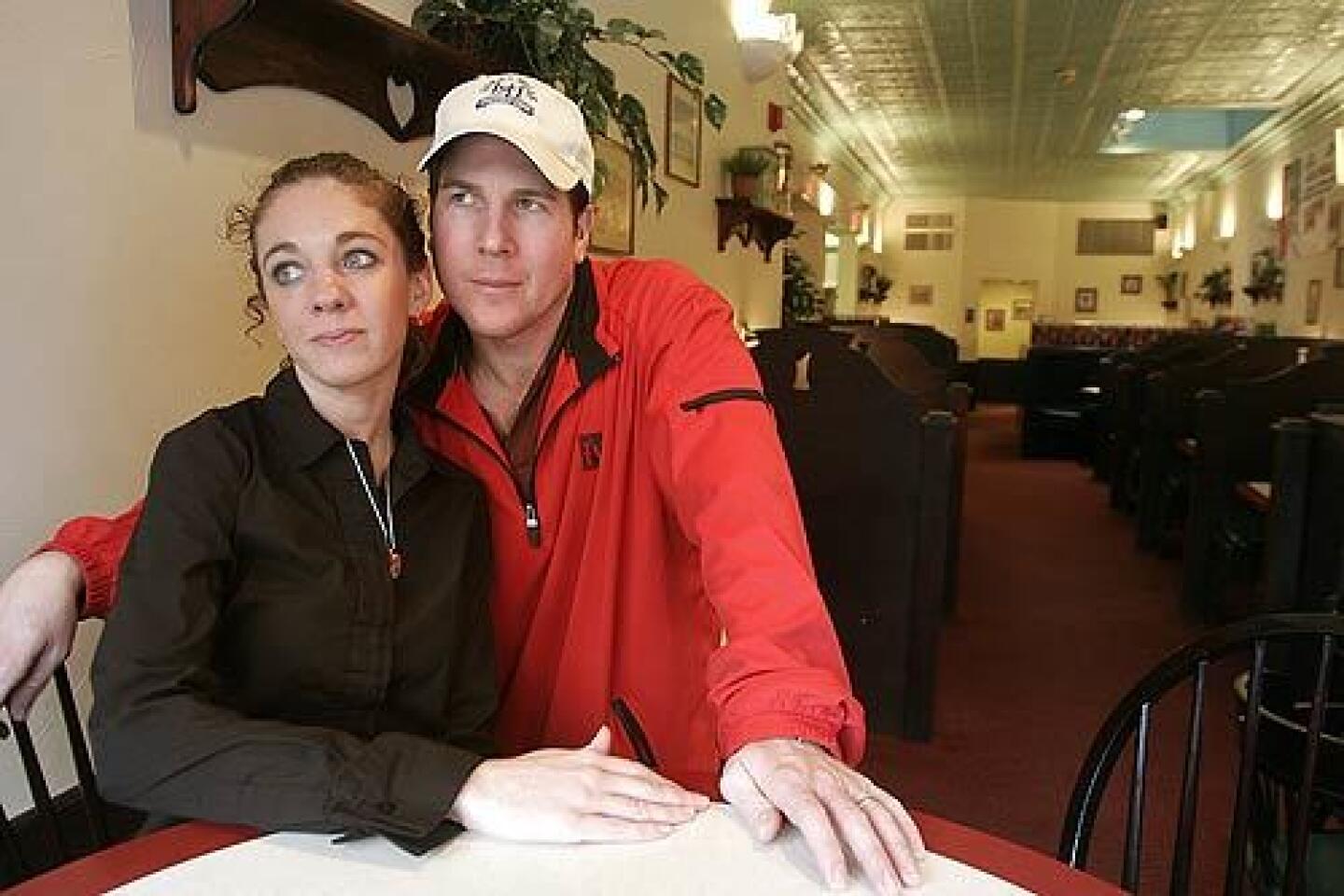 Christian Strong and his wife, the former Mindy Swegles, were heading home from a Florida vacation in 2002 when the trailer they towing swerved and they overturned. Their lawsuit said a fracture in the trailer's axle damaged a tire and caused the crash. U-Haul blamed driver error. Plaintiffs' experts inspected the tires and rims shortly after the accident but, when it came time for further testing, they were missing. A U.S. district judge sanctioned U-Haul before the trial by excluding some of its expert testimony. The jury found the trailer was not defective but awared the plaintiffs nearly $2.6 million in damages for U-Haul's failure to warn them about the risks of towing.
(David Kohl / For the Times)
Eric Reyes, carrying a mattress, and Hugo Carcamo move Carcamo's belongings out of a U-Haul truck near downtown Los Angeles.
(Al Seib / LAT)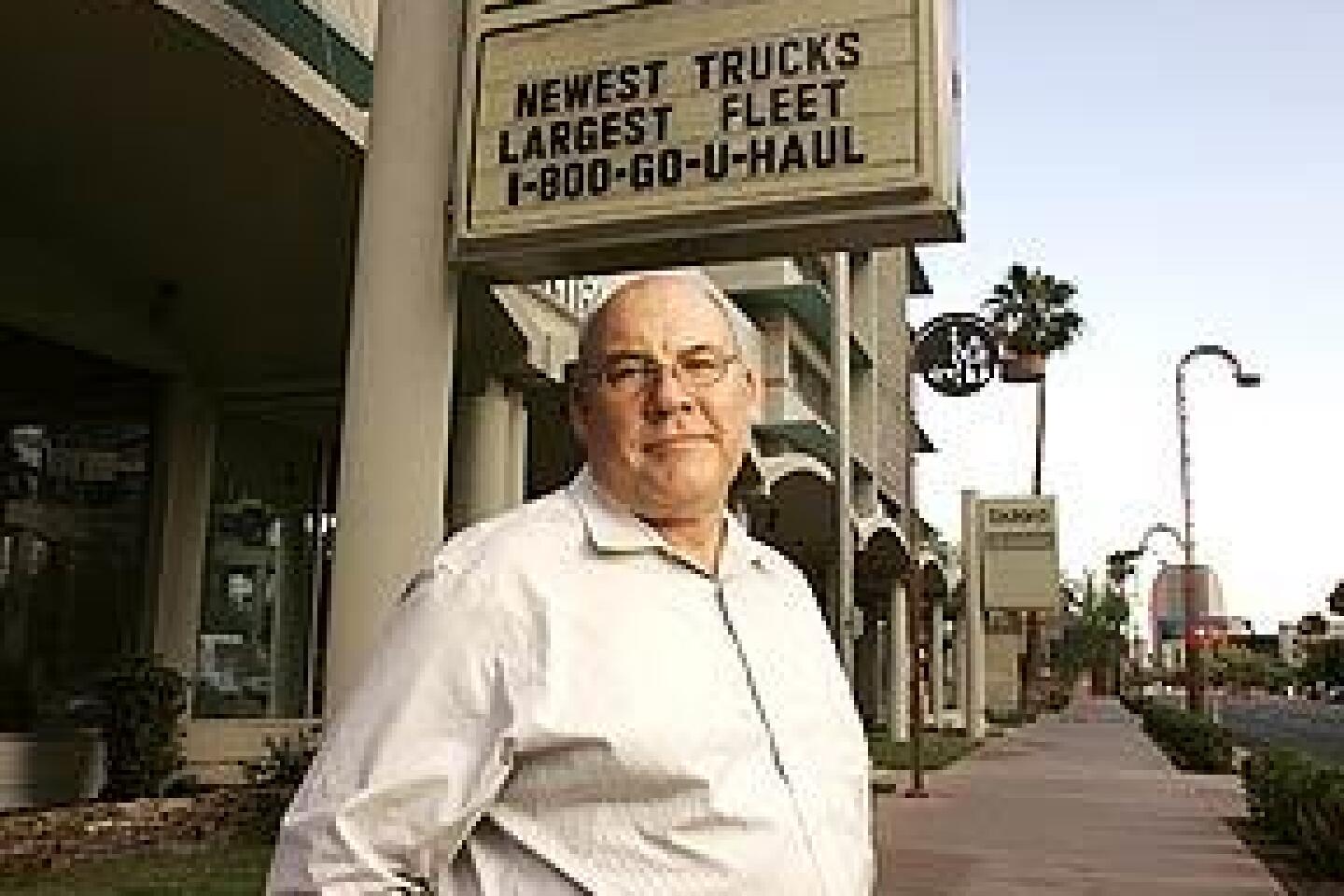 Edward J. "Joe" Shoen, chairman of U-Haul International Inc., stands in front of U-Haul corporate headquarters in Phoenix. Customers "need to be dealt with just as fairly and kindly as possible," he said. "We have a culture of trying to do that."
(Al Seib / LAT)
Injured customers suing U-Haul over accidents have sought key equipment, only to find it lost or discarded.
Times Staff Writers
Pinned inside an overturned Ford Explorer on Interstate 5 in Bakersfield, Gabriel Koloszar looked up to see her friend Paulo Aguilar hanging unconscious from his seat belt, his blood dripping down on her.

Rescuers pulled Koloszar out through the windshield. When she tried to stand, another passenger cried out: "Oh my God, Gabby. Your feet!" Only then, she recalled, did she look down to see her mangled flesh.

The trauma of that morning turned to outrage after Koloszar and Aguilar sued U-Haul International Inc., alleging that the accident was caused by a defective tire on the trailer they had been towing.

When their attorneys sought to inspect the tire and rim, they were told that would be impossible.

The evidence had disappeared.

A Kern County Superior Court judge declared in December that he would sanction U-Haul for "extreme negligence" in losing the evidence. Two weeks later, a federal judge in Ohio penalized U-Haul for similar conduct in a separate case.

U-Haul, the leader of the do-it-yourself moving industry, has repeatedly lost, altered or discarded truck and trailer parts sought by injured customers who sued the company, a Times investigation found.

In some cases, the company scrapped or repaired damaged parts in defiance of court orders that they be preserved as evidence.

At least twice, judges have imposed on U-Haul an exceedingly rare and severe sanction for misconduct in a civil case: throwing out the company's defense and entering judgments in favor of plaintiffs who needed the missing evidence to pursue their claims.

U-Haul said that the few instances of lost or spoiled evidence were purely accidental and that "the complexity of managing equipment across thousands of locations" sometimes led to mistakes.

Although it is not uncommon for parties in litigation to be accused of destroying or discarding documents, legal experts said it is unusual for it to happen with physical evidence.

It is unknown how many times this has occurred in lawsuits against U-Haul. No independent source gathers information on such cases.

U-Haul said judges had sanctioned it for spoiling evidence in "at best, a handful of cases" and had never ruled that it had done so intentionally. Asked for a list of those cases, U-Haul said: "We do not have such a list."

From interviews with plaintiffs' lawyers and court records, The Times identified 11 instances since 1989 in which records show that U-Haul lost, altered or discarded evidence. Judges sanctioned the company in some of those cases. In the others, plaintiffs did not seek sanctions, or the cases were settled before courts could rule on motions for sanctions.

U-Haul said that it has been sued more than 10,000 times over the last 20 years and that the few examples of sanctions should be viewed in that context. They "do not constitute a pattern of destruction of evidence," said Edward J. "Joe" Shoen, chairman of U-Haul and its parent company, Amerco Inc.

Shoen said that as a lawyer, he is particularly sensitive to the need to preserve evidence and that destroying it would not be in U-Haul's interest.

"It's about the worst thing you can have happen in a lawsuit," he said. "You've just dug yourself a hole because now everyone assumes the worst."

Companies have a duty to preserve evidence not only when a suit has been filed, but also when they know one is likely due to injuries or deaths. Even the inadvertent loss or destruction of evidence may be punished by the courts because it can deprive the other side of a chance to prove its case.

U-Haul said it has strengthened its evidence protection in recent years by requiring its agents to obtain the legal department's approval before putting equipment from accidents back in service. The company declined to provide a copy of the policy.

Dale A. Oesterle, a business law professor at Ohio State University, said an occasional failure to preserve evidence "may not be an indictment of corporate policy or corporate attitude…. I don't think you can expect a corporation to have a perfect record."

But Jonathan Turley, a George Washington University law professor, said that after losing evidence once or twice, a company would be expected to put a stop to it.

"If the company had been previously sanctioned for this conduct, it's hard to imagine a good-faith reason why" it would continue, he said. "This is something I've never heard of … not with a major company."

'MISSING IN ACTION'

At the wheel of his Explorer on Labor Day weekend 2002, Aguilar was heading home with Koloszar and two other friends from the Burning Man counterculture festival in the Nevada desert.

Their camping gear stashed behind them in a U-Haul trailer, they were about 100 miles north of Los Angeles when the Explorer flipped and rolled, coming to rest in the median of I-5.

Aguilar, an insurance agent who was 20 and living in North Hollywood, suffered a fractured skull and a broken vertebra in his neck, which required two surgeries to repair.

Koloszar, then 24, was hospitalized for two months for treatment of foot injuries, which required multiple surgeries and skin grafts. She was left with deep scars, diminished sensation in her feet and more than $700,000 in medical bills.

She and Aguilar each sued U-Haul, contending that a worn tire on the trailer suddenly deflated, causing the trailer and the Explorer to veer to the left. Koloszar's suit also named Ford Motor Co., asserting that the SUV's instability contributed to the crash.

In a deposition, a U-Haul manager acknowledged that the trailer should never have been rented because there was almost no tread in the middle of one of its tires. Even so, U-Haul denied this caused the wreck, citing a police report that Aguilar allowed the Explorer to drift and then overcorrected the steering.

Soon after the accident, a plaintiff's expert got a brief look at the suspect tire and rim. U-Haul said it stored the components at a company shop in Bakersfield, with a sign saying they should not be disturbed.

But in August 2005, after months of requests by the plaintiffs' lawyers to examine the parts more thoroughly, U-Haul reported that they had vanished.

"As to the tires, wheels and/or rims," a U-Haul lawyer said in a letter, "I am told that they are missing in action."

The company said in court papers that a former employee who burglarized the Bakersfield shop had probably stolen or junked the tire and rim — making the company the victim.

"If the tire and wheel were indeed stolen," the company said, "this was a criminal act against U-Haul."

Given its "diligent effort" to preserve the evidence, the loss of the parts was at worst "merely negligent" and not deliberate, U-Haul said.

"How convenient for them," said Koloszar, who now lives in Berkeley. "Isn't it ironic that you would just lose a key piece of evidence? They claim it to be stolen, but who would really steal a busted tire and rim?"

Citing other cases in which U-Haul had lost evidence, Koloszar's attorneys asked Kern County Superior Court Judge Louis P. Etcheverry to punish the company.

"U-Haul has an established pattern and practice of discovery abuse, including conveniently losing critical evidence, and the practice continues in spite of U-Haul having been previously sanctioned by other courts for its conduct," the lawyers said.

Etcheverry said in December that because of U-Haul's "extreme negligence," he would impose sanctions before the trial, which had been scheduled for July.

"Otherwise," he said, "you are encouraging everybody just to deep-six the evidence."

The threat of sanctions was removed last week, when Koloszar reached a confidential settlement with U-Haul and Ford. Aguilar also settled his suit.

James Rouse, a lawyer for Koloszar, said the impending sanctions were "a substantial motivating factor in bringing U-Haul to the table."

Steve Taub, U-Haul's assistant general counsel, responded: "While Mr. Rouse is entitled to his opinion, he is incorrect."

Late last year, a federal judge in Ohio sanctioned U-Haul for a similar lapse.

Christian S. Strong, Mindy Swegles and Brian Hunzicker were returning to Kentucky from a Florida vacation in May 2002 when a U-Haul motorcycle trailer they were towing swerved and their Explorer overturned on a Tennessee highway. Strong and Swegles had recently graduated from college and became engaged in Florida. Hunzicker and Strong were best friends.

Swegles, then 23, who was driving without her seat belt fastened, suffered fractures and a head injury that her physicians said left her brain-damaged and unable to pursue a teaching career.

A suit filed by Swegles and her two passengers said a defective trailer axle damaged a tire and caused the crash. U-Haul blamed Swegles for inattentive driving and going too fast.

Soon after the accident, the plaintiffs' experts inspected the trailer's tires and rims at a U-Haul storage site in Knoxville, Tenn. But when it came time for further testing in July 2004 at a lab in Columbus, Ohio, the trailer arrived minus the tires and rims.

"I thought it very odd, given the fact that the trailer clearly had an 'evidence hold' tag on it," said William A. Posey, who represented the plaintiffs. "While they say they have policies and procedures to protect evidence, clearly they don't."

On Dec. 28, days before the trial, U.S. District Judge Michael Watson sanctioned U-Haul by excluding some of the expert testimony it planned to present.

Noting that U-Haul's lawyers "suggested that the tires and rims were salvaged for use on another trailer," Watson concluded: "Whatever steps defendants took to protect the trailer and its parts were obviously inadequate."

Watson later punished U-Haul again after its lawyer violated his order by telling the jury that the plaintiffs could not support their case with physical evidence. The judge said the lawyer's conduct was "unbelievable," given that U-Haul had lost the trailer parts.

Watson told jurors they could infer that the lost evidence would have been "unfavorable to the defendants."

In February, the jury found that the trailer was not defective but awarded the plaintiffs nearly $2.6 million in damages because of U-Haul's failure to advise them to drive slowly and take other precautions.

To prevent destruction of U-Haul equipment, plaintiffs' attorneys obtained a court order within days of a 1995 rollover in Wyoming that killed Donna Jean Cullen. The order barred U-Haul from "disturbing or altering" the equipment she had rented: a tow dolly for hauling a second vehicle.

Cullen, 32, of Helena, Mont., was pulling an Isuzu Trooper behind her Mazda pickup, a combination that violated U-Haul's own safety rules for tow dollies. The rules say that to ensure stability, the lead vehicle must weigh at least 750 pounds more than the vehicle being towed. The Mazda and Trooper were nearly the same weight.

According to a suit filed by her family, Cullen was northbound on Interstate 25 in northern Wyoming "when the towed Isuzu Trooper began to sway uncontrollably from side to side," causing both vehicles to skid sideways and flip over.

Documents filed in court showed the dolly had undergone extensive repairs days before it was rented to Cullen.

The company moved the dolly from a wrecking yard in Casper, Wyo., to U-Haul offices in Denver to conduct examinations, actions permitted by the court. Within 45 days, the dolly was to be turned over to Cullen's lawyers.

When the deadline passed and the plaintiffs demanded to know the whereabouts of the dolly, a company lawyer informed them that it had been repaired and returned to service.

"When you have a court order," said New York University law professor Stephen Gillers, "bells and whistles should go off, and everything should stop."

U-Haul said its violation was "inadvertent" and caused little harm to the plaintiffs because their investigator had photographed the dolly before it was put back on the road.

But courts sanctioned U-Haul for obstructing the plaintiffs' efforts to learn the dolly's repair history and why it was not preserved as evidence. The company was ordered to reimburse fees and expenses of the Cullen family's lawyers.

U-Haul settled the case with a confidential payment in 1999.

'YEARS OF TORTURE'

Judges have decided at least twice that U-Haul's conduct in losing evidence was egregious enough to warrant striking the company's defenses and entering verdicts in favor of its opponents.

One instance involved a suit filed by Vivian Cabasso after she was severely injured in a 1995 accident.

Cabasso's fiance, Lee Goldberg, had rented a U-Haul trailer to move his belongings from Florida to New York. On a downhill stretch of Interstate 77 in Statesville, N.C., the trailer began to sway.

"I looked out, and the trailer is coming up beside me and it's just going side to side," Goldberg recalled. "It just took control of the entire vehicle and flipped us over."

They rolled several times. Goldberg escaped with minor injuries, but Cabasso, then 49 and a mother of two, suffered a fractured skull, broken neck and shattered arm. She required years of rehabilitation.

In her lawsuit, Cabasso maintained that inoperable trailer brakes caused the wreck. U-Haul said the brakes worked and Goldberg was at fault.

Soon after the accident, a U-Haul expert examined the braking system. But over the next several years, the company failed to comply with court orders requiring that Cabasso's experts be given access to the trailer, court records show.

At one point, U-Haul said it was trying to pin down the address where the trailer was being stored, Cabasso's lawyers said in a court filing.

In reality, the lawyers said, the trailer was left "lying outdoors, exposed to the elements" at the same U-Haul yard in North Carolina where the company's expert had looked at it.

In November 1999, U-Haul disclosed that the braking system "is no longer mounted on the trailer and its whereabouts are unknown."

In response, the trial judge struck U-Haul's defense, effectively deciding the case in Cabasso's favor. All that remained was for the jury to decide how much U-Haul should have to pay in damages. A New York state appeals court affirmed the ruling in 2001.

To avoid a trial on damages, U-Haul settled the suit with an undisclosed payment.

Goldberg, a lawyer, said he and Cabasso "were astounded" by the disappearance of the brakes. "It was the pivotal point of the case, and it was gutted."

Though they ultimately prevailed, Goldberg said U-Haul's tactics put him and Cabasso through "three or four years of torture."

In a statement to The Times, U-Haul said it had stored the trailer with an "Evidence Insurance Hold" sticker and could not explain why the brakes were removed. The company said its expert found that the brakes worked, and that it was "simply illogical" to think it had intentionally trashed helpful evidence.

In 1996, an Alabama judge struck the company's defense for violating an order to preserve components of a tow dolly involved in a deadly wreck.

Roger D. Waldon Sr., 46, was towing a Mercury Cougar on a dolly behind his Dodge truck when he lost control, crashed, and was thrown from his pickup and fatally injured. Waldon's son sued U-Haul, claiming that the dolly was defective.

Six days after the accident, plaintiff lawyers obtained a court order barring U-Haul from altering the dolly or removing it from a wrecking yard.

The judge later amended the order to allow U-Haul to transfer the dolly to a warehouse. But he ordered U-Haul "not to remove, loosen, adjust, disassemble or alter any of the components."

Inspecting the dolly, plaintiffs' experts found worn tire straps and a broken hook — proof, they said, that the device had been rented in a dangerous condition. But when the dolly arrived at a metallurgical lab for further testing, the suspect components were gone.

Walker County Circuit Judge John L. Madison issued a default judgment against U-Haul, ruling that "the only issue remaining is that of damages for the unlawful homicide which did occur directly as a result of the wrongful acts" of U-Haul.

As in the Cabasso case, U-Haul avoided a trial on damages by settling the suit for an undisclosed sum.

In a statement, U-Haul said it was "not clear and it was never established how the evidence was lost." But the company said it was "appropriately sanctioned" because Waldon "could no longer prosecute his claim in the absence of the trailer."

WITHHOLDING DATA

Judges have sanctioned U-Haul in other lawsuits for withholding information, such as lists of previous accidents that might show its awareness of hazards.

That's what happened in the case of Donald Marx.

As Marx, then 40, was getting his tank filled at a gas station in Grants Pass, Ore., a rented U-Haul truck waiting behind him lurched forward, crushing his leg against his own vehicle.

Lawyers for Marx and the driver of the U-Haul said the truck slipped out of park because of a faulty transmission. U-Haul blamed the accident on driver error, noting that a police officer at the scene drove the truck and found nothing wrong with the transmission.

Listening to lawyers at an August 2001 hearing, Oregon judge Robert W. Redding was not pleased.

Marx's lawyers complained that U-Haul had tried to deceive them by making the truck available for testing without disclosing that the transmission had been replaced. Marx's lawyers discovered this some time after taking the truck to a transmission specialist who found no defects.

The hearing brought forth other complaints of stonewalling, including U-Haul's failure to comply with a court order to disclose other reports of trucks moving while in park.

Redding fined U-Haul $10,000 and warned that if the case went to trial, he would allow Marx's lawyers to put in evidence an internal document known as the "dumb shit" memo.

The memo, described by the judge as "that tasteless piece of literature," was written by U-Haul founder L.S. Shoen, company chairman from 1945 to 1986.

In the 1976 memo, Shoen coached U-Haul managers to be as unhelpful as possible to a plaintiff's "hired gun" lawyer if called to testify. Don't lie, he said, but embrace the fleeting nature of memory.

"After 48 hours the memory curve drops off to approximately 10% of what we originally saw or heard," he wrote. "So the first rule is to realize that you are a 'dumb shit' and be glad that you are."

U-Haul settled the Marx case in 2002 for an undisclosed sum.

Steve Taub, U-Haul's assistant general counsel, described Shoen's memo as "simply a folksy — and sensible — reminder that if you do not know the answer to a question, then say you do not know. This is the same advice given to witnesses every day by lawyers."

Taub added: "All witnesses who testify on our behalf are instructed to tell the truth."

In Los Angeles, U-Haul's resistance to pretrial discovery brought a judge's anger to a boil in February 2003.

L.A. County Superior Court Judge Susan Bryant-Deason was presiding in a suit filed by Fortino and Susana Figueroa after a 2001 crash that left him a quadriplegic and her with leg fractures. The Figueroas lost control of their Ford Explorer while using a U-Haul dolly to tow a pickup.

U-Haul repeatedly switched defense counsel, causing delays and frustrating attempts by the Figueroas' lawyers to test the dolly and obtain U-Haul documents. Among other things, U-Haul resisted requests for a list of incidents in which people had been killed or injured in wrecks involving dollies.

Bryant-Deason said some of U-Haul's objections were "just ridiculous." When the company failed to meet her deadlines, the judge imposed a $25,000 fine for "repeated, repeated, repeated violations" of her orders.

Bryant-Deason also struck some of the company's defenses. U-Haul settled the case in May 2003 for $1.6 million, court records show. Ford Motor Co. paid an $880,000 settlement.

Three months later, an Arizona judge sanctioned U-Haul in a wrongful-death suit after finding that it had provided different accident lists to plaintiffs in separate tow dolly cases.

The Arizona suit stemmed from a 1999 wreck that killed Maria Lozano-Millan, her 7-year-old son and her sister.

In response to the plaintiffs' requests, U-Haul furnished reports of 168 previous tow dolly wrecks. One of the lawyers, John A. Commerford, noticed discrepancies between the list and those produced in two other cases.

"The idea they would play games with discovery when there are three families who are absolutely crushed and destroyed was beyond the pale," Commerford said.

State Superior Court Judge Anna M. Montoya-Paez ordered U-Haul to pay $10,000 in sanctions in August 2003 and warned that future abuse of discovery rules could result in a $100,000 fine. U-Haul settled the case for a confidential sum.

Commenting on the Figueroa and Lozano-Millan cases, U-Haul attorney Taub said that in each case the court was justified in imposing sanctions.

"We paid the price for it," Taub said. "It's not the way we litigate now."

For example, company executives said, U-Haul no longer takes the position that it cannot furnish data on accidents involving its vehicles because the information is under the control of a separate company, Republic Western Insurance Co. U-Haul and Republic Western are both subsidiaries of Amerco.

U-Haul advanced this argument in 1998 in a Canadian suit involving a man who suffered brain damage in a tow dolly crash.

John C. Abromavage, U-Haul's director of engineering services, testified in that case that he received daily accident data by computer from Republic Western, but could not save it. He said that after he read the information, it would "disappear" from his screen and he could not retrieve it, court records show.

Justice M.J. Allan of British Columbia Supreme Court said Abromavage's testimony reflected a "corporate policy of keeping potentially incriminating documents out of the possession of U-Haul" so it would not have to disclose them. Allan ordered U-Haul to produce accident reports sought by the plaintiff. U-Haul settled the case before it had finished doing so.

U-Haul General Counsel Larry De Respino said the company has adopted a more cooperative attitude. U-Haul aims to provide all "reasonable, relevant evidence," he said, because "we have nothing to hide."


---
myron.levin@latimes.com

alan.miller@latimes.com

Times researcher Janet Lundblad contributed to this report.