White House officials accuse Canadian leader of 'stab in the back,' intensifying fight with U.S. ally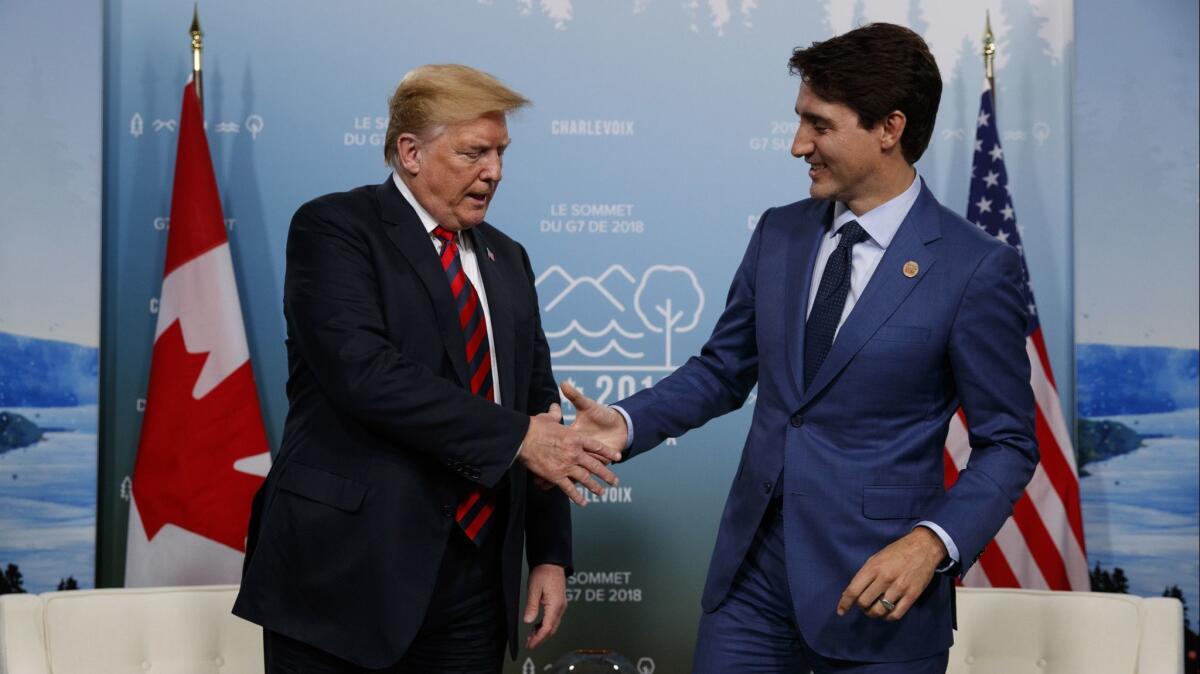 Reporting from Washington —
White House officials lashed out at the leader of Canada, one of America's closest allies, with extraordinary ferocity Sunday as they accused him of trying to make President Trump look weak heading into his summit with the leader of North Korea.
Two of Trump's top economic advisors branded Canadian Prime Minister Justin Trudeau a backstabber, betrayer and double-crosser who pulled a "sophomoric political stunt" that threatened to embarrass Trump before his much-anticipated meeting with Kim Jong Un in Singapore on Tuesday.
"There's a special place in hell for any foreign leader that engages in bad-faith diplomacy with President Donald J. Trump and then tries to stab him in the back on the way out the door," White House trade advisor Peter Navarro said on "Fox News Sunday."
The administration's actions drew rebukes from Canada's foreign minister as well as Democrats and some Republicans in Washington, including Sen. Jeff Flake (R-Ariz.), who on Twitter called out his party members after Navarro's comments: "Fellow Republicans, this is not who we are. This cannot be our party."
The White House anger stemmed from Trudeau's criticism of Trump's trade policies at a news conference Saturday after the annual Group of 7 summit, which Trudeau hosted at a resort in Charlevoix, Quebec.
Trump left the summit early, and an administration official told reporters he had joined a lengthy communiqué from the world leaders crafted on Friday and Saturday.
That night, however, Trump abruptly announced via Twitter that he would not sign the joint statement, calling Trudeau "very dishonest & weak" for his trade criticism.
Navarro sharply criticized the G-7 final statement, referring to it as "that socialist communiqué."
Larry Kudlow, the director of the White House National Economic Council, offered a somewhat different account, saying Sunday that Trump agreed with the language in the communiqué, which Kudlow helped draft. The statement outlined a shared commitment to work on a variety of economic, social, environmental and security issues.
But Trump took offense at Trudeau's comments, Kudlow said, and pulled out of the communiqué largely because he wanted to avoid looking weak before his summit with Kim.
The president "is not going to let a Canadian prime minister push him around… on the eve of this," Kudlow said on CNN's "State of the Union."
"He is not going to permit any show of weakness on the trip to negotiate with North Korea, nor should he," Kudlow said. "Kim must not see American weakness."
When Trudeau said that Canada would be forced to retaliate for U.S. tariffs on steel and aluminum and would not agree to a sunset provision in a new North American Free Trade Agreement, "he really kind of stabbed us in the back," Kudlow said.
"We were very close to making a deal with Canada on NAFTA … then we leave and he pulls this sophomoric political stunt for domestic consumption," Kudlow said of Trudeau.
"It's a betrayal, essentially a double-crossing," Kudlow said.
Despite Kudlow's statement about being close to a deal, Canadian officials have said for months that they would not agree to the sunset provision that the White House has been asking for — a demand that is also unpopular with many U.S. business leaders who say that a five-year end to the agreement would inhibit long-term investment.
Trudeau did not publicly respond directly on Sunday.
On Twitter he wrote, "The historic and important agreement we all reached at #G7Charlevoix will help make our economies stronger & people more prosperous, protect our democracies, safeguard our environment and protect women & girls' rights around the world. That's what matters."
A spokesman did not immediately respond to a request for comment. But Trudeau's office put out a statement, asserting that "the PM said nothing he hasn't said before" in public and to Trump.
Canadian Foreign Affairs Minister Chrystia Freeland said at a news conference in Quebec City that "Canada does not believe that ad hominem attacks are a particularly appropriate or useful way to conduct our relations with other countries."
The White House anger came as Trudeau did what Trump and administration officials often boast he does himself: stand up for the interest of his citizens. And Trudeau did it with less-confrontational comments than Trump made about trade and the U.S. treatment by G7 allies at his own news conference Saturday.
Trudeau promised that Canada would go ahead with retaliatory tariffs on U.S. products on July 1 if steel and aluminum tariffs aren't dropped.
"I have made it very clear to the president that it is not something we relish doing but it is something that we absolutely will do, because Canadians, we're polite, we're reasonable, but we also will not be pushed around," Trudeau said.
Trump had used more inflammatory rhetoric, accusing the allies of taking advantage of the U.S.
"We're like the piggy bank that everybody's robbing, and that ends," Trump said. "It's going to stop or we're going to stop trading with them.… If they retaliate, they're making a mistake."
Trade tensions are high between the U.S. and all its allies, but particularly with Canada, over Trump's decision to impose tariffs on steel and aluminum imports.
Trump invoked a rarely used national security clause to bypass World Trade Organization rules on such tariffs.
Trudeau has publicly declared it insulting to call Canada a national security threat given that Canadians have fought "shoulder-to-shoulder" with the U.S. military in conflicts dating back to World War I.
The two appeared to get along fine during a one-on-one meeting Friday that the White House described as "great." They even joked about the trade dispute in public comments before their bilateral meeting.
"Justin has agreed to cut all tariffs and all trade barriers between Canada and the United States, so I'm very happy about that," Trump said as Trudeau laughed.
But Trump wasn't laughing on Air Force One after leaving the summit and learning of Trudeau's news conference.
Navarro called the news conference a "stunt" and branded Trudeau "bad-faith" "weak" and "dishonest." Navarro said those descriptions were his own but "they're the sentiment that was on Air Force One."
He also indicated Trump didn't even want go to the G-7 summit, an annual gathering dating to the 1970s of the top advanced economies and America's oldest allies.
"President Trump did the courtesy to Justin Trudeau to travel up to Quebec for that summit. He had other things, bigger things on his plate in Singapore… he did him a favor," Navarro said.
Twitter: @JimPuzzanghera
---
UPDATES:
2:18 p.m.: This post was updated to name the Canadian foreign minister and Sen. Jeff Flake (R-Ariz.) as among those criticizing the administration's statements.
This post was originally published at 1:20 p.m.