Trump's renewed economic sanctions on Iran heightens risks for global oil prices and U.S. consumer spending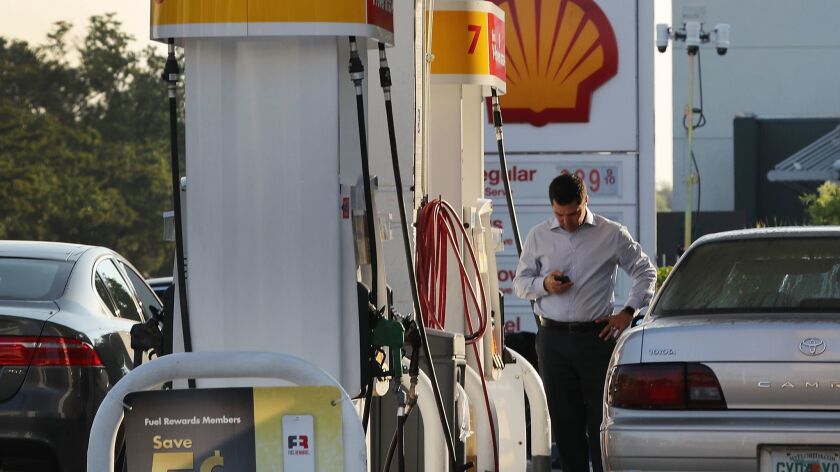 Reporting from Washington —
For American consumers, the effect of President Trump's announcement Tuesday that the U.S. would pull out of the Iran nuclear deal was already apparent at their local service stations days ago.
Gas prices nationally have climbed about 11% since March, to an average of $2.85 a gallon last week, reflecting higher global petroleum costs partly in anticipation of Trump's withdrawal and move to reimpose sanctions against the world's fifth-largest oil producer.
But just how much is already baked into fuel prices today is uncertain — and risks abound.
The resumption of what Trump called the "highest level of economic sanctions" against Iran will take place over the next several months. But regulatory uncertainty could cause some importers of Iranian oil to cut shipments immediately, particularly allies such as Japan and South Korea, said Paul Sheldon, chief geopolitical advisor at S&P Global Platts Analytics, an energy research firm.
Iran's share of global oil output is less than 5%, but crude prices typically move on the margins. And any sizable cut in Iranian oil production could exacerbate what has been a tightening global oil supply.
Recently, the Organization of the Petroleum Exporting Countries has curtailed output, which has been a factor in the run-up in crude prices. And it's unclear how the petroleum cartel will respond to the renewed sanctions. Meanwhile, Venezuela, another big oil country, is in an economic depression.
It also remains to be seen how European countries and their companies will comply with Trump's exit from the 2015 multilateral agreement that lifted the sanctions in exchange for Tehran agreeing to limit is nuclear program and allow regular inspections from international officials.
"Given disagreement with Trump's decision in much of the international community," Sheldon said, "firms with little or no U.S. exposure could choose to ignore the sanctions, while some governments could test the appetite of the Trump administration to sanction its companies and banks."
Then there are concerns of heightened geopolitical tensions in the Middle East from the unilateral U.S. withdrawal.
"What's hard to gauge is whether or not there would be some sort of broader reaction in financial markets, some sort of tightening in financial conditions because investors became more concerned about risk," said Lewis Alexander, chief U.S. economist at Nomura Securities in New York. "It's going to depend on how other countries respond to all of this. More shoes could drop."
With the reinstatement of sanctions, the trickling of U.S. business activities and involvement in Iran will come to a halt. European companies such as French car maker Renault had been more aggressive in investing or signing deals there since the restrictions were lifted, whereas even American firms that were hopeful of doing business in Iran had largely put their plans on hold, given the uncertainty that came with Trump's election.
Boeing Co. agreed to sell dozens of planes at a price of almost $20 billion, but had not delivered any aircraft yet. Richard Aboulafia, aviation analyst at Teal Group, said there probably would be no effect on Boeing's business since the company never booked orders.
"They played it very conservatively," Aboulafia said of Boeing.
As analysts see it today, there's as much a chance that U.S. gas prices could go down from here as up. That reflects the strong U.S. oil production capability, thanks to advances in fracking, as well as the expected gradual reimposition of sanctions.
"Saudi Arabia will probably rev up production and exports," said Brenda Shaffer, senior fellow at the Atlantic Council's Global Energy Center.
The benchmark Brent crude futures moved little Tuesday on the news, steadying at about $76 a barrel. It was about $50 a year ago.
So far, financial markets have taken the jump in oil prices largely in stride, as the U.S. economy has been performing well behind solid job gains and strong consumer confidence. But rising pump prices have pinched consumer spending, and some analysts argue that the Iranian sanctions could spoil much of the expected gains from the Republican tax cuts.
"In an environment of increased global supply tightness, this will put further upward pressure on prices," said Gregory Daco, head U.S. economist at Oxford Economics.
Hours before Trump's announcement, Democratic lawmakers warned that gas prices, which have risen almost 50 cents a gallon in the last 12 months, were poised to climb higher with Trump's withdrawal.
"With Memorial Day and the beginning of the summer driving season just a few weeks away, higher prices could limit travel and dampen tourism," said the Democratic staff of the Joint Economic Committee, in a blog post.
Economists point out, however, that higher crude prices should spur greater investment in the domestic energy industry, just as depressed oil prices in 2014 resulted in a sharp pullback in fracking states such as North Dakota and Texas.
On net, analysts figure the recent jump in oil prices is likely to be a wash for the U.S. economy, or modestly negative.
But taken together with increasing tensions on trade, with large tariffs possibly coming against China, there is growing wariness among some investors. Analysts expect that will be reflected in commodities and financial markets.
"I think we're going to have a lot of volatility," said Shaffer, of the Atlantic Council . "It's going to be a roller coaster in coming months."
Times staff writer Samantha Masunaga in Los Angeles contributed to this report.
Follow me at @dleelatimes
---
Must-read stories from the L.A. Times
Get the day's top news with our Today's Headlines newsletter, sent every weekday morning.
You may occasionally receive promotional content from the Los Angeles Times.