Trump-Xi deal buys time but doesn't solve deep U.S.-China differences over trade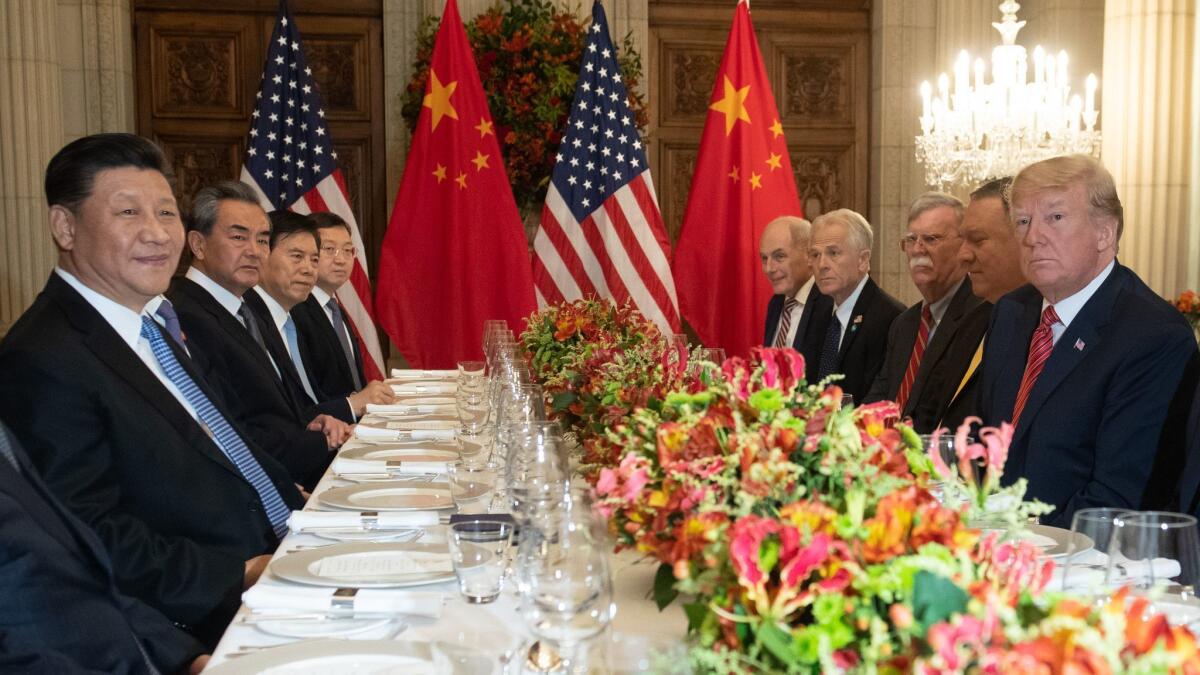 Reporting from Buenos Aires —
Despite inflated White House claims of success, President Trump's handshake deal here with Chinese leader Xi Jinping was less an end to the trade war than a tenuous truce that buys time for more negotiations but doesn't begin to resolve deep-seated differences on trade and economic philosophy.
Although the two leaders ratcheted down the acrimonious tone that has characterized months of tit-for-tat tariffs between Washington and Beijing, what they did mostly was kick the can down the road in the deal they forged over a working dinner Saturday night.
That leaves the hard work ahead to aides — and the prospect of a lasting resolution on long-standing disputes as murky as ever.
What's more, the nominal ceasefire in the trade war and its terms appeared ambiguous at best because there was no joint statement in English and Chinese.
Instead, the two governments gave sharply different renderings of what Trump and Xi agreed to at their dinner, which followed the Group of 20 summit in Argentina's capital.
According to a White House statement, Trump agreed to hold off raising what are now 10% tariffs on $200 billion of Chinese goods to a painful 25% starting Jan. 1, pulling back from a threat he had repeatedly made.
Chinese officials portrayed Trump's decision as a concession. Some U.S. analysts agreed, suggesting that Trump had blinked first — and could again.
The White House said the suspension was temporary and that the tariffs would spike in 90 days if negotiations fail to produce a deal on critical structural issues such as market barriers, forced technology transfers and cyber-thefts.
For their part, Chinese officials and the state-run news agency made no mention of those specific concerns or the 90-day clock.
Similarly, the White House said that Xi had agreed to buy a "very substantial amount of agricultural, energy, industrial and other product" to reduce the large U.S. trade deficit with China.
Trump told reporters aboard Air Force One, as he returned to Washington, that China would make "massive" and "tremendous" purchases of farm goods, a politically sensitive issue in America's heartland, which has been stung by Chinese counter-tariffs on U.S. soybeans and other agricultural products.
Trump cancels planned press conference at G-20 'out of respect' for Bush »
But in official comments, Chinese officials did not specify the increase in U.S. imports or the amount or the products. They also indicated that purchases would only gradually address the trade imbalance.
The Chinese foreign minister, Wang Yi, said in Buenos Aires that "China is willing to expand imports according to the needs of the domestic market and the people," which he said would "gradually ease the problem of trade imbalance."
To be sure, the differing statements were politically motivated to present Trump and Xi in the best light before their domestic audiences, with neither leader wanting to appear to have caved in to the other's demands.
And there's little doubt that Chinese officials know that the Trump administration sees a deadline for significant concrete action in months, not years.
Even so, David Lampton, a China scholar at Johns Hopkins School of Advanced International Studies in Washington, said the divergent descriptions of the deal "means that the two sides are not committed publicly to resolve the same issues on the same timetable or any timetable."
Moreover, Lampton noted, China suggested it will accelerate economic reform to America's benefit, but would do so based on its national interest and needs of its people.
"This is pretty much what Beijing has been saying for years," Lampton said.
Other analysts shared in the skepticism that China would change trade policies anytime soon, with some suggesting that Trump may have been played.
"The delaying tactics begin again," tweeted Dan DiMicco, a former top steel executive and trade advisor to Trump during the 2016 campaign.
Congressional Democrats questioned what was gained in the suspense-filled, two-hour dinner between Trump and Xi, their first face-to-face meeting since Trump launched the first volley of tariffs earlier this year in what has become an escalating trade conflict threatening the global economy.
"What exactly were the terms of agreement? How will we measure success?" Rep. Bill Pascrell (D-N.J.), ranking member of the House Ways and Means subcommittee on trade, said in a statement. "I will watch for answers, but so far I hear crickets."
Sen. Sherrod Brown, the senior Democrat from Ohio, said Sunday he was hopeful that Trump's meeting with Xi would ease tensions between the world's two largest economies. But on CNN's "State of the Union," he said, "It's not clear to me yet that the president's done this right."
Other analysts offered a more optimistic view of the deal.
Although the two leaders didn't reach any concrete agreements, Andy Rothman, a China analyst and investment strategist at Matthews Asia in San Francisco, said he saw a "change in the tone and direction of the bilateral conversation, favoring engagement over confrontation."
Besides boosting business confidence in the short term, with jittery stock markets likely to bounce higher Monday, "the prospects for real progress on substantive issues with China are now better than at any point in the Trump administration," Rothman said.
As they dined on Argentine steak, both Trump and Xi spoke of the importance of their relationship. Xi told Trump that he would be open to approving a previously denied merger deal between Qualcomm and NXP. San Diego-based Qualcomm dropped its $44-billion bid for the rival chip maker in July after a long delay amid escalating U.S.-China tensions.
"That could be a 'quick give' in good faith over the next three months," which could smooth future trade negotiations, said Damien Ma, a fellow at the Paulson Institute think tank.
For Trump, who's likely to feel additional political heat over China next year after Democrats take control of the House, a lot will depend on how negotiations go. The two sides could begin talks this month, with a delegation from Beijing expected to arrive in Washington.
For the Trump administration, much will fall on the shoulders of U.S. Trade Representative Robert Lighthizer, a trusted Trump aide who negotiated the replacement of the North American Free Trade Agreement. Trump and his Canadian and Mexican counterparts signed that accord in Buenos Aires, although its passage in Congress isn't assured.
No one knows if Trump will ratchet up tariffs on China in March if the talks fail to meet his goals. But Scott Kennedy, a China expert at the Center for Strategic & International Studies, a nonpartisan think tank in Washington, reckons the picture will become clear fairly quickly.
Kennedy noted that Xi is scheduled to give a major speech in mid-December to commemorate the 40th anniversary of China's economic reform. The Chinese leader could signal changes to come.
"This modest [ceasefire] deal in tariffs gives Beijing a little breathing room and a final opportunity to genuinely pursue economic liberalization," Kennedy said. "If nothing major emerges in December, we know for certain China has zero interest in making changes except when faced with major foreign pressure."
Times staff writer Laura King contributed from Washington.
Follow me at @dleelatimes