Trump cancels planned press conference at G-20 'out of respect' for Bush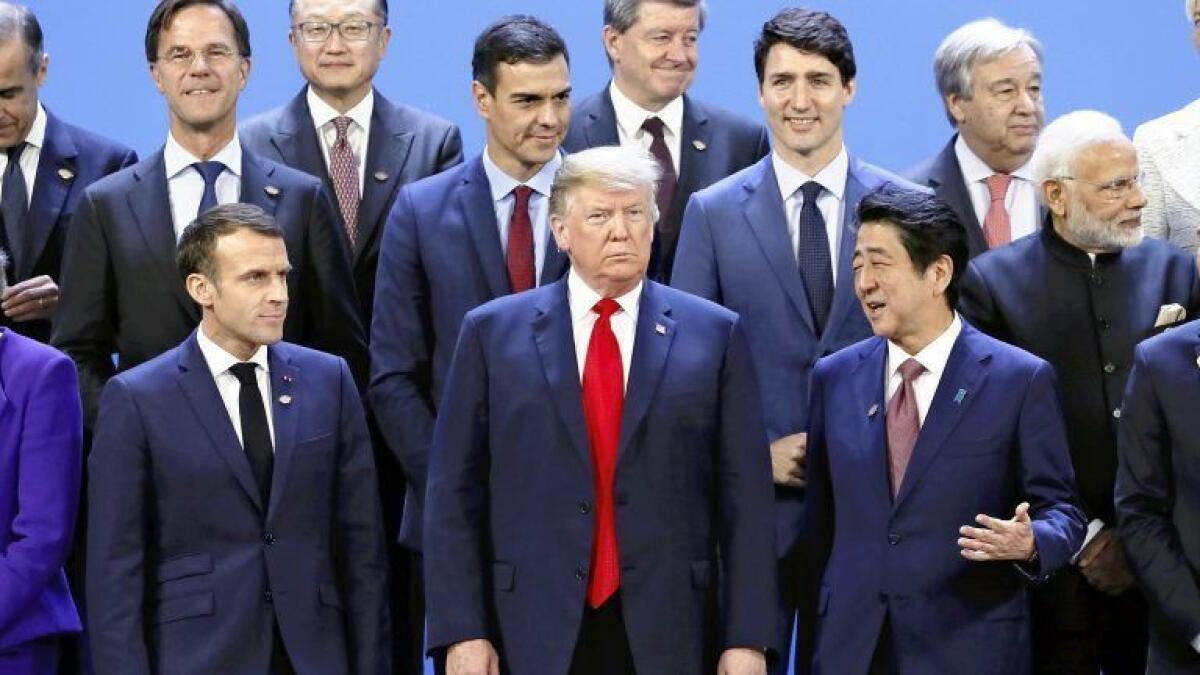 Reporting from Buenos Aires —
President Trump, who normally revels in the spotlight at international summits, canceled a scheduled press conference Saturday on the final day of G-20 meetings "out of respect" for the Bush family after the death of former President George H.W. Bush.
Trump said he had looked forward to answering reporters' questions because of the "great success" he's achieved at the two-day Group of 20 economic summit.
He has little to show for his two days of meetings, however, beyond a ceremonial finalizing of a revised trade deal with Canada and Mexico that still requires legislative approval by the three countries. He also is expected to agree to a truce in the trade war with China, a climbdown from his recent threats to add more tariffs.
"I was very much looking forward to having a press conference just prior to leaving Argentina because we have had such great success in our dealing with various countries and their leaders at the G20...." Trump tweeted.
"However, out of respect for the Bush Family and former President George H.W. Bush we will wait until after the funeral to have a press conference," he added.
An hour later, before a meeting with German Chancellor Angela Merkel, Trump told reporters he'd spoken by phone with two of the late president's sons, former President George W. Bush and Jeb Bush. He praised the elder Bush "as a terrific guy" and "family man" who "led an exemplary life."
Merkel also praised Bush, who helped engineer the peaceful end of the Cold War, calling him "one of the fathers of German reunification" after the Berlin Wall fell in November 1991.
Trump plans to attend Bush's funeral and designated Wednesday as a national day of mourning. He said he'd hold a press conference "some time in the near future."
The 45th president, who did not attend former First Lady Barbara Bush's funeral earlier this year, has been highly critical in the past of the country's 41st, George H.W. Bush, and 43rd, George W. Bush.
Four months ago, Trump mocked the elder Bush's call for public service, boasting that his "Make America Great Again" slogan was superior to Bush's Thousand Points of Light initiative, a nonprofit effort aimed at boosting volunteerism.
"The thousand points of light, what the hell was that by the way?" Trump said at a rally in Montana in July.
Trump long has had fraught relations with the Bush family.
He disagreed with then-President George H.W. Bush's call for a "kindler, gentler nation," telling Playboy in 1990 that "if this country gets any kinder or gentler, it's literally going to cease to exist."
During the 2015 presidential race, he mercilessly mocked former Florida Gov. Jeb Bush, one of his rivals for the Republican nomination, as "low energy." He also slammed George W. Bush for leading America into the 2003 Iraq war — which Trump initially supported.
After he stood with Merkel on Saturday, a reporter asked Trump if he regretted his harsh comments about the elder Bush. Trump paused before responding, "Thank you very much everybody," a signal that he wanted the media to leave the room.
Trump's cancellation of a press conference is a rarity for the former reality TV star. He famously enjoys sparring with reporters and has shown little compunction about turning past summits into one-man shows starring himself.
Trump held a rollicking 90-minute press conference at the end of the United Nations General Assembly in New York City in September; and he upended the NATO summit in Brussels in July with demands that member nations spend more on defense. He then held a last-minute press conference and took credit for their previous commitments.
In Argentina, Trump has been unusually low key.
He left Washington on Thursday two hours after his former longtime attorney Michael D. Cohen had pleaded guilty to lying to Congress about negotiations for a proposed Trump Tower project in Moscow.
Contradicting Trump's claims, Cohen told a federal court that he and other Trump emissaries had continued negotiations until June 2016, after Trump had locked up the Republican nomination.
The case, brought by special counsel Robert S. Mueller III, is the first to specifically target one of Trump's business dealings. It spurred a furious denial by Trump of any wrongdoing and a new round of angry tweets.
After arriving here, Trump was unusually terse before TV cameras, mostly offering brief platitudes and refusing, for the most part, to respond to questions from reporters.
On Saturday, he was notably deferential to Merkel, whom he's often publicly criticized, calling her "a friend" and telling reporters "she's highly respected by everybody, including me."
At this relatively quiet G-20, Trump was overshadowed, to a degree, by two autocrats he sought to keep at a distance: Russian President Vladimir Putin and Saudi Arabia's Crown Prince Mohammed bin Salman.
A boisterous handshake here Friday between Putin and bin Salman served as a remarkable illustration of their shared lack of concern over being somewhat marginalized by Trump and other leaders.
Although he "exchanged pleasantries" with bin Salman on Friday, Trump did not formally meet with the crown prince amid an international uproar following the brutal murder of dissident Saudi journalist Jamal Khashoggi on Oct. 2. The CIA has concluded that bin Salman was in direct contact with the leader of the team that butchered Khashoggi in a Saudi consulate in Istanbul, Turkey.
Trump also had what the White House called "a number of informal conversations" with world leaders "including Putin" during a gala dinner Friday night at Buenos Aires' famed opera house, Teatro Colon.
On Thursday, after Air Force One had taken off for Argentina, Trump abruptly canceled a planned one-on-one meeting here Saturday with Putin. He blamed Russia's refusal to release three Ukrainian vessels and 24 sailors that it had seized in the contested Kerch Strait near Crimea last Sunday.
Trump has credulously accepted Putin's denials of election interference over the conclusions of U.S. intelligence officials and blamed President Obama for Russia's illegal 2014 annexation of Crimea.
He insisted Friday that "what took place with the ships and the sailors" was the "sole reason" that he canceled the meeting with Putin, not the damaging revelations in Cohen's guilty plea about his efforts to do business in Russia during the 2016 campaign.
Get our Essential Politics newsletter
The latest news, analysis and insights from our politics team.
You may occasionally receive promotional content from the Los Angeles Times.