14 Images
Strike highlights and lowlights
By Patrick Day, Los Angeles Times Staff Writer
DAY EIGHT
LOWLIGHT:
Kids and animals
W.C. Fields once vowed never to work with children or animals. Maybe the writers should follow that advice as well. On Veterans Day, Lulu, a collie related to the original Lassie, joined the children of striking writers outside the gates of Disney Studios. Though the dog probably appreciated the exercise, the kids will now forever wonder if the dwarves in "Snow White and the Seven Dwarves" were unionized or not.
(David McNew / Getty Images)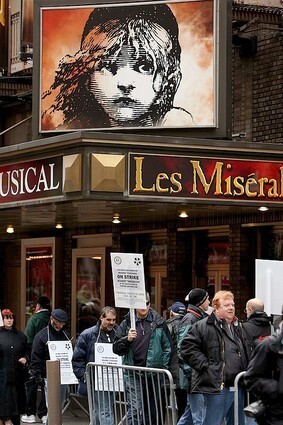 DAY SIX
LOWLIGHT:
Broadway on strike
In an unrelated labor dispute, the Broadway stagehands went on strike over the weekend, forcing a halt to many shows in New York City. While not as far-reaching as the writers strike, it's just another sign of troubled times in the entertainment industry.
(Spencer Platt / Getty Images)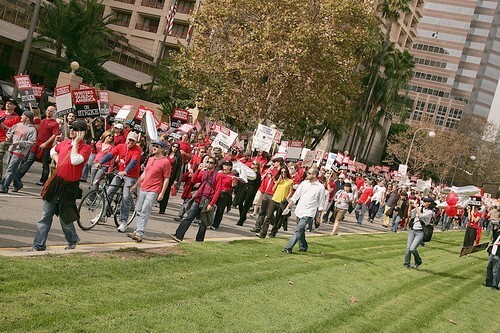 DAY FIVE
HIGHLIGHT:
Fox rally
An estimated 3,500 people rallied outside Fox in Century City on the fifth day of the strike, shutting down traffic on the streets surrounding the studio. Large crowds of people united in a single cause can either be frightening or inspiring, depending on your point of view. In either case, the writers may not be writing scripts, but at least they were able to create a nice bit of drama.
(Noel Vasquez / Getty Images)
DAY FOUR
HIGHLIGHT:
Inflatable animals
In New York, the striking writers have been using some oversized props to garner extra attention. Early in the week, they used a giant rat, but after some workers who were obligated to work objected to the negative connotations, they switched to an inflatable pig. Thanksgiving is in two weeks; perhaps the strikers can commandeer a giant inflatable SpongeBob after the parade?
(Bebeto Matthews / AP)
DAY FOUR
LOWLIGHT:
Cold weather
While their West Coast brethren have had L.A.'s traditionally mild weather on their side, the New York writers have had to deal with dropping temperatures. And it's still the first week of November. Things will only get colder.
(Tina Fineberg / AP)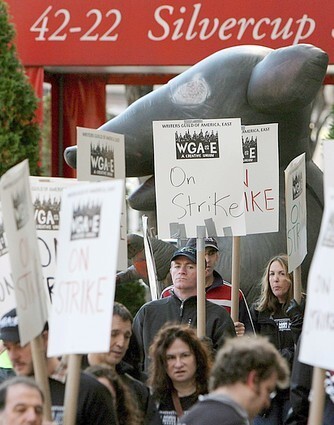 STRIKE DAY 3
LOWLIGHT:
New York egg cream
Day three of the strike got off to an ugly start with one of the picketing writers in New York reportedly being struck by an egg. Without being able to use their creativity, the writers may now be forced to endure all manner of cliched attacks. Hopefully they'll be able to avoid slipping on strategically placed banana peels.
(Justin Lane / EPA)
STRIKE DAY 2
HIGHLIGHT:
Better video games to come?
"Heroes" may be ending its second season early, but Kristen Bell isn't sitting around idly. She was out Tuesday night at the launch party for the new video game "Assassin's Creed." If scripted TV indeed goes the way of the dodo for the time being, will we be seeing games with better writing and acting?
(Business Wire)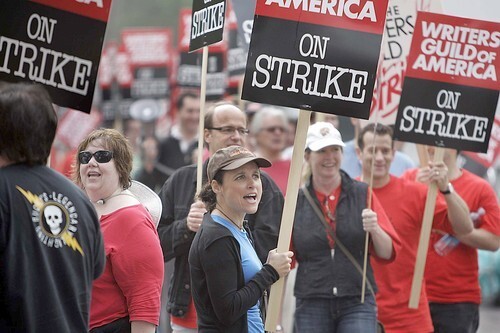 STRIKE DAY 2
HIGHLIGHT:
Cast solidarity
Most of the cast of "The New Adventures of Old Christine," including star Julia Louis-Dreyfus, joined the striking writers in disrupting filming of "Desperate Housewives" in Toluca Lake, and many cast members from "ER" congregated outside the gates of Warner Bros. Not since "Battle of the Network Stars" have this many actors rallied together.
(Allen J. Schaben / Los Angeles Times)
STRIKE DAY 2
HIGHLIGHT:
'Dancing with the Stars' hosts ad-lib away
With their writers on the streets picketing, producers moved ahead with live recording of the hit reality competition. Hosts Tom Bergeron and Samantha Harris proved themselves to be quick-witted on their own. When fan favorite Sabrina Bryan was bumped off, Harris scolded the at-home audience. Bergeron's retort? "Global warming, that's your fault too."
(Carol Kaelson / ABC)
STRIKE DAY 1
LOWLIGHT:
Boring sign slogans
Just because the writers are refusing to write doesn't mean they shouldn't put some effort into their strike signs. The pre-printed ones are dull, but the hand-printed "On Strike" signs are a huge missed opportunity.
(Al Seib / Los Angeles Times)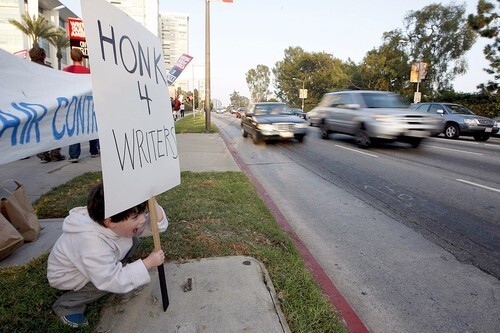 STRIKE DAY 1
LOWLIGHT:
All the honking
The strikers are soliciting beeps of approval from passing cars. And in a traffic-heavy city like Los Angeles, that's a whole lot of beeps. Anecdotal evidence suggests the noise is succeeding in annoying executives inside their offices. But that noise isn't directed with any sort of pinpoint precision. So everybody gets to revel in the white noise.
(Andrew Gombert / EPA)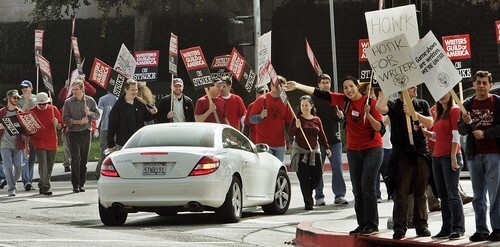 STRIKE DAY 1
LOWLIGHT:
Writer hit by a car
Emotions are obviously very high, but things turned ugly on Monday morning when striking writer Tom Johnson was struck by a driver (not the one in the picture) and sent to the hospital. According to witnesses, the driver had announced his intention to hit anyone who got in the way of his car. Unfortunately for everyone, he carried through on his promise.
(Reed Saxon / AP)
STRIKE DAY 1
LOWLIGHT:
Kids on the picket line
It's a tough call. Maybe their parents can't afford daycare; maybe it really is a good chance to bond. But it seems that if kids are too young to understand the issues at stake, they shouldn't be dragged into the middle of a messy labor dispute.
(Gus Ruelas / AP)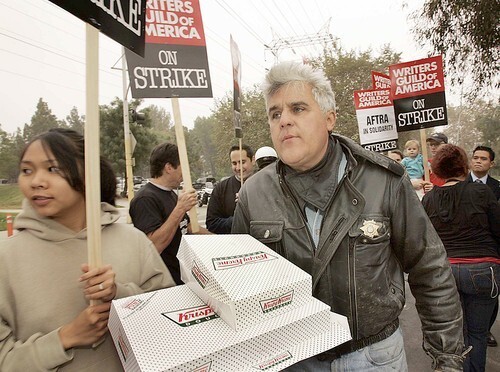 STRIKE DAY 1
HIGHLIGHT:
Big name caterers
Jay Leno showed up with doughnuts, Danny Bonaduce brought Girl Scout cookies, Patricia Arquette brought pastries, Rachel Griffiths went on a Starbucks run and Eva Longoria sent pizza. It's only a matter of time before Brad Pitt pulls up in the In-n-Out truck.
(Al Seib / Los Angeles Times)