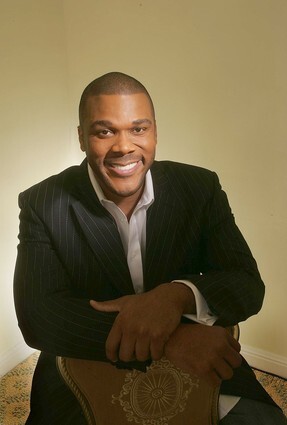 5 Images
Tyler Perry can't lose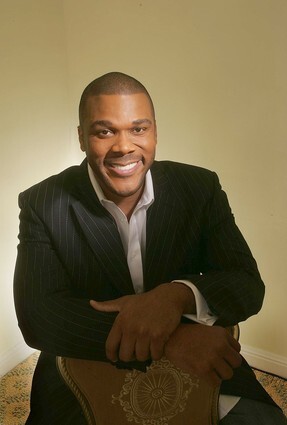 By Jevon Phillips , Los Angeles Times Staff Writer
AUTEUR:
By continually feeding an under-served audience, Tyler Perry has become one of the most reliable box office brands in Hollywood.
Yet the 38-year-old multimillionaire and industry outsider lives in Atlanta and eschews standard Tinsletown conventions he refers to as "Hollywood crap." Nevertheless, with his distinct form of broad comedy, social commentary and family values, Perry has clearly struck a cultural chord
and
box office gold.
Perry has honed his talents writing, directing and performing (often in drag) for a devoted base of black American Christian women who spark to his unique portrayal of modern-day relationships and upwardly mobile black professionals.
Perry has said that he lives by the advice given to him by friend and mentor Oprah Winfrey: Never lose control of your brand.
(Spencer Weiner / Los Angeles Times)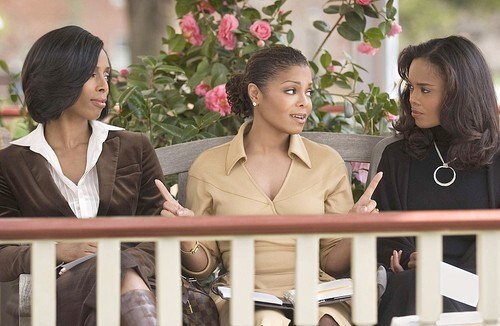 "Tyler Perry's Why Did I Get Married?"
(2007) stars Tasha Smith (as Angela), Janet Jackson (as Patricia) and Sharon Leal (as Dianne).
Janet Jackson is the first megastar Perry has cast in one of his films. He reportedly did not want to work with Jackson but was won over when she showed up to the set without handlers.
Jackson co-stars in the romantic dramedy about college friends who get together once a year for a couples' retreat in Colorado.
"Why Did I Get Married" topped the box office its opening weekend earning over $21 million.
(Alfeo Dixon / Lionsgate)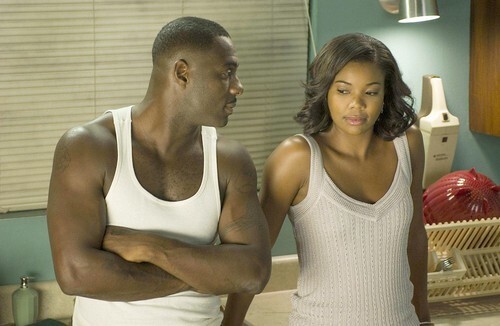 "Tyler Perry's Daddy's Little Girls"
(2007) starred Idris Elba (Monty) and Gabrielle Union (Julia).
"Daddy's Little Girls" was the first of Perry's films not based on a stage play, written solely for the screen. It tells the story of a thirty-something Atlanta garage mechanic (Elba) struggling to maintain custody of his three daughters. Along the way he meets an upscale lawyer (Union), who despite initially resisting, eventually falls for him and helps with his custody case.
In a Los Angeles Times review, film critic Mark Olsen wrote: [Perry] is at his best when writing speeches, and some of the film's best moments come when Union is given snappy monologues on the state of contemporary relationships and African American maleness.
"Daddy's Little Girls" opened to $11 million and went on to gross $31 million domestically.
(Alfeo Dixon / Lionsgate)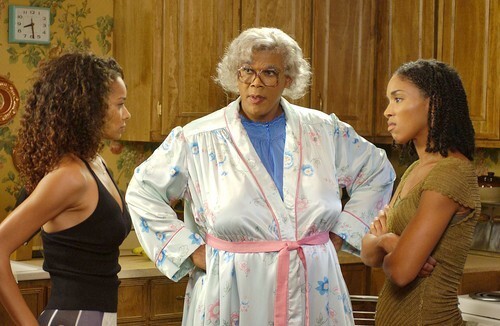 "Madea's Family Reunion"
(2006) starred Rochelle Aytes (Lisa), left, Perry (in drag, as Madea), center, and Lisa Arrindell Anderson (Vanessa).
Written, directed and starring Perry, "Madea" follows a pistol-packing grandma who must contend with various dramas on her plate, including the runaway who has been placed under her care, and her love-troubled nieces all while she tries to plan a large family reunion.
When it opened in February 2006, "Madea" earned over $30 million its opening weekend and went on to gross $63 million worldwide.
(Alfeo Dixon /Lionsgate)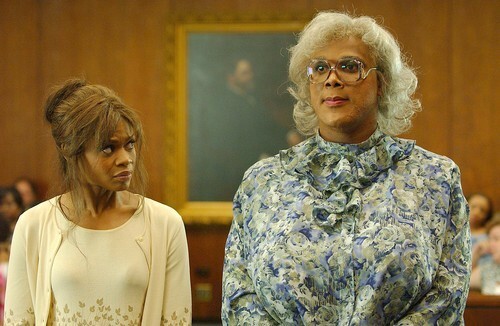 "Diary of a Mad Black Woman"
(2005) starred Perry (as Madea), left, and Kimberly Elise (Helen).
"Diary" famously made back its budget ten times over earning $22 million when it was released in February 2005.
Perry cast himself in the title role as Madea, the bawdy character he made his name with on the so-called "chitlin' circuit," a faith-based alliance of theaters in the south catering to black Christian Americans. Supporting Perry's leap from stage to screen, his fan base turned up in droves, thereby anointing a new king of relationship comedies.
Perry will serve his audience again in February with "Meet the Browns," starring Angela Bassett as a single mom who takes her family to Georgia for the funeral of her father -- a man she never met. Later in 2008, Perry plans to release "Madea Goes to Jail."
Perry has said his dream project is "Bethesda House," about a home for abused women, which he has vowed to make once Oprah agrees to participate.
(Alfeo Dixon / Lionsgate)