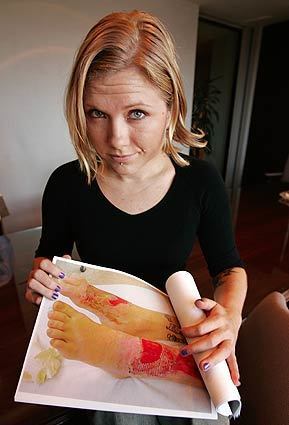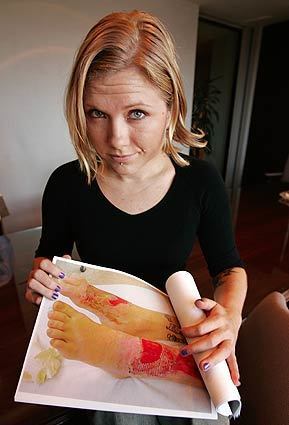 Gabriel Koloszar shows pictures of her injuries from a 2002 rollover accident in which she was a passenger in an SUV that was pulling a U-Haul trailer. Her feet required multiple surgeries and skin grafts. She and the Explorer's driver sued U-Haul International, saying the accident was caused by a defective tire on the trailer they were towing. U-Haul blamed the wreck on driver errors. The judge said he would impose sanctions against U-Haul after the tire and rim disappeared from a company shop. Without admitting liability, U-Haul agreed last week to an undisclosed settlement.
(Al Seib / LAT)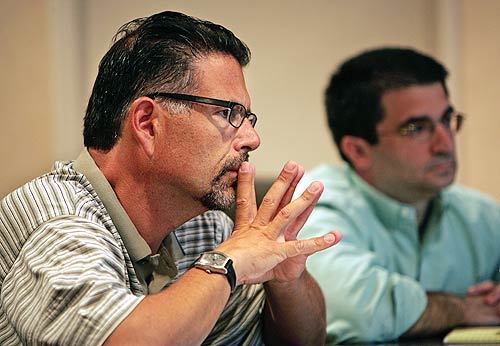 U-Haul General Counsel Larry De Respino, left, and Assistant General Counsel Steve Taub discuss legal policies. The company aims to provide all "reasonable, relevant evidence," said De Respino.
(Al Seib / LAT)
Christian Strong and his wife, the former Mindy Swegles, were heading home from a Florida vacation in 2002 when the trailer they towing swerved and they overturned. Their lawsuit said a fracture in the trailer's axle damaged a tire and caused the crash. U-Haul blamed driver error. Plaintiffs' experts inspected the tires and rims shortly after the accident but, when it came time for further testing, they were missing. A U.S. district judge sanctioned U-Haul before the trial by excluding some of its expert testimony. The jury found the trailer was not defective but awared the plaintiffs nearly $2.6 million in damages for U-Haul's failure to warn them about the risks of towing.
(David Kohl / For the Times)
Eric Reyes, carrying a mattress, and Hugo Carcamo move Carcamo's belongings out of a U-Haul truck near downtown Los Angeles.
(Al Seib / LAT)
Edward J. "Joe" Shoen, chairman of U-Haul International Inc., stands in front of U-Haul corporate headquarters in Phoenix. Customers "need to be dealt with just as fairly and kindly as possible," he said. "We have a culture of trying to do that."
(Al Seib / LAT)