Pantone Color of the Year for 2013: Emerald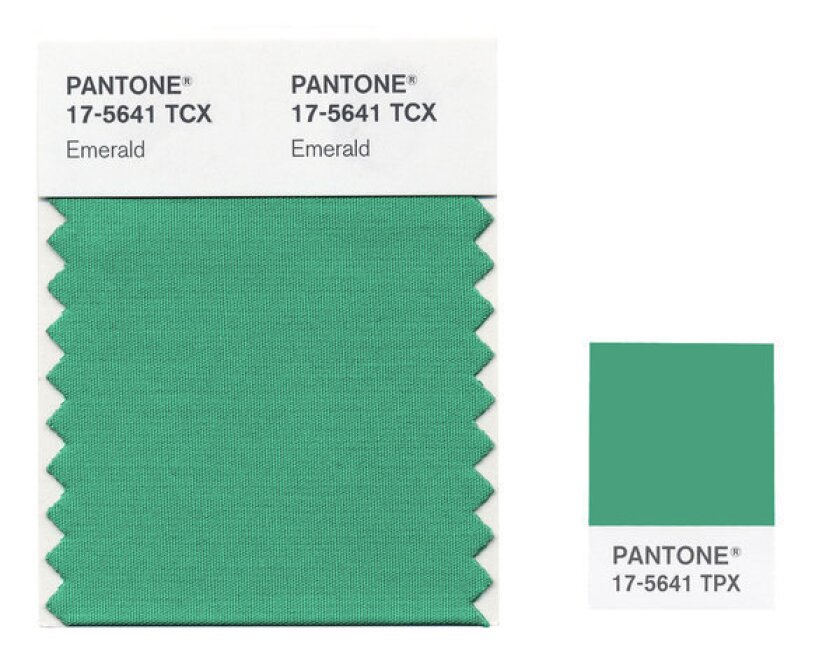 Pantone's color of the year announcement usually comes with psycho-sociological musings from experts about how the new hue is "encouraging and uplifting" (Honeysuckle in 2011), or evocative of "hope and reassurance" (Mimosa in 2009), or suggestive of "a touch of exoticism" that's just right for the times (Tigerlily in 2004). This year, we'll just say it plainly: Pantone's color of the year for 2013 is Emerald.
It's green.
Just how influential will Pantone's annual choice turn out to be? Hard to say. Color forecasters, manufacturers and store buyers do put some stock in the selection, if anything because the announcement has become something of a marketing juggernaut unto itself.
The Pantone press release issued Wednesday night cited an emerald-hued Pantone-Sephora beauty collection to be released in the spring, as well as spring fashion collections by Tracy Reese, Nanette Lepore and Marimekko that use Emerald as part of their palettes.
But in the color-of-the-year derby, the paint company Sherwin-Williams named a midcentury-tinged blue called Aloe -- "a hint of mint and lots of moxie" -- as its top hue for 2013.
Not to be outdone, Benjamin Moore has named Lemon Sorbet as its color of year for 2013, a "whispery tint" that is "evocative of the [economic] uptick."
Responses to L.A. at Home's thoroughly unscientific flash survey of design industry folks on Emerald began landing Thursday morning.
"As the only Jewish member of the Irish Georgian Society, I feel uniquely qualified to discuss the color Emerald," said Steven Stolman, president of Scalamadré, with emailed bemusement. "It's a happy-go-lucky color. Although I've never really been comfortable with the green beer ... I love emerald green for jewelry, of course, and clothing." As a part-time Palm Beacher, he added, "I know how important it is when mixed with pink."
L.A. craft maven Cathy Callahan said she has been using teal and turquoise in her work and has been thinking about adding mint, "as it's supposed to be the 'it' color for spring," she said. "So I'm not on board yet with Emerald, but I guess I'll have to give it a thought."
Updated: This post has been expanded since its original publication, with new comments from additional sources.
We welcome story suggestions at home@latimes.com. For easy way to follow the L.A. scene, bookmark L.A. at Home and join us on Facebook, Twitter and Pinterest.
---
Your guide to our new economic reality.
Get our free business newsletter for insights and tips for getting by.
You may occasionally receive promotional content from the Los Angeles Times.