Best Buy extends deadline for founder to make takeover bid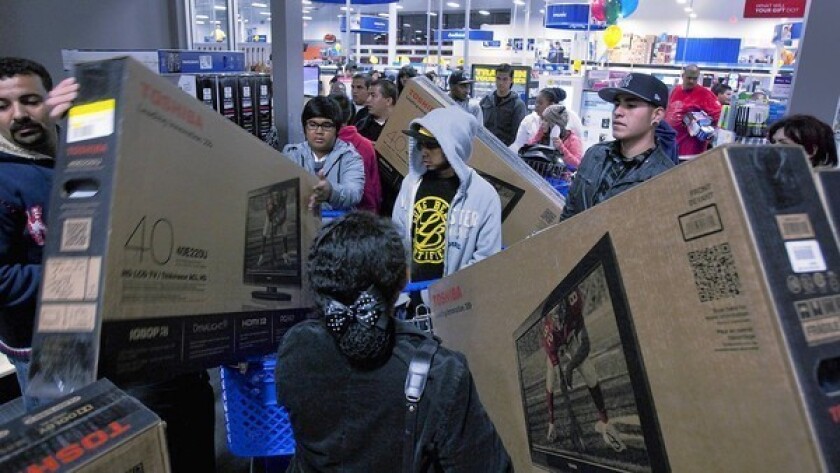 Struggling Best Buy Co., hoping that the Christmas season will boost its fortunes, agreed Friday to give founder and former chairman Richard Schulze more time to make a takeover bid for the electronics chain.
The announcement came amid a two-day burst of trading that ended about where it started. The stock went up nearly 16% to $14.12 on Thursday with word of an imminent bid from Schulze, only to be followed Friday with a drop of $2.07, or 14.7%, to $12.05 with news of the delay. The shares had closed at $12.18 on Wednesday.
Best Buy, fighting to turn around sagging sales, may be hoping that robust Christmas business will improve any buyout offers, experts say. For the holidays, the retailer is once again battling for sales in an increasingly competitive marketplace both online and in stores. It is matching prices with Web rivals on some products and offering free shipping on out-of-stock store merchandise.
"They are going to wait to see holiday sales before any private equity firm will want to step up," said Michael Pachter, a research analyst at Wedbush Securities in Los Angeles. "The problem is that the cash flow is deteriorating and the business is deteriorating."
In August, Schulze had offered to buy the beleaguered retailer for as much as $8.84 billion, a deal that could have been the biggest buyout ever of a U.S. retailer. But the offer was met with considerable skepticism from Wall Street since Schulze implied he had yet to find investors.
The company, based near Minneapolis, has been struggling to stay relevant with shoppers who can comparison shop on their smartphones. It is also fighting online rivals such as Amazon.com Inc., which can frequently offer lower prices. Best Buy operates 1,062 stores worldwide.
Some industry watchers say that Schulze probably is having trouble securing financing from private equity firms that are dubious about the big-box retailer's prospects. Others speculate that Best Buy or Schulze may be waiting until after Christmas to bolster their negotiating positions.
"Both recognize that any proposal made post-holiday will be more stable (like politicians pushing fiscal cliff negotiations post-election)," David Schick, an analyst at Stifel Nicolaus & Co., wrote in a note to investors.
Under the new terms, Schulze can make a proposal any time in February, extending his previous deadline of mid-December. Then the board of directors will have 30 days to consider the offer.
In a statement, Best Buy said the extension "is in the best interests of shareholders."
Wedbush analyst Pachter predicted that Best Buy would come out with decent holiday sales only because the retailer "is promoting like hell" with offers such as a price-match against rival Amazon. He said a takeover bid, if it comes, will be around $4 billion, far lower than Schulze's original offer.
"This price match against Amazon is a really dumb thing — it's going to destroy their margins," he said. "A deadline of February makes sense since you won't know what the company is worth until the holidays are over, because the holidays are so important."
Complicating any potential deal is the relationship between Schulze and Best Buy's board, which Schulze led as chairman until stepping down in June amid a scandal involving then-Chief Executive Brian Dunn.
Dunn resigned in April amid allegations that he engaged in an inappropriate relationship with a female employee. An internal investigation later discovered that Schulze knew of Dunn's indiscretions months earlier and failed to report them.
Taking Best Buy private may be a boon for the company if — and only if — Schulze has a great vision for turning its fortunes around, said Ron Friedman, a retail expert at advisory and accounting firm Marcum in Los Angeles.
"If he is a great leader he can move the company a lot quicker as a private company without a board to deal with," Friedman said. "As a private company, he can do what he wants — if he wants to close a store tomorrow, he can close it tomorrow. You don't have to answer to shareholders."
Some experts remain skeptical about Schulze's ability to turn the company around, pointing to his tenure as chairman while Best Buy's sales plunged. They questioned whether he could have plotted out a strategy in the few months since he exited its board.
Even if the 71-year-old Schulze succeeds in taking Best Buy private, he'll be leading a retailer in a competitive landscape that looks far different than it did when he founded the chain in 1966.
Best Buy is the biggest survivor of the consumer electronics shakeout that saw the demise of Circuit City and a host of regional competitors. The rapid shift to digital entertainment and competition from online rivals have dimmed its prospects. Some watchers speculate that Best Buy will eventually go the way of extinct rivals.
Its sales have slipped drastically in recent years. For the three months ended Nov. 3, the company reported a loss of $10 million, or 3 cents a share, compared with a profit of $156 million, or 42 cents, in the same period a year earlier. Hubert Joly, the new chief executive, laid out a turnaround plan to cut costs and boost profits by improving customer service and revamping its stores.
Schulze has shown a lot of persistence in trying to make a deal and could very well cobble together enough money to make an offer next year, experts say.
"The fact is, Schulze is still engaged in analysis/discussions, and so potential for an offer should be considered more seriously in our view," said Schick of Stifel Nicolaus.
---
Be your money's boss! Learn how to make a budget and take control of your finances with this eight-week newsletter course.
You may occasionally receive promotional content from the Los Angeles Times.