Foursquare announces privacy changes; will now show full names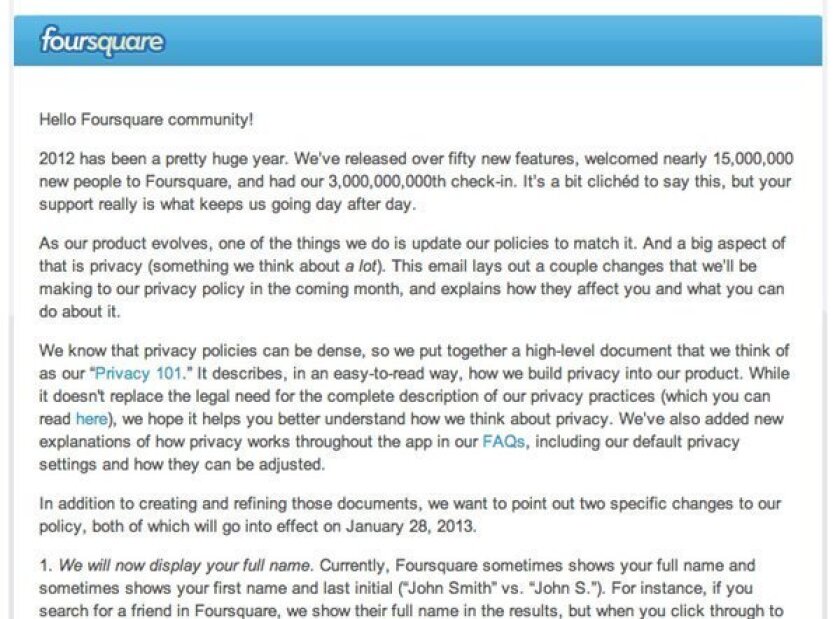 Foursquare alerted its users of upcoming privacy changes next month, and among the most notable differences is that the location-based social network will now display users' full names.
The New York-based social network emailed its users over the weekend detailing the changes and letting them know that the new privacy practices will go into effect on Jan. 28. So far, the changes have been peacefully received, unlike Instagram's changes earlier this month.
Foursquare currently shows full names sometimes and first names with last initials other times, and that practice has become confusing for some users, the social network said in its email.
The top 10 embarrassing tech flops of 2012
That has led Foursquare to make the permanent change to full names, but the social network reminded users that they can go in and change their names in their account settings any time they want.
Additionally, Foursquare said businesses will be able to see more of the customers who have checked in to their shops. Currently, businesses can only see customers who have checked in during the last three hours.
"This is great for helping store owners identify their customers and give them more personal service or offers," Foursquare said. "A lot of businesses only have time to log in at the end of the day to look at it. So, with this change, we're going to be showing them more of those recent check-ins."
Foursquare also reminded users that they can opt out of being seen by businesses by going to their settings and unchecking the box for "Location Information."
ALSO:
The top 10 embarrassing tech flops of 2012
Facebook narrowly avoids New Year's Day privacy flap
---
Be your money's boss! Learn how to make a budget and take control of your finances with this eight-week newsletter course.
You may occasionally receive promotional content from the Los Angeles Times.