Low interest rates are hampering retirement plans, survey says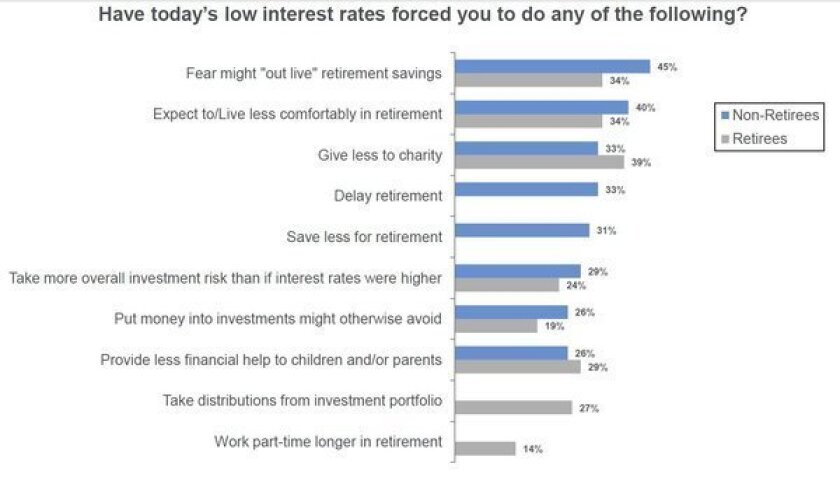 Ultra-low interest rates on retirement accounts may force many Americans to delay their golden years, according to a new survey.
One-third of investors say they may have to put off retirement because low rates are preventing them from earning enough in retirement accounts, according to the poll by Wells Fargo and Gallup being released Wednesday.
Wanna-be retirees are compensating by working longer or scaling back their retirement dreams.
Some people are taking more investment risks. Slightly more than one-quarter of pre-retirees, and 19% of current retirees, say they are making investments they otherwise "might have avoided," according to the Wells Fargo-Gallup Investor and Retirement Optimism Index Survey.
The survey demonstrates the significant effects that low interest rates on bank accounts and many types of bond mutual funds are having on the retirement expectations of Americans.
"Some people may feel like they're pushing mud up hill," said Karen Wimbish, director of retail retirement at Wells Fargo.
The survey of 1,018 investors nationwide was conducted May 4-12. It has a margin of sampling error of plus or minus 3 percentage points.
RELATED:
Amgen tops list of best 401(k) plans in Los Angeles
401(k) fees could reduce average nest egg by 30%, study says
Beware that 401(k) 'education' by provider may simply be a sales pitch
---
Your guide to our new economic reality.
Get our free business newsletter for insights and tips for getting by.
You may occasionally receive promotional content from the Los Angeles Times.