Celebrity magnet El Royale tower said to sell for record price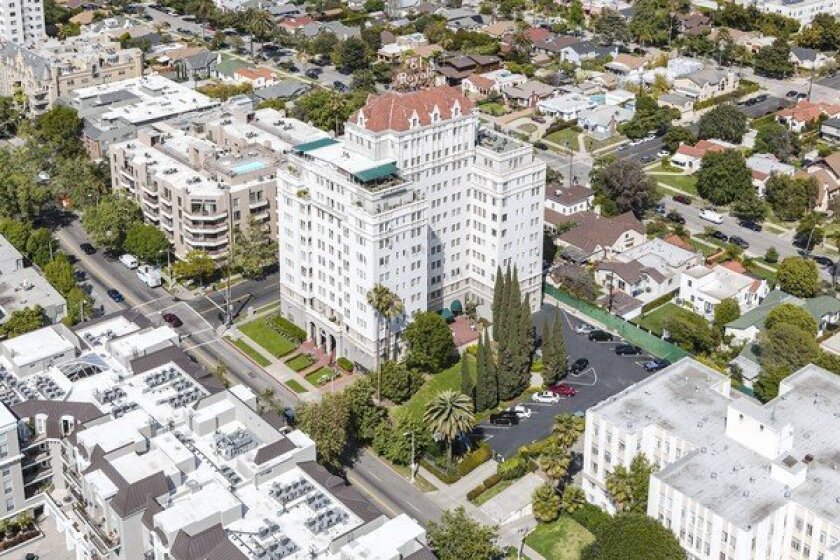 The El Royale apartment tower in Hancock Park, a magnet for celebrity tenants since the Jazz Age, has sold for nearly $30 million in what may be the largest price-per-unit sale in Los Angeles history.
The 12-story building, at 450 N. Rossmore Ave., was built in 1929 for the Hollywood crowd, and early residents included Clark Gable, William Faulkner and Loretta Young. It was designed in a mix of Spanish and French Renaissance styles by the same architect who created the famous Chateau Marmont hotel in West Hollywood.
El Royale was purchased by Kamran Hakim, one of the largest private landlords in New York, and Santa Monica real estate attorney Farhad Eshaghpour. They paid $29.5 million, or $526,786 per unit, said real estate broker Ron Harris of Marcus & Millichap/Institutional Property Advisors.
That's the highest price per unit paid for a Southern California apartment building, according to Marcus & Millichap.
"El Royale is one of the most iconic and celebrated apartment communities in all of Los Angeles County," Harris said.
The seller was a Los Angeles family trust that had controlled the building for more than 50 years. El Royale's original finishes include marble and hardwood floors, mahogany woodwork, tiles and iron chandeliers. Some of the building's 56 units have five bedrooms.
The new owners plan to own the building for a long time and perhaps acquire other "similar rare, marquee assets" in the region, Eshaghpour said. "We look forward to improving and preserving this asset and continuing its tradition of excellence."
Among the more recent residents of the El Royale were actors Jack Black, Ellen Page, Katie Holmes and Josh Brolin.
Columbia Square in Hollywood is bought
The long-planned Columbia Square mixed-use development planned around the historic former CBS headquarters in Hollywood will be revived by new owner Kilroy Realty Corp.
Kilroy, a Los Angeles real estate investment trust, bought Columbia Square, at 6121 Sunset Blvd., for $65 million from iStar Financial. Previous owners planned an $850-million project with offices, condominiums and a hotel, but the project stalled during the recent economic downturn.
The new owner's plans call for a scaled-down development valued at about $235 million, Executive Vice President David Simon said. "We believe a mixed-use low-rise office campus with a residential component is the way to go. We want to make the project much more porous so people can enjoy the public spaces."
With its porthole-windowed studio doors and chrome-accented, round-cornered interior walls, Columbia Square was considered America's biggest and most technologically advanced broadcast facility when CBS opened it in 1938. During the 1940s and '50s, audiences there watched live productions of radio shows featuring Jack Benny, Orson Welles, the comedy duo of George Burns and his wife, Gracie Allen, and many others.
That building will be renovated and operated as a film and television production facility for rent, Simon said. Shops and restaurants will be built at street level, and an approximately 20-story apartment building with about 200 units will be built on the back of the 4.7-acre site.
Three four- or five-story office buildings will be added in phases later, Simon said. He expects the development to take as long as four years to build.
The Columbia Square acquisition is part of Kilroy's expansion into entertainment-related real estate. The company recently bought Sunset Media Center, at 6255 Sunset Blvd., and expects to buy Tribeca West, a West Los Angeles entertainment-oriented office complex, for $73 million later this year.
Accounting firm leases new downtown L.A. offices
Accounting firm PricewaterhouseCoopers has agreed to move its downtown Los Angeles offices into a building owned by Brookfield Office Properties Inc.
As part of the accounting firm's agreement to rent six floors — about 135,000 square feet — it will have its PwC logo attached to the top of the 53-story building, at 601 S. Figueroa St.
About 1,450 employees will move to the new offices in May from 350 S. Grand Ave. The new quarters will have less space than the firm occupies at Grand Avenue, but PwC is expanding, the firm said.
"Over the past two years, PwC Los Angeles has grown our workforce more than 30%, adding approximately 350 new jobs to our local practice," said Brian Cullinan, managing partner. "We see a bright future in Los Angeles and intend to continue our growth in our new space."
The new office will use space more efficiently in an open floor plan, a company representative said.
Financial terms of the 15-year lease were not disclosed, but the average rental rate in the building is $1.95 per square foot per month, according to real estate data provider CoStar Group Inc.
---
Be your money's boss! Learn how to make a budget and take control of your finances with this eight-week newsletter course.
You may occasionally receive promotional content from the Los Angeles Times.