Inventory of lower-priced homes plunges in California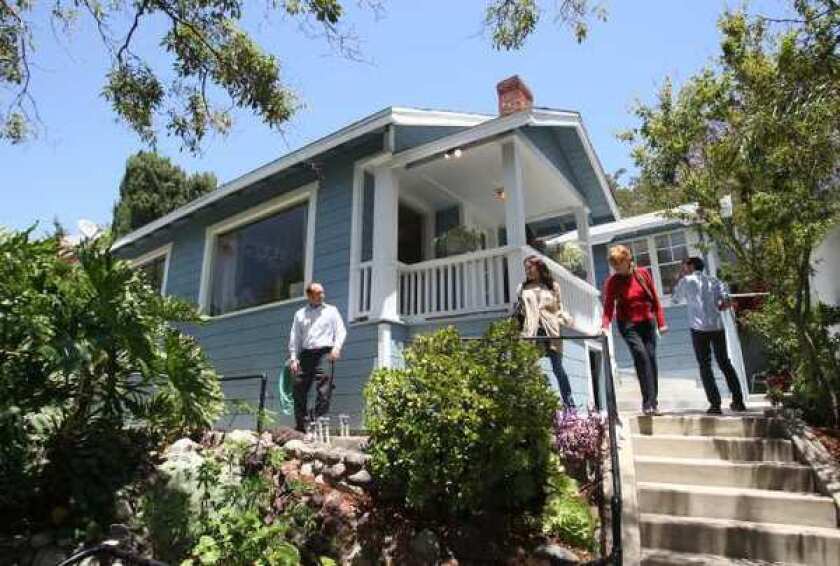 Housing inventory in California keeps coming up short.
Lower-priced homes attractive to first-time buyers are in particularly scarce supply, according to a report released Thursday by real estate website Zillow.
The number of lower-priced homes available in the Golden State shrank by more than 40% over the last year, according to the analysis. Lower-priced homes were defined as those that sold for $313,200 or less. California saw the largest inventory reduction in that classification of any state.
The reason is because cheaper homes -- particularly foreclosed properties -- have become highly attractive to investors who have developed a sophisticated industry around buying up properties, fixing them up and selling them or renting them out.
Renting out foreclosed homes has increasingly emerged as an investment opportunity to Wall Street. Financiers are busily studying ways to take the single-family home rental business, for years mostly a mom-and-pop affair, and make it a bigger industry. That has made it difficult for first-time shoppers to compete.
"First-time home buyers are being squeezed out of the market by falling inventory and the rapid influx of investors looking to buy basic homes to rent out," Zillow chief economist Stan Humphries said in a statement. "Investors are paying in cash and can close sooner, which is more favorable to banks and homeowners looking to sell."
Big Wall Street groups are even exploring ways of taking rental income from foreclosed homes and packaging those income streams into complicated securities, similar to the way big banks, sliced, diced and packaged mortgages during the boom years.
The powerful, New York-based American Securitization Forum on Wednesday sponsored a seminar examining whether initiatives by the federal government to turn bank-owned homes into rentals would help foster more private investment in the sector.
While Wall Street has grown interested in low-end homes, real estate agents in California have bemoaned the lack of available properties for sale. Real estate professionals say the state can handle more foreclosures and they have protested plans by the federal government to sell foreclosed California properties in bulk to investors.
"Sales would be even higher if inventory were less constrained … particularly in the Central Valley and Inland Empire, where there is an extreme shortage of available homes," LeFrancis Arnold, president of the California Assn. of Realtors, said in a recent forecast distributed by the group. "Sales will be stronger in higher-priced areas, where there are more equity properties and a somewhat greater availability of homes for sale."
The analysis by Zillow mirrored the take of the real estate agents. Central Valley markets have seen the biggest drops in supply of lower-cost homes with inventory down 59.7% in Fresno 59.7% and 55.4% in Sacramento. San Francisco supply fell 53.2%. In Los Angeles, supply was down 45.1%. Nationally, the bottom tier of homes for sale has seen a decline of about 15.3%.
ALSO:
JPMorgan targeted for role in financial crisis
Shortage of homes for sales creates fierce competition
U.S. home price index reaches highest point in almost two years
---
Must-read stories from the L.A. Times
Get the day's top news with our Today's Headlines newsletter, sent every weekday morning.
You may occasionally receive promotional content from the Los Angeles Times.