More hotels are catering to Chinese travelers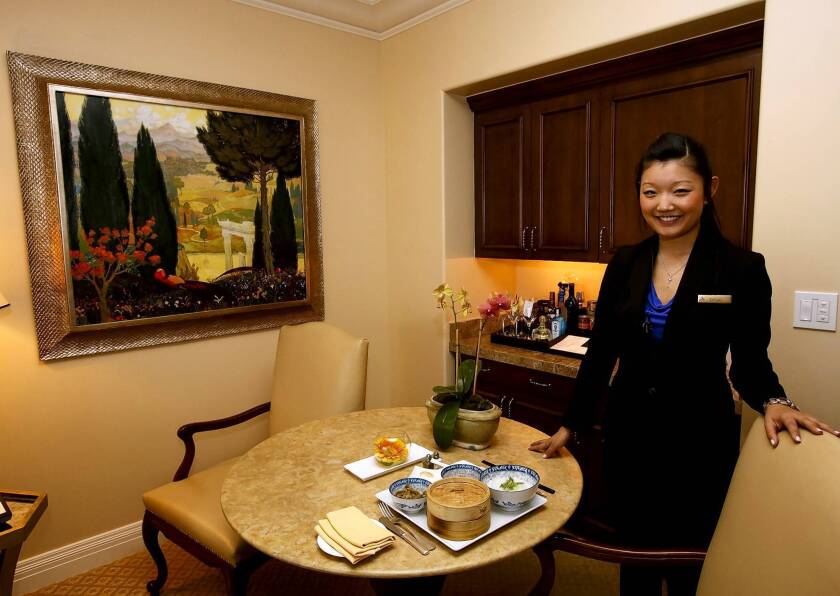 Yu Chao Liang and his wife saved a few bucks recently by checking into a mid-price chain hotel in Santa Monica for a two-day business trip from Suzhou, China. But they were not impressed.
In the room, they found no slippers, teakettles or complimentary toothpaste — extras that come standard in Chinese hotels. The hot breakfast bar in the lobby was free but it didn't include any of the traditional Chinese breakfast dishes they get back home, like rice porridge.
"I can eat almost anything," Yu said, referring to the breakfast at his hotel. "But I won't like it."
In hopes of appealing to Chinese travelers like Yu and his wife, some high-end hotels in Southern California are making big changes such as offering new menus, Chinese-language newspapers, slippers, teakettles and even monogrammed pillows in the room.
It makes sense. Chinese travelers are the fastest-growing segment in the world, thanks to the nation's thriving economy and new policies to ease travel restrictions. The number of Chinese travelers visiting the U.S. grew to 1.5 million in 2012, a 35% increase over the previous year, according to the U.S. Department of Commerce.
Chinese tourists, on average, spent $5,948 per visit in the U.S. last year, compared with an average of about $4,370 per visit for all overseas visitors, according to the U.S. Travel Assn.
"Our strategy is to provide services that Chinese travelers want and hope they go out and spread the word about the Montage," said Charles Black, director of sales and marketing at the Montage Beverly Hills, where a standard room is about $600 per night.
The Montage is a member of the Preferred Hotel Group, a collection of more than 650 independent hotels. The group launched a program Thursday to designate members as "China ready" if they meet more than 25 criteria, such as employing a Mandarin speaker to take reservations.
As part of its effort to be China-ready, the Montage this year added several extras to appeal to Chinese visitors such as monogrammed pillows with the word "Welcome" emblazoned in Mandarin. Slippers are standard in all rooms, and teakettles, shave cream, razors and toothbrushes are added in those rooms reserved for Chinese travelers.
Staying at luxury hotels hasn't typically been important for first-time Chinese visitors, who usually focus their spending on gifts and souvenirs to take back home. Some Chinese visitors get no choice in hotels because they book with tour operators who reserve cheap rooms to better compete against other tour companies.
"Tour operators have to put them in two- or one-star hotels because they are on a budget," said Haybina Hao, director of international development for the National Tour Assn., the 63-year-old group that represents the country's tour professionals.
For that reason, managers of luxury hotels say they are targeting "seasoned" visitors who are returning to the U.S. for a second, third or fourth visit and want to enjoy the amenities offered at a high-end hotel. Many of those returning visitors travel to the U.S. on business trips and no longer need to book cheap hotels as part of a tour group.
"These travelers will soon discover the finer properties," said J.D. Shafer, the newly hired general manager of the Hotel Irvine, Jamboree Center, who plans to offer translated material, Chinese newspapers and traditional Chinese dishes at the hotel.
The trend of catering to Chinese travelers is spreading across North America.
The Broadmoor hotel in Colorado Springs, the Charles Hotel Harvard Square in Cambridge, Mass., and the Sparkling Hill Resort in Vernon, Canada, are taking part in the "China ready" program with the Preferred Hotel Group.
Other businesses in the travel industry — including theme parks, tour bus operators and shops — have begun to cater to Chinese tourists by hiring translators or posting signs and pamphlets in Mandarin. Even some economy hotels have added extras to appeal to Chinese visitors.
Now luxury hotel owners hope many Chinese visitors are ready to graduate from booking cheap hotels and visiting typical tourist attractions to enjoying the luxuries of high-end U.S. accommodations.
"We try to pamper them as much as we can," said Mark Podolski, director of sales and marketing for Pacific Palms Resort in the City of Industry. The resort has dedicated an entire floor to Chinese visitors — the eighth floor, a lucky number in Chinese culture — where all rooms include teakettles and slippers.
American hotels that offer such extras will appeal to Chinese visitors, said Hao of the National Tour Assn. But she said first-time leisure travelers who visit the U.S. to shop and visit theme parks will continue to stay at cheap hotels to save money.
"Leisure travelers don't want to spend that much, but the business traveler may want to check into a high-end hotel," she said.
Qiang Xu, a Chinese visitor from Beijing, booked a room in a chain hotel in Glendale during a recent trip to shop and see tourist attractions around Hollywood. He said he chose his hotel based on price and location.
But he said he might consider paying more in the future for a hotel room with traditional Chinese amenities.
"I had to make tea with a coffee maker in my hotel," he complained.
---
Your guide to our clean energy future
Get our Boiling Point newsletter for the latest on the power sector, water wars and more — and what they mean for California.
You may occasionally receive promotional content from the Los Angeles Times.