Stanford becomes 1st school to raise more than $1 billion in a year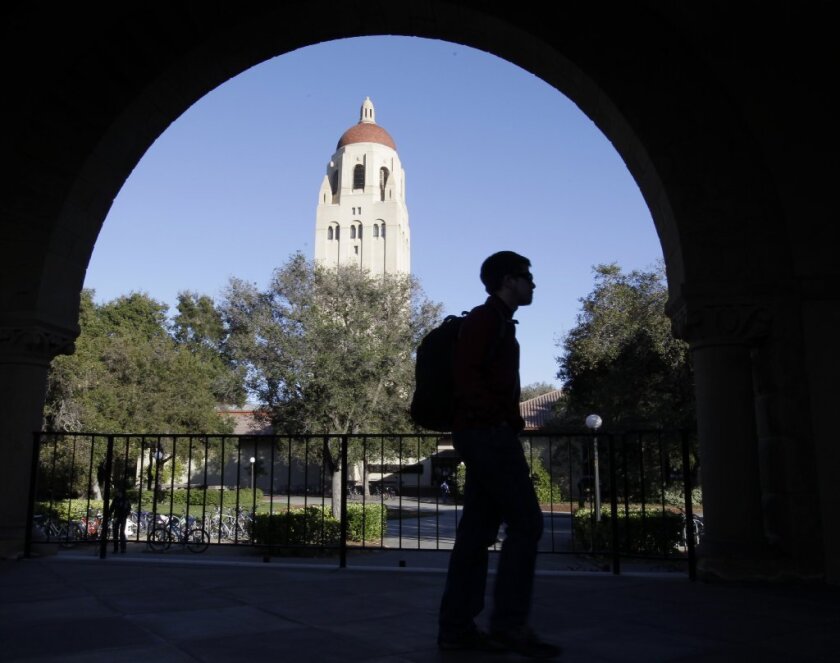 The nation's top fund-raising institution last year, Stanford University, raised $1.03 billion from donors, the first to raise more than $1 billion in a given year.
Out of the nation's top 10 fund-raising institutions, two others were in California, with the University of Southern California raising $492 million and the University of California, Berkeley raising $405 million, according to a list by the Council for Aid to Education.
Among other California schools, UCLA raised $344 million and Caltech pulled in $100 million.
Big donors overall felt a little more charitable toward U.S. colleges and universities last year.
Giving to these institutions rose 2.3% in 2012 over the prior year. A total of $31 billion was given to higher education institutions, still shy of the record $31.6 billion set in 2008, according to the council. About half of the institutions -- 52.8% -- raised the same last year as they did the year prior. The rest reported a decline.
Here are the top 10 in fund-raising for 2012:
1. Stanford University, Stanford, Calif. — $1.035 billion
2. Harvard University, Cambridge, Mass. — $650 million
3. Yale University, New Haven, Conn. — $544 million
4. University of Southern California — $492 million
5. Columbia University, New York — $490 million
6. Johns Hopkins University, Baltimore — $480 million
7. University of Pennsylvania, Philadelphia — $441 million
8. University of California, Berkeley — $405 million
9 New York University, New York — $396 million
10. Massachusetts Institute of Technology, Cambridge, Mass. — $379 million
ALSO:
Housing starts fall sharply at start of year
More cellphone users switch to prepaid plans
Surge in vegetable prices pushed up wholesale inflation in January
---
Be your money's boss! Learn how to make a budget and take control of your finances with this eight-week newsletter course.
You may occasionally receive promotional content from the Los Angeles Times.