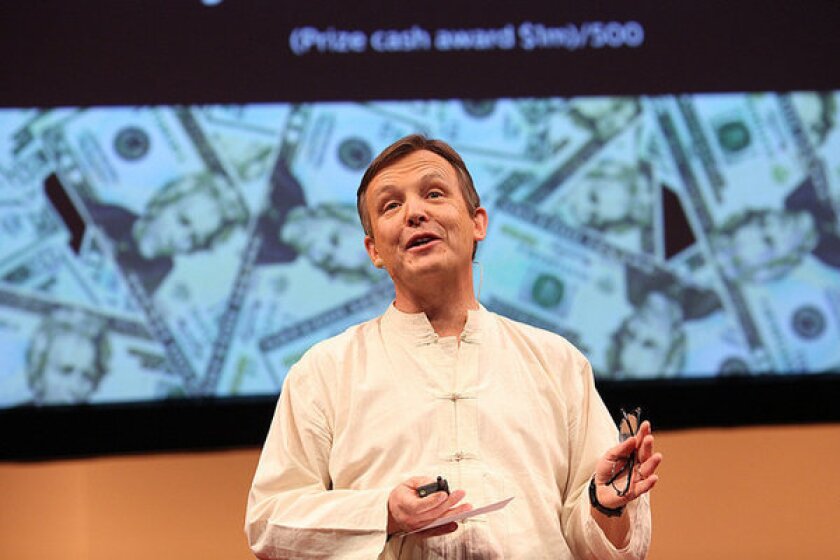 Since Chris Anderson took over TED in 2001, the conference has expanded well beyond its original focus on technology, entertainment and design. This week, it begins its fifth and final TED conference in Long Beach before moving to Vancouver next year.
On Monday evening, Anderson took the stage to talk about TED's growth and share some numbers. Perhaps the most remarkable is revenue, which reveals a lot about the business of TED.
PHOTOS: Tech we want to see in 2013
To be clear, TED is owned by the nonprofit Sapling Foundation. But for all the new TED-related channels (online videos, TEDx conferences, NPR Radio show), the main source of revenue remains the big annual conference, and to a lesser extent, the TED Global event held over the summer.
TED's overall revenue in 2012 was $45.1 million. Of that, $27.754 million came from the conferences. That's up from about $3 million in 2003. Anderson made this point to thank the attendees who pay $7,500 to attend the main conference live. That hefty fee is more than just a ticket price; it's how TED pays for almost all the other things it does.
As Anderson told me in a separate interview last week: "The money they pay to come to the conference is the core of the business model that allows us to give away the content for free. We very much use the profitability of the conference and the generosity of the attendees to make those things work."
Here are some other interesting TED numbers:
Conference attendees: 1,400
Nations represented: 50
Speakers: 80
High-definition cameras in the auditorium: 8
Total TED talks on TED.com: 1,400
Views of videos since 2006: 1 billion
Volunteers translating online TED talks: 9,000
Languages TED talks have been translated: 95
Total TED talk translations: 33,000
TEDx events held since 2008: 5,900
Current TEDx events scheduled: 1,600
Cities that have held TEDx events: 1,683
Nations that have held TEDx events: 145 countries
Total TEDx talks given: 25,500
TEDx talks featured on TED.com: 228
Members of the unofficial TED LinkedIn Group: 339,518. (When an audience member asked Anderson about plans for the group, Anderson said he wasn't really aware it existed.)
ALSO:
Silicon Valley launches campaign to get kids to code
TED conference is speaking to the masses — and drawing criticism
New Google campus planned, turning the Googleplex into a megaplex
---