CES 2013: Canopy case adds touch-screen function to back of iPhone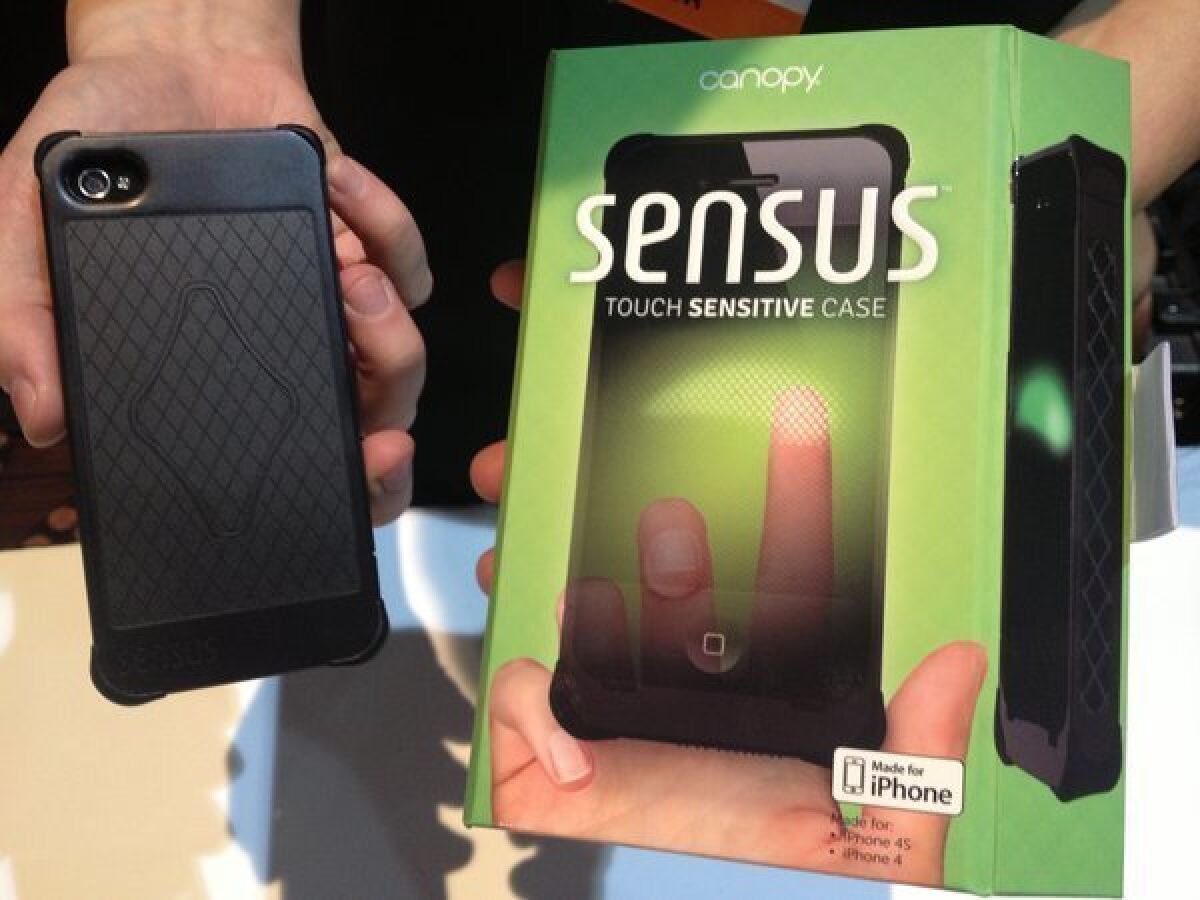 Chubby fingers getting in the way of your iPhone's touch screen?
A significant portion of a touch screen gets covered up by a user's fingers when scrolling through pictures or text, or when playing games. Sensus, a plastic case no bulkier than a typical protective smartphone case, uses sensors to add touch-screen sensitivity to the back and sides of the iPhone.
"At any given time, statistically speaking, the thumbs and fingers are covering about 25% to 33% of the screen," said Ian Spinelli, a marketing coordinator at Canopy Co., which manufactures the Sensus case. "When you're covering the screen, especially with games and other things, you can't see what's going on."
The case snaps on to the phone, and users can play games by touching the back of the case and scroll through text by sliding a finger down the side of the case. Instead of awkwardly pressing on the glass surface of the touch screen to snap a photo, users can press on the side, much like they would with a digital camera.
The case is slated to go on sale this summer. The exact price has yet to be set, but will be between $59 and $99, Spinelli said. The Minneapolis company is also developing similar cases for the iPod Touch and iPad mini.
Another upside: no more fingerprints on your touch screen.
I played around with the case at the CES Unveiled showcase event Sunday night and thought it was a cool feature, although, to be honest, I've never encountered problems just using my touch screen. Also, because you're placing your fingers on the back of the case to manipulate what's happening on the front of your iPhone screen, it's difficult to figure out exactly where you should press.
ALSO:
At CES, more glitz than gee whiz
Global gadget spending projected to hit $1.1 trillion in 2013
---
Sign up for the California Politics newsletter to get exclusive analysis from our reporters.
You may occasionally receive promotional content from the Los Angeles Times.