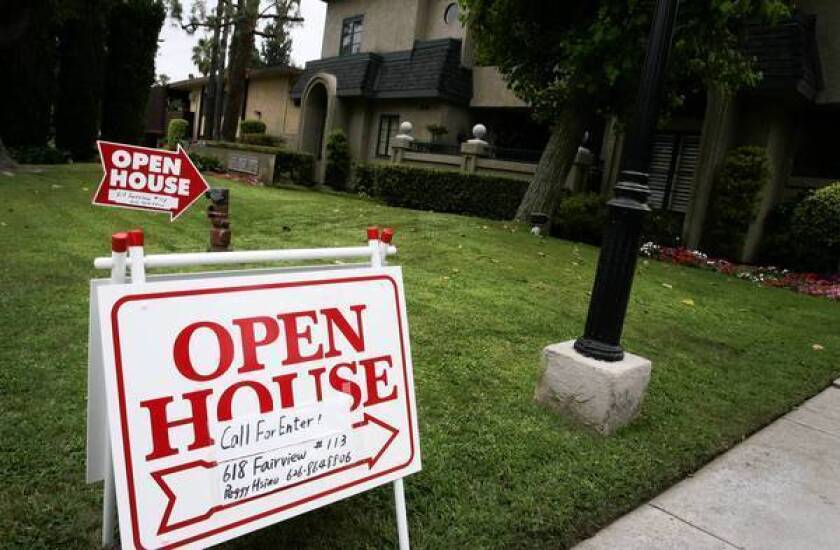 Home prices shot up in America's largest cities in May, rising at a pace not seen since the bubble days, according to a closely watched gauge.
The Standard & Poor's/Case-Shiller index of 20 large U.S. cities, released Tuesday, rose 2.4% from April and 12.2% from May 2012 — the largest year-over-year gain since March 2006.
Average home prices across the 20 cities have now reached their spring 2004 level. For the first time, two cities — Denver and Dallas — surpassed the peaks they reached before the 2008 financial crisis. All cities tracked by the index saw prices rise from a year earlier and the previous month.
"The long-awaited housing recovery is in full swing," Senior Economist Erik Johnson of IHS Global Insight wrote in an emailed analysis. "We expect housing to remain a key driver of growth for at least the next couple of years."
PHOTOS: Most affordable Southern California ZIP codes
Low mortgage rates, a shortage of homes for sale and heavy investor demand have sent home prices sharply higher this year, providing an economic lift but also sparking concerns that some markets are getting overheated.
Las Vegas and Phoenix, two cities where prices fell hard during the bust, have come roaring back, in large part because investors have scooped up many foreclosed properties to flip or rent out. Year-over-year prices rose 23.3% in Las Vegas and 20.6% in Phoenix. Those gains were surpassed only by the San Francisco market, a tech mecca where prices skyrocketed 24.5% from May 2012.
Southern California price increases maintained their breakneck pace in May. Prices in the Los Angeles region rose 19.2% over the year and 17.3% in the San Diego area.
"The market is on fire right now," said Max Nelson, a senior partner at Deasy/Penner & Partners' Beverly Hills office.
Nelson said his company had already received multiple offers for a Pacific Palisades home it placed on the market Friday for $1.65 million — before even holding an open house.
Home price increases, city by city
The gains are rapidly eating away at affordability, further hampering the efforts of first-time home buyers who often must compete with all-cash investor offers in many markets. Stuart Gabriel, director of UCLA's Ziman Center for Real Estate, said the recovery is pricing out some home buyers — a disconcerting trend.
"The rebound has been striking," he said.
The median home price in the six-county Southland rose 28% in June to $385,000 — a record year-over-year gain, according to research firm DataQuick. The median is the point at which half the homes sold for more and half sold for less, so it reflects the mix of homes selling as well as rising values.
The Case-Shiller index, by contrast, seeks to account for such influences and to estimate the real increase in value. It compares home values by comparing the recent sales of detached houses with past sales of those same homes, taking into account factors such as remodeling that might affect a home's price. Created by economists Karl E. Case and Robert J. Shiller, the gauge is the most widely followed home price measure.
New York, Cleveland and Washington, D.C., posted the slowest year-over-year increases in May: 3.3%, 3.4% and 6.5%, respectively.
Johnson of IHS Global Insight said the inventory shortages driving much of the recovery will probably continue, noting that new single-family home building has been muted since late 2007, while the U.S. population has grown by more than 12 million. Demand, he said, is still outpacing construction of new homes despite a recent uptick in building.
The inventory crunch will probably get worse before it gets better, Johnson said. "This means that home price gains in most cities and state[s] are likely to remain strong for some time," he wrote.
But rising interest rates should eventually help blunt the swift increases, economists say. Since early May, mortgage interest rates have climbed roughly one percentage point, although they still remain historically low.
Those higher rates helped convince Americans to sign slightly fewer contracts for existing homes in June than in May, a report released Monday showed. And some Los Angeles real estate agents have said they've recently noticed a slight cooling of the market.
Prices rose 2.6% in the L.A. metro region from April to May, a slowing from the 3.4% increase from March to April. In San Diego, prices jumped 3.1% in May, compared with a 3.7% gain a month earlier.
Gabriel said he expects the rapid price gains to slow this winter as more supply comes on the market through new construction and as more homeowners are enticed to become sellers. That, along with decreasing affordability and tighter lending standards, should lessen demand and "reduce any chance of bubble activity," he said.
Times staff writer Alejandro Lazo contributed to this report.
---