Apple completes closing statement in e-books antitrust trial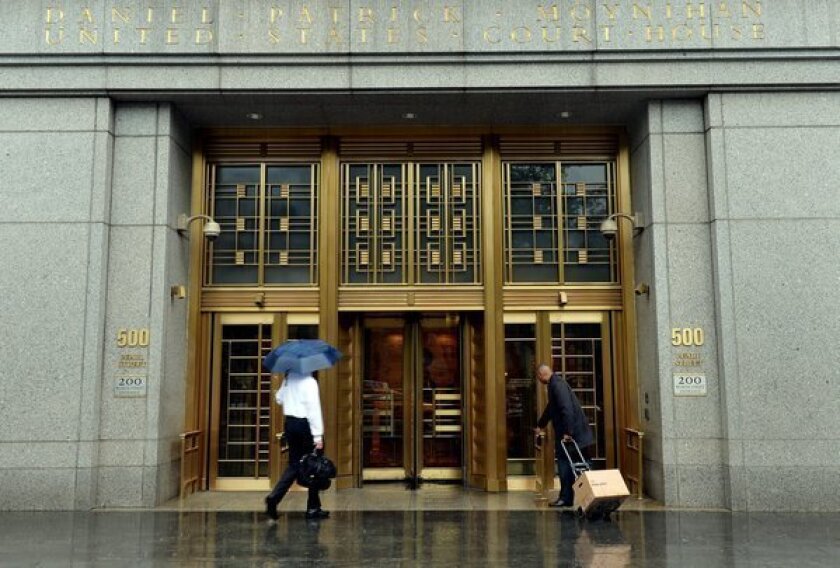 During closing arguments on the final day of the biggest antitrust case in years, Apple's lawyer maintained that the company did not engage in e-book price-fixing as federal regulators claim.
"Apple did not conspire with a single publisher to fix prices in the e-book industry," Apple's attorney Orin Snyder said Thursday at the beginning of his closing argument for the tech giant.
The government will make its closing argument after the lunch break.
The trial in U.S. District Court in Manhattan, which is now in its third week, grew out of Apple's splashy entrance into the e-book market in 2010.
As the company prepared to introduce the first iPad, it also wanted to launch a new iBookstore to disrupt the e-book market dominated by Amazon.com. Apple persuaded five major publishers — Penguin, HarperCollins, Simon & Schuster, Macmillan and Hachette Book Group — to sign onto its new iBookstore using a different pricing model than the $9.99 flat rate charged by Amazon.
Publishers joined with Apple because they wanted more control over pricing for different books than Amazon offered. But in a lawsuit filed last year, the Justice Department claimed the real intent of Apple's deal with publishers was to drive up prices.
While all five publishers have settled with the Justice Department, Apple chose to fight on alone.
In his closing statement Thursday, Snyder said that by making a case based on inferences and not clear evidence, the government has overreached by trying to punish legitimate business practices.
"All of the government's evidence is ambiguous at best," Snyder said.
If the court rules against Apple, Snyder warned U.S. District Judge Denise Cote, the case would have a "chilling and confounding" impact on commerce and content markets across the country.
Apple did not know whether the publishers were engaged in a price-fixing conspiracy and was not aware of their communications among their top executives, Snyder said. Prior to late 2009, Apple had no idea who the major players even were.
"This was a brand-new business for Mr. Cue and Mr. Jobs," Snyder said in his nearly three-hour closing argument. He was referring to Eddy Cue, the Apple executive who negotiated the deals with publishers, and late Apple co-founder Steve Jobs.
Snyder again portrayed Apple as an entrant into a market in turmoil, one in which publishers were already taking aim at Amazon, the dominant player, whose $9.99 prices were irking the industry.
Apple's arrangement with publishers merely crystallized trends and changes underway in an emerging market, Snyder said.
"Apple walked into the middle of this e-book revolt," Snyder said.
Snyder took issue with the government's portrayal of what he said were benign phone calls as something sinister or evidence of a conspiracy to fix prices. They were merely evidence of bilateral negotiations with a business and its suppliers, he said. And there was no evidence Apple knew of phone calls between publishers, he added.
"There's no such thing as conspiracy by telepathy," he said.
Snyder said Apple's MFN, or most favored nation, agreement was aimed at price protection. In the end, Apple's entry into the e-book market led to lower prices across the industry as well as increased innovation, choice and competition.
Snyder closed his argument with an animated iPad graphic on a slide, complete with page curls, that read: "It is time to close the book on this case."
ALSO:
Apple e-book price-fixing trial about to get underway
Apple, U.S. come out swinging as e-book trial gets underway
Apple executive Eddy Cue defends e-book deals at antitrust trial
Tangel reported from New York and O'Brien from San Francisco.
---
Must-read stories from the L.A. Times
Get the day's top news with our Today's Headlines newsletter, sent every weekday morning.
You may occasionally receive promotional content from the Los Angeles Times.