Mailbox hits send on new iPad app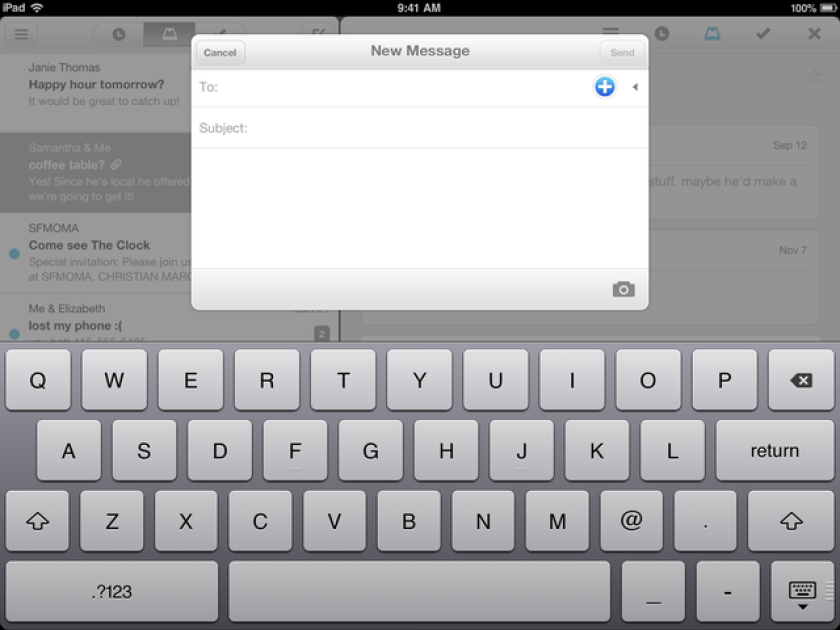 SAN FRANCISCO -- Mailbox is coming to the iPad.
The new app will be available starting Thursday and reflects the accelerating shift to tablets from laptops, especially among younger people, said Mailbox Chief Executive Gentry Underwood. An iPad app was one of the top requests from Mailbox users, and it's the first new product from Mailbox since it was bought by Dropbox in March.
"It's so hard for people like us who spend a lot of time in front of laptops to realize how many people use the iPad as a full-time computer," Underwood said. "People love the advantages of carrying a much lighter device and not being weighed down by a bunch of clunky hardware when you just want to do something simple like read a book or watch a video."
Photos: Top 10 Southern California companies
With more apps like Mailbox, which enables people to do more on a tablet, "I think more and more people are going to get won over to it," he said.
The new iPad app is much like the one for the iPhone. It's designed to make using Gmail easier on the iPad. Underwood said Mailbox would look to feedback from users on how to improve it.
Mailbox is also working on making itself available on more email services and more mobile devices.
"Our priority is basically to try to get Mailbox in the hands of as many people who want it," Underwood said.
Mailbox is also working on new features to ease the pain of using email on mobile devices, but Underwood said his company isn't ready to discuss those just yet.
"There are so many more places where we can ease the pain around email. There is a sea of opportunity there, and the challenge is figuring out strategically where to put our resources first. It's like trying to boil the ocean. There is just so much to do," Underwood said.
Mailbox gives people simple, easy tools to perform email triage, like a doctor does in the emergency room. Users quickly swipe to archive, delete or file messages or add them to lists "to read" or "to buy." Users can also "snooze" an email: It disappears from the inbox and comes back later that day, on the weekend or the following week.
The overnight success of Mailbox underscored how frustrated people have become with trying to use email on their mobile devices. In its short life as a tiny startup, Mailbox signed up 1.5 million people who were sending 100 million messages a day.
Mailbox came up with an unusual system to make sure the app didn't crash under the weight of all the new users. When you download the app, you don't get it right away, instead you take a number like at the deli counter.
Underwood said he soon realized that his small company was trying to tackle a massive market without the massive resources. So he decided to get hitched. Dropbox bought Mailbox for $100 million in March. Now there's no more waiting for the iPhone app, and not for the iPad app either.
Underwood declined to reveal how many users Mailbox currently has.
"We are still growing quite nicely, and retention is also good," he said. "That part in particular is very hard. While it is certainly challenging to get people to try your product, it's harder to get people to stick with it. Retention is the gold standard of building something that works."
ALSO:
Dropbox buys maker of popular email improvement app Mailbox
CEO Gentry Underwood on Mailbox (and why you have to wait for it)
---
Your guide to our new economic reality.
Get our free business newsletter for insights and tips for getting by.
You may occasionally receive promotional content from the Los Angeles Times.