Drew Houston on Dropbox: 'We are going after something really big'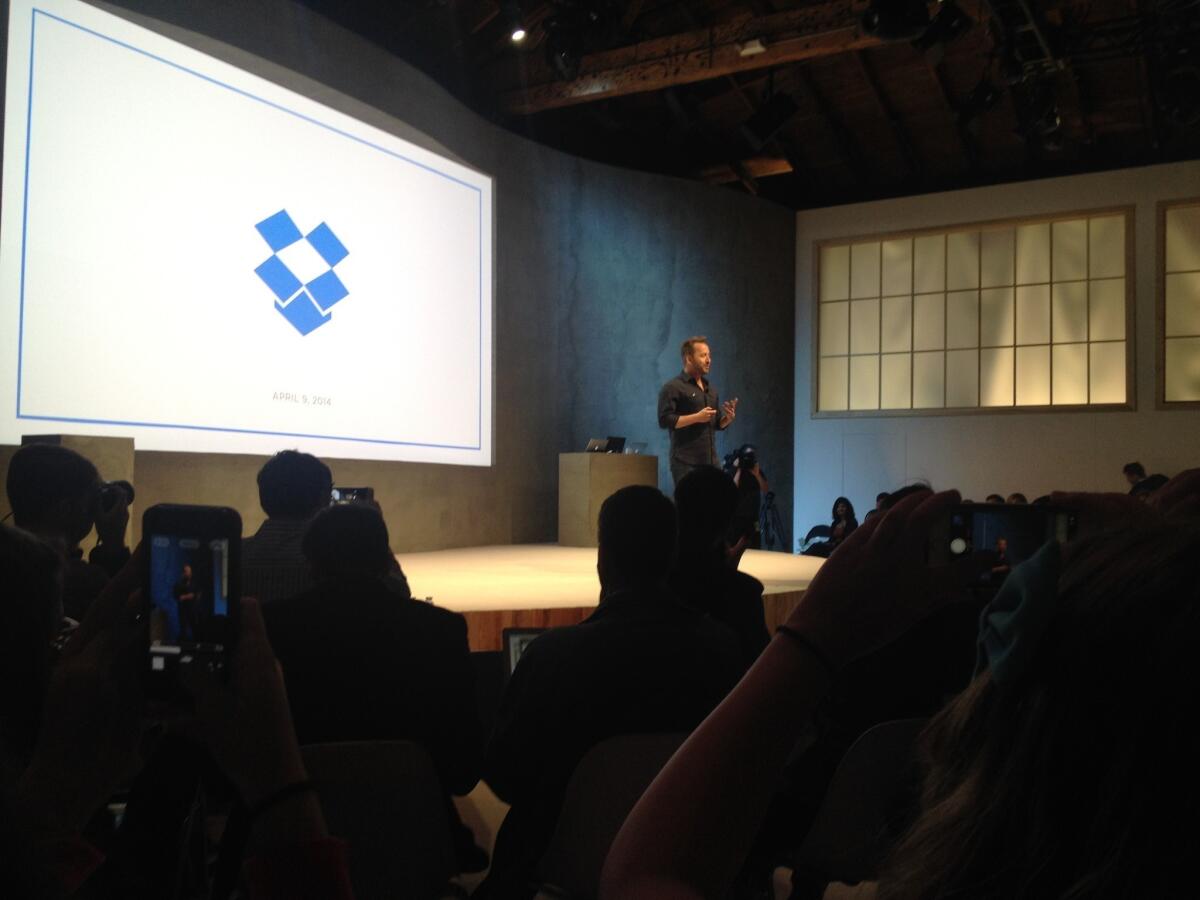 SAN FRANCISCO -- Dropbox, fueled by an injection of new funding and a $10- billion valuation, is moving beyond online storage into a new wave of apps for email, photos and collaborative working.
The company unveiled the new apps at a news conference Wednesday.
The apps are designed to get more people to use Dropbox and then to remain more loyal to the service by creating a "home" for digital stuff on the Web. They include a new app called Carousel, which lets people privately and securely share photos and videos with friends.
Houston called the new apps "great experiences that don't just store your stuff but bring it to life."
The San Francisco start-up is already one of the best funded and most highly valued of private companies in Silicon Valley. Now it's using that foundation to build a new "chapter," Houston said.
Houston's expanding ambitions come as Dropbox prepares for an initial public offering, probably next year. It also recently lined up a $500-million credit facility in addition to $350 million in venture capital funding it lined up in January.
Houston talked about the announcements and the future of Dropbox in an interview. The interview has been condensed and edited for clarity.
Q: What is the next chapter for Dropbox?
A: We are building this home for people on the Internet. You got a glimpse of it today. In the beginning, we were this magic folder that was a container for everything. It wasn't long before we had all these ideas of how to make your stuff more useful. So now we are going from one app to a whole family of apps. That is really the heart of the next chapter.
Q: What other apps should we expect from Dropbox?
A: There will be more problems for us to solve down the road. But right now we have our hands full with the stuff we announced today.
Q: You have a lot of competition, including from Google and Microsoft. How much does that play into your strategy of making Dropbox more useful for people?
A: Everything at Dropbox still starts with "What is broken?" and "How do we fix it?" Even though on paper it looks like we have all these competitors, the experience for a normal person trying to do this stuff is still terrible. That's why we created Carousel. And that's how Dropbox started, from that personal frustration.… We are building this place that is yours, that is private and that has your personal stuff, the stuff you really care about. No other company is dedicated to doing that.
Q: What about the price war in online storage? Will Dropbox respond?
A: People do not choose Dropbox because it has this much space or gigabytes. They choose it for the experience. Hopefully the things we launched today help illustrate that.
Q: There has been a lot of speculation on when Dropbox will go public? Are you planning on an IPO next year?
A: We don't comment on that. We will share more on that when there's more to share.
Q: You have raised a lot of money and you have a new credit facility. You are probably one of the best financed private companies in Silicon Valley. Why raise so much?
A: It's all about flexibility. We have known for a long time that we are going after something really big that is going to take many years and a lot of money to solve properly. All along the way, whether we were in our apartment in North Beach in the beginning or today, we have said, "If cash can get us where we want to be faster, we should think about it." So we thought about it.
ALSO:
Dropbox looks to extend lead in online storage with "next chapter"
Dropbox inventor determined to build the next Apple or Google
Dropbox, a hit with consumers, is now going after businesses