Column: Facebook is laughing all the way to the bank as Americans shrug off privacy concerns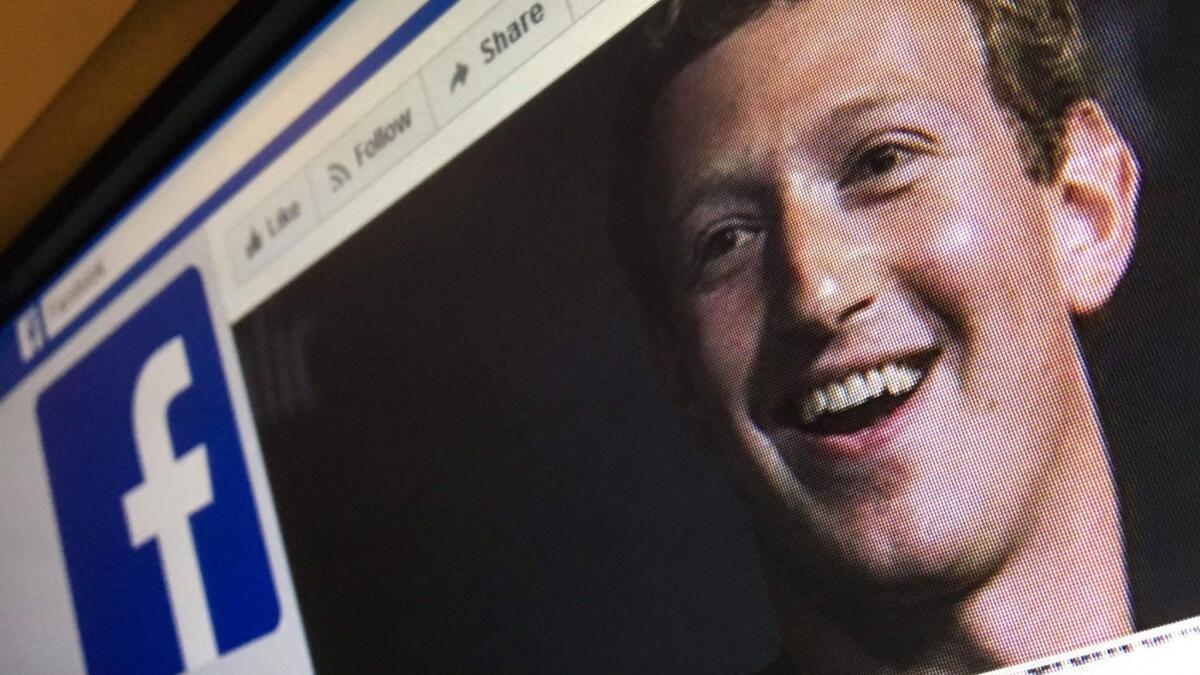 You say you care about privacy, but you don't really, and neither do millions of other Americans.
This collective indifference is what keeps Big Data in business and keeps consumers constantly scrambling to find out who has access to their personal information.
Worse, privacy experts tell me that even as the rest of the developed world implements far-reaching measures to protect their citizens' right to be left alone, the United States, because we just don't give a damn, will continue allowing corporations to call the shots.
"I think it is very unlikely we will see meaningful federal privacy legislation this year, despite all of the talk about it and the clearly demonstrated need for such legislation," said Fred H. Cate, a law professor at Indiana University and senior fellow at the Center for Applied Cybersecurity Research.
"For the past decade, we have started almost every year saying that this would be the year we would finally see privacy legislation," he said. "So far those predictions have been wrong."
For proof of this privacy shoulder-shrug, look no further than Facebook.
The social media behemoth, which turned 15 on Monday and now has 2.3 billion active monthly users worldwide, reported record quarterly profit of nearly $7 billion last week — up a stunning 61% from the same quarter in 2017. For all of last year, Facebook's profit soared 39% to $22 billion.
Those fat stacks came as the company grappled with what was arguably the worst year in its history, at least from a public relations standpoint.
How bad was it? Let us count the ways.
In March we had the Cambridge Analytica scandal, in which it was learned that Facebook made the personal data of 87 million users available, without permission, to a researcher who used the information for political purposes.
In September the company revealed that hackers had made off with information on 29 million Facebook users, including birth dates and phone numbers.
In November there were reports that Chief Executive Mark Zuckerberg and Chief Operating Officer Sheryl Sandberg had mapped out an aggressive plan to manage the PR crises through deception, misdirection and attacks on critics.
In December came news that Facebook was sharing user data with its business partners without telling people.
And the hits keep coming. It was reported just the other day that the company had been quietly paying some users — including minors — $20 a month so it could spy on their phone and internet usage.
Sen. Edward J. Markey (D-Mass.) called this "inherently manipulative" because "younger users don't have a clear understanding how much data they're handing over and how sensitive it is." He and other lawmakers demanded that Facebook knock it off.
That's the thing, though. Why should the company change its ways when users remain loyal no matter what, and when marketers keep showering Facebook with piles of cash to gain access to its data?
Moreover, no one should be surprised that Facebook, Google and other data-heavy tech giants are applying their considerable lobbying muscle to fighting strict privacy regulations and making sure their gravy train keeps chugging.
"Some of the most profitable companies in the U.S. have strong incentives to water down consumer privacy protections," said Lior Strahilevitz, a law professor at the University of Chicago.
"And there's a reasonable argument to be made that the relatively lax American legal environment contributed to the rise of those companies," he said.
The European Union said enough was enough. It implemented sweeping privacy rules last year called the General Data Protection Regulation. Among other things, it requires that companies obtain consent from customers before using or sharing their personal information.
It also gives consumers the right to know how their personal data are being used and to receive a free copy of any such information held by a business. People must be notified of a security breach within 72 hours.
A greater concern for Facebook and its tech chums, however, is a new privacy law that takes effect in California at the beginning of next year. The California Consumer Privacy Act will allow state residents to find out what kinds of information a business has collected.
It also permits consumers to request that a company delete any personal information it holds, to opt out of the sale of such info and to sue if reasonable security practices aren't maintained to prevent data breaches.
Tech companies have been pushing for a weaker federal law that would preempt the California statute and guarantee a long leash in use of customer data. Facebook's strong earnings — and the fact that its scandalously bad behavior seems not to be of concern to users — may work in the companies' favor.
"I think business interests will be very aggressive in preempting stronger state laws," said Joel Reidenberg, a law professor at Fordham University who focuses on information technology and privacy matters.
Julie Cohen, a professor of law and technology at Georgetown University, agreed. "There is a major push on to preempt more protective state bills," she said.
Facebook spent $12.6 million lobbying Congress last year, according to the Center for Responsive Politics. Google's parent company, Alphabet, spent nearly twice that amount.
The companies almost certainly will point lawmakers' attention to a recent study from the Identity Theft Resource Center showing that the total number of data breaches was down 24% last year — proof, they'll say, that the tech industry is stepping up its privacy game.
Look closer, though, and the study reveals that even though reported breaches fell to 1,244 from 1,632 a year earlier, the number of exposed records more than doubled to 446.5 million.
Until Americans demand change, it's a problem that will keep getting worse.
Zuckerberg is already sounding like the battle is over.
"Right now, there's a lot of negativity about the impact of technology, and some of it's fair and some of it's misplaced," he told financial analysts after Facebook's latest earnings were released.
"I feel like we've come out of 2018 not only making real progress on important issues but having a clear sense of what we believe are the right ways to move forward," Zuckerberg said.
If you think he's talking about your best interests, you haven't been paying attention.
David Lazarus' column runs Tuesdays and Fridays. He also can be seen daily on KTLA-TV Channel 5 and followed on Twitter @Davidlaz. Send your tips or feedback to david.lazarus@latimes.com.